Regulators in the UK and Australia have agreed two memoranda of understanding (MoUs) to ensure the two countries' finance sectors can continue to interact regardless of the outcome of the Brexit negotiations.
In an announcement yesterday, the Financial Conduct Authority (FCA) and the Australian Securities and Investments Commission (ASIC) said they had agreed MoUs covering trade repositories and investment funds.
"These agreements will provide reassurance by ensuring arrangements are in place for cross-border co-operation between the FCA and ASIC," the two regulators said in a joint statement. "The FCA and ASIC also support the continuity of existing equivalence decisions to provide certainty to businesses post-Brexit."
The agreements will come into force when the UK ceases to be a member of the European Union – whether exiting without a deal or at the end of a proposed transition period.
The MoU regarding investment funds allows managers based in Australia to continue to run money for UK clients, and vice versa.
The trade repositories agreement relates to the FCA taking on supervisory responsibilities for this sector from the European Securities and Markets Authority. The MoU will allow ASIC to "continue to access data on derivatives contracts held in UK trade repositories", the joint statement said.
The UK will also adopt existing EU rules relating to Australia's regulation of trading venues, over-the-counter derivatives markets and credit rating agencies, while ASIC said it "remains committed" to providing similar treatment for UK financial services groups.
The FCA has previously signed a series of MoUs with EU regulators and the US Securities and Exchange Commission to ensure continuity of market operations regardless of the outcome of negotiations between the EU and the UK.
As a result, credit rating agency Moody's has declared that even a no-deal Brexit would be manageable for most asset managers.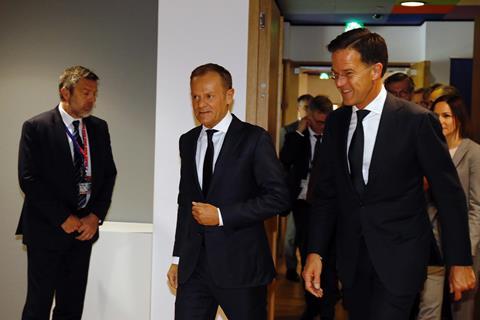 EU leaders are meeting today to discuss another extension to the Article 50 process of exiting the EU, which would allow UK prime minister Theresa May more time to garner support for the withdrawal agreement she reached with EU negotiators in November.
May wrote to European Council president Donald Tusk last week requesting an extension to 30 June 2019, which could force the UK to take part in EU elections on 23 May.
In an open letter to the Council yesterday, Tusk advocated a longer extension period, stating: "Our experience so far, as well as the deep divisions within the House of Commons, give us little reason to believe that the ratification process can be completed by the end of June.
"In reality, granting such an extension would increase the risk of a rolling series of short extensions and emergency summits, creating new cliff-edge dates. This, in turn, would almost certainly overshadow the business of the EU in the months ahead.
"The continued uncertainty would also be bad for our businesses and citizens. Finally, if we failed to agree on any next extension, there would be a risk of an accidental no-deal Brexit."