---
Key points
• Although foreign investors have dumped UK equities, the market has still risen since March
• Brexit seems to have triggered the exit, yet there has been little tangible change
• The UK market is both defensive and international
• Globally exposed blue chips are an obvious solution, but firms lower down the cap scale offer similar exposure
No one wants UK equities. The influential global fund manager survey published by Bank of America Merrill Lynch reported that they were the most unpopular asset in April. There has been reported indiscriminate foreign selling of UK shares as investors have sought anything that is not UK equity.
The prime reason is not valuation – the UK is cheap relative to developed markets – or performance, which has been reasonable. It is Brexit, regarded as Britain's bizarre collective economic suicide pact by global investors.
But Brexit's effect can be overstated, says Jason Collins, global head of equities at SEI Investments: "Brexit is having an impact but the UK is not unique in that. There are, for instance, a stream of negative headlines coming out of the US and parts of Europe such as Italy."
And, whereas there has been much speculation about transnational headquarters relocating away from Britain – Unilever to the Netherlands, for example – most are staying put. At least for now. This is not the 1920s and most investors are not Warren Buffett and so will have portfolio turnover that moves faster than a tectonic plate. In other words, portfolio managers' average holding periods are not so long that they do not have the time to divest from UK positions in the event of Brexit turning out worse than expected. The current exodus from UK assets looks more like a stampeding herd than a considered move.
Manu Vandenbulck, senior portfolio manager, Europe High Dividend, at NN Investment Partnership, observes that "most analysts have been wrong" on their negative prescriptions for the UK. He ascribes this to the "psychological aspect" that "analysts themselves are likely to be impacted by Brexit outcomes". Despite this pessimistic bias, Vandenbulck says the euro-zone looks a better bet: "Macro dynamics favour the euro-zone, where we see less vulnerability to a global slowdown and where there is stronger dividend growth potential."
However, "the easy call to underweight the UK has led to a market that's cheap and worth owning", says Phil Haworth, deputy head of equities at Kames Capital. This, he argues, is reflective of investors' herd-like behaviour: "Generally, there has been a pronounced skew to crowded trades: long financials and tech; short bonds, bond proxies – and the UK. But, this consensual position is around things that have already moved, such as with the implications of US tightening."
Overall, he says, while the market "is a little overbought in the short term": with a price/earnings (P/E) ratio of 14 times on a forward basis and rising dividend yield of more than 4%, it is "still cheap".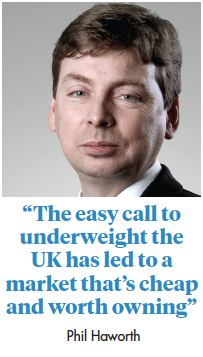 While Collins considers the BAML bottom-drawer rating for UK equities "a bit harsh", he says while the market is not cheap, "it's a least fairly valued. Trailing P/E is 22 times, which is a bit rich, but forward-looking measures are more reasonable." Even so, he says "there are some signs that the robust fundamentals we've seen are waning, such as earnings growth and trailing versus forecast. There is a danger that forecasts will prove a little optimistic and we could see downgrades." Nevertheless, SEI remains neutral on UK equities.
The UK, traditionally, is a defensive market, being heavy on pharma, telecoms, consumer staples and big oil.
Given the consensus expectation of a global slowdown in growth into 2019, it might be assumed this would work in the UK's favour in the global asset allocation stakes. "While that's a fair point," says Vandenbulck, "UK defensives look expensive, and with a rising equity discount rates, they would look even less attractive."
SEI is looking for opportunities in the less defensive areas of the market, as Collins explains: "We're not particularly defensive in the UK portfolio at the moment. We allocate to third-party managers on style and approach, and lean towards undervalued areas of the market. Valuation dispersion has been elevated, but that's come back a bit, so we are pulling back on this somewhat."
The reaction around Brexit also seems overdone, particularly in light of the UK being one of the world's most open stock markets. As Collins says, "the UK market is very global, and the correlation between this and the UK economy is relatively low". It is also, says Vandenbulck, highly correlated to the US.
About 80% of the FTSE 100's earnings are non-domestic. Few of these are hedged into sterling, so this should dampen down any UK-specific negative volatility, from both an earnings and currency perspective. With regard to the latter, when sterling strengthens the internationally focused large-caps pull back and when the currency weakens, they should benefit from increased foreign earnings in sterling terms.
Nevertheless, argues Vandenbulck, while the UK's internationally orientated large-caps have some valuation support, "if you correct for margins, those in the euro-zone are depressed, and so have more room for expansion, whereas the UK's are at their peak". He says that, after a good run, mid-caps are looking expensive.
This 'international large-cap, good; domestic mids, bad' is an oversimplification. "A simple call for global investors would be long the FTSE 100, short the 250," says Haworth: "But, that misses lots of opportunities at the stock-specific level. Not all 250 stocks have strong domestic orientations, for example." Collins also agrees that "many of the latter constituents are international names, whereas elements of the former, such as banks, are domestically focused".
Nevertheless, Vandenbulck is getting UK exposure from globally orientated large-caps, with some UK domestic stock-specific additions – but these, he says, "are limited".
"We are avoiding domestically exposed consumption stocks, particularly retailers, because of structural concerns," he explains. "However, some specific stocks of food and healthcare producers could surprise on the upside and deliver more margin improvement."
Haworth, on the other hand, is finding value in retail: "We prefer to get our retail exposure through food – Tesco and the like. This area is bottoming out and starting to recover. There is the proposed Sainsbury's/Asda deal, for example; Morrison's is also making wholesale deals, while the disruptive influence of discounters is past its worst." Another area favoured by Kames is in long-lease property companies: "It's a very out-of-favour sector, but offers value and stable income."
Interestingly, Vandenbulck is steering clear of the dividend favourite of tobacco: "Finally today, we are now seeing a de-rating because the market is catching on to the vulnerabilities of these cash flows." Given that the tobacco stocks in the FTSE 350 have fallen over the past year, this may not be a bad call.
It has been a paradox that while foreign investors have dumped UK plc the market has still risen since March – not so much climbing a wall of worry as blithely carrying on.