In-house asset management can deliver cost savings, control and overall value benefits but for complex or short-term strategies external management may offer better value for money
Key points
• Cost reduction clearly plays a part in moving to in-house management
• Not only have in-house teams been disbanded but there has been a trend towards outsourcing many of functions of trustees to external fiduciary managers
• The key challenge for in-house management is establishing a clear governance framework
In 2014, the Railways Pension Scheme (Railpen), with £28bn (€32bn) one of the UK's largest and, indeed, oldest pension funds, launched an investment transformation programme that effectively led to it moving the bulk of it assets in-house, away from external managers. Its investment committee was replaced with the Railpen Investment Board, which has full delegated authority to invest scheme assets.
Even more recently, UK's local authorities are merging pension schemes and moving to manage in-house. Local Pensions Partnership (LPP) for example, was formed in 2016 through a collaboration between Lancashire County Council and the London Pensions Fund Authority. It manages £16bn for several local authorities, with Royal County of Berkshire Pension Fund amalg amating its assets in June. Clearly, there are still several UK pension schemes, including the Universities Superannuation Scheme (USS), the UK's largest, that see merit in having in-house investment teams that undertake a large part, if not most, of investment management and, most notably, are responsible for asset allocation.
Cost reduction clearly plays a part in moving to in-house management. However, says Craig Heron, head of public markets at Railpen, it was not the main factor but rather the control and overall value added that could be achieved.
For LPP, it was the same. "If you want to minimise just costs, you would have everything in index funds. But if that portfolio does not best meet the long-term liability profile and requires more contributions, it would end up being higher-cost," says Richard J Tomlinson, LPP's head of investment strategy.
The in-house versus external debate does go through long periods of markets favouring one over the other. While Railpen has been approached by overseas pension funds seeking advice on how to build in-house teams, the UK has seen, if anything, a large-scale closure of in-house teams over the past 30 years.
Not only have in-house teams been disbanded but there has been a trend towards outsourcing many of the functions of trustees to external fiduciary managers.
Carl Hitchman, head of fiduciary management advisory at Stamford Associates, argues that one factor in the move to outsource has been increasing complexity. That has happened as pension funds have matured, the use of liability-driven investment (LDI) strategies has grown and schemes have sought greater diversification of their investments. The complexity of monitoring and managing several external managers has increased. That is likely to have been a challenge for some of the smaller schemes that were in-house managed.
For schemes that are large enough, however, internal teams cannot only be used to manage core assets but also to select external managers to outsource management of more specialist asset classes. It may, however, in some circumstances, says Hitchman, be more appropriate to appoint advisers with the selection and monitoring skills required for the asset mandate. This is a different skill to portfolio management.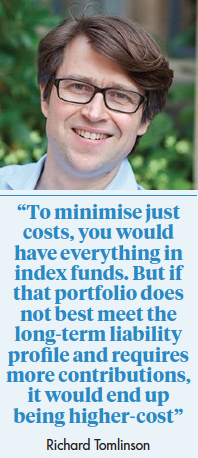 The key challenge for in-house management is establishing a clear governance framework that ensures that those assets managed internally are done so properly with a team with the appropriate skills.
Tomlinson says LPP was established with a robust governance structure in mind and its three clients retain limited day-to-day decision-making. Trustees are not, for example, involved with manager selection. "That doesn't make sense for someone for whom investments are not their day job," he says. The questions they focus on should be both strategic and have a material impact on the risk profile of the scheme. – for example, whether the scheme ought to engage in an LDI strategy.
Railpen's new structure has also established a formal framework for issues such as asset allocation. Each year, Railpen has an internal planning exercise to work out long-term prospects for each asset class and present a strategic asset allocation plan to the board.
The overriding philosophy that determines what is managed internally and what should be outsourced is whether the asset class is seen as a permanent feature of the asset allocation, says Heron. Global equities, UK Gilts and UK property certainly are. But global equities are not easily tackled by any simple decision on outsourcing versus insourcing.
Railpen has tackled the complexities by having two internal global equity teams as well as using external managers. The Railpen quant team consists of five people together with dedicated IT support staff. It invests in five risk factors – low volatility, quality, income, value and momentum and each factor is also managed by external firms such as AQR and Northern Trust in 'smart beta', long-only products. These strategies incorporate emerging markets, as the benchmark used covers both developed and emerging markets.
Railpen's fundamental team consists of just two portfolio managers running a highly concentrated global portfolio of 25 stocks with about £1bn under management. The strategy for private assets, given their illiquid nature, is in a transitional phase as Railpen moves from hiring external managers to a policy of direct and co-investment. As a result, they still have vintage-year exposure to some private equity funds which will gradually unwind. For other asset classes, there had to be a cost/benefit analysis.
"The most important function of an internal team is coordination of everything and having the right strategy as they know the trustees and the sponsor well, they know where they are going and what they are trying to do"

Andy Tunningley
High-yield debt, for example, is sometimes attractive but at other times not. To manage a portfolio properly would require a team of eight to 10 specialists. Clearly that is not appropriate for an exposure Railpen would not always want to have. Emerging market debt is an example of an asset class managed externally where Railpen does not currently want to build an internal expertise but is an asset class where it expects to have regular exposure.
In addition to external managers running the quant equity portfolios, Railpen has one manager for emerging market debt together with a handful of specialist managers. These include a trend-following hedge fund manager, two royalty relationships covering music royalties and pharma and some smaller historical ones.
More recently, Railpen has invested in a re-insurance fund. It plans to revisit the potential for investing in overseas property once the internal property team has bandwidth to extend its coverage to non-UK assets.
LPP has a similar philosophy towards deciding on the mix of internal versus outsourced management. Aside from managing global large-cap equities in-house, LPP has also taken a lead in investing in infrastructure within the UK's Local Government Pension Scheme. Fixed-income investing, representing about 3% of LPP's £16bn of assets under management is outsourced, as there is not yet a cost-effective case for building internal resources to do so, says Tomlinson.
LPP is still developing its capabilities and Tomlinson envisages it widening its in-house management universe as the business gains more experience. He sees the large Canadian pension plans as an indication of how sophisticated internal managers could become with a history going back 30 years or more. "They still use a mix of internal and external management and some have even gone down the route of managing private equity-style direct investments themselves," he says.
External managers can also appreciate the value of in-house teams. "The most important function of an internal team is coordination of everything and having the right strategy as they know the trustees and the sponsor well, they know where they are going and what they are trying to do," says Andy Tunningley, head of UK strategic clients at BlackRock. There is a metric around cost but it is really value for money rather than pure cost that should determine the trade-off between internal and external management of assets.
Multi-Asset Strategies: Worrying developments
1

2

3

4

5

6

7

Currently reading

UK In-house Management: Is it better in-house?