The UK has got many things right when it comes to auto-enrolment. What should other countries learn from the policy?
KEY POINTS
Countries implementing auto-enrolment should consult all stakeholders and ensure gradual implementation
Be clear from the start what contribution level is needed to achieve the required target
Make sure the market structure ensures no member will be left behind and it allows for cost-effective innovation
Focus on designing the best possible default fund members
Recognise the importance of communication to build trust and engage the membership
As Ireland and Poland take steps towards expanding their occupational defined contribution (DC) coverage, there are important lessons to be learned from the UK's experience of auto-enrolment.
Policy and execution
Auto-enrolment is the most ambitious UK government pensions policy of the last two decades. It was developed to resolve the inadequate retirement provision which emerged at the start of the millennium. It has taken important steps towards addressing that goal − an additional 10m people now have an occupational pension.
The UK has traditionally supplemented a meagre state pension with a generous occupational system. But by the early 2000s this system was no longer working. Private-sector defined-benefit schemes were closing as low investment returns and longer life expectancy made them too expensive.
To address this, the Pension Commission was set-up in 2002, chaired by Adair Turner. The final report was delivered in 2004 and formed the bedrock for the government's auto-enrolment policy.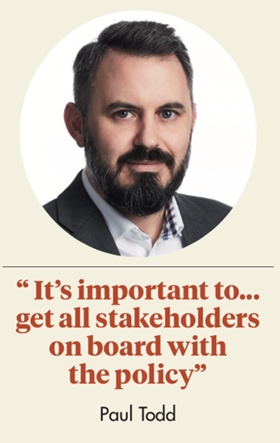 Successfully implementing a radical and ambitious policy takes time. Paul Todd, who has worked with the NEST (National Employment Saving Trust) Corporation's senior team since its inception and is director of investment development and delivery, says: "The policy development process started in 2004 and legislation was only in place by 2012."
Even though pension provision was an urgent issue, it was vital not to rush. Todd says: "It's important to have the right gestation period to ensure you can get all stakeholders on board with the policy."
The first group of stakeholders to be involved were the political parties. Cross-party support was key to the project's long-term success.
Gregg McClymont, director of policy and external affairs at B&CE, and former Labour shadow pensions minister, says: "The policy designers did more than get initial buy-in for the project. They made sure that each political party got something that made them feel comfortable."
While some politicians are less comfortable than others with the state intervening in the market, they could still support the policy because it aimed to improve the commercial marketplace without replacing it with a government-run authority.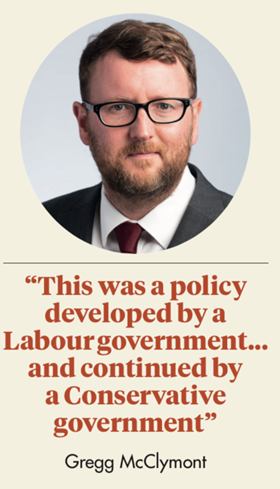 And the long implementation time has further strengthened political support. McClymont adds: "This was a policy developed by a Labour government and implemented first by a coalition and continued by a Conservative government."
But it was equally important to get employers and employees on board. Todd says: "The Department for Work and Pensions did an excellent job of involving the scheme members by running citizens' juries up and down the country."
The key recommendation of the Pension Commission was to use 'nudge economics' to increase participation in workplace pension – workers would be opted into a DC scheme in the private sector with the option to opt out.
Once the recommendations of the report had been accepted, it was a matter of determining the precise policy and implementing it. Making sure the rollout of this policy was right was another way to ensure the project had longevity.
There were two elements to the rollout of auto-enrolment – staging and phasing. Staging involved gradually including employers in the auto-enrolment process, starting with the largest employers and ending with the smallest employers.
Steve Webb was the pensions minister for the coalition government responsible for auto-enrolment. "We struggled to get the right infrastructure in place early on, particularly for pay-roll systems," he says
By starting with the UK's largest employers, the payroll providers were forced to address the issues and make the system work. Simon Chinnery, head of defined contributions at Legal & General Investment Management (LGIM), notes: "By the time the smaller employers had to enrol, efficient systems were in place."
Contribution levels
Phasing in contribution levels helped to keep the opt-out levels low. The initial minimum contribution level was 2% of salary, with a minimum employer contribution level of 1%. This increased to 5% of salary and 2% employer contribution from April 2018, and will increase to 8% and 3% respectively from April 2019.
There was some criticism of initially setting rates at such a low level. Todd says: "But keeping the levels low helped to get people comfortable with the idea of making regular contributions."
In contrast, it was not possible to gradually phase in contribution levels for staff auto-enrolled in defined-benefit public-sector schemes. Contributions for these schemes were often much higher and were switched on 'overnight' rather than phased in. "As a result, opt out rates were much higher," Webb says.
It is also important to remember that auto-enrolment was introduced in 2012, when the economy was still recovering from the impact of the 2008 financial crisis and most workers would have had little disposable income, adds Todd.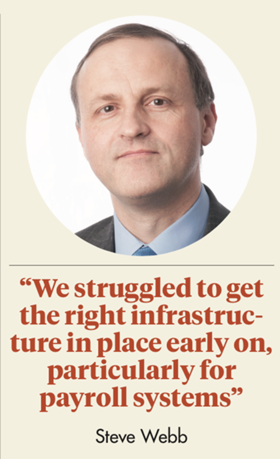 The contribution levels were not arbitrary. Richard Butcher, chair of the PLSA, says: "The Pensions Review opted for a target of 8% of salary in order to get employees to a minimum-income replacement target."
But the concept of a minimum-income replacement target is complex and many workers now assume that 8% will be enough to achieve a comfortable retirement. "If the target is for employees to have an adequate income as pensioners, then higher contribution levels are required," says Butcher.
While there seems little indication that the government will increase contribution levels further, many in the industry are in favour of auto-escalation and think it could be achieved without causing a spike in opt-out levels.
Webb says: "It would be relatively straight forward to increase contribution to 10% by asking employers to increase their contribution levels to 5% from 3%." This would be well received by workers as employers will be matching their contribution levels.
"The bigger the contribution from the employer, the more incentive there is for a worker to stay in the scheme because they would be sacrificing a significant benefit," he adds.
Once a 10% salary contribution level had been established, it could then be incrementally increased in line with salary rises.
Market structure
There is little point in deciding how to phase contribution levels if the organisations available to invest, manage and administrate those pensions do not exist.
The structure of the UK market was a key concern of the Pension Commission's deliberations. As it decided to opt for a DC arrangement, there was a concern that smaller employers might struggle to find a low-cost pension provider.
Todd says: "NEST was established to ensure all employers, regardless of size, could access high-quality pension provision and would not be turned away because they were too small to be a profitable business partner."
Providing this type of quality assurance was vital to build trust in a mandatory system. But while it was important to ensure that no employer was left behind, the UK wanted commercial operators to be the key players in this market.
The reality, however, was different to the theory. Rather than there being a few providers for small employers, many small master trusts have been launched. Webb says: "A number of governments didn't foresee this happening."
This has meant the regulator has had to keep pace with the rapid developments in the market and to develop a master-trust assurance regime ensuring that all providers meet its requirements.
This is less than ideal. Butcher says: "Given this regime will not conclude until October 2019, this is seven years after auto-enrolment began." That is a long time for someone to have been a participant in an inadequate scheme, he adds.
This reinforces the importance of ensuring policymakers spend enough time ensuring there are high-quality providers when they are devising their policy. Webb says policymakers should also be ready for the market to evolve in unexpected ways.
One other aspect of the UK market has the potential to create problems: traditional workplace pensions – either devised by trustees or outsourced – are proving less than robust. This system worked well when employees stayed with one employer for decades, but today's shorter-term employment patterns mean that members end up with many smaller, hard-to-track pension pots.
Webb was behind a policy called 'pot follows member', which was intended to give individuals a consolidated pension account as they changed employment.
He says: "As the requirement for pension pots to follow members was dropped, this is going create serious issues in the future, which are going to be expensive and complex to resolve."
Default funds
High-quality pension providers need to offer the right investment product for their members. Auto-enrolment providers recognised they needed to be paternalistic: most will opt for the default fund solution, rather than select their own investments.
As a result, company schemes, master trusts and insurance companies have focused on designing a default fund that will give most of their members the best possible retirement. And best practice has evolved rapidly.
Part of rapid change was the introduction of freedom and choice legislation in 2014. This law abolished the requirement for a DC pot to be used to purchase an annuity.
Up until this point, default fund design had been pretty pedestrian and a hangover from legacy DC schemes. During their early years, members had most of their pension pot allocated to higher-risk assets that would be switched across to annuity-matching fixed-income assets as the approached retirement.
But the introduction of freedom and choice meant this was no longer a viable option. It is now seen as important to keep members invested in financial markets for longer, and default fund design has had to become more sophisticated.
Dominic Byrne, investment strategist at BlackRock, says: "Over the last few years we have learnt that default funds need to be designed to reflect how they will be used in retirement."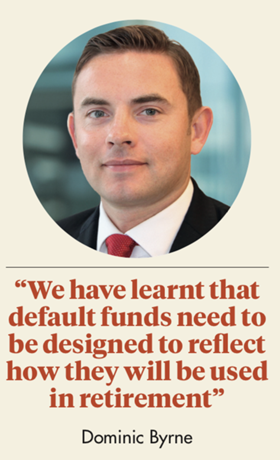 That creates challenges for designers of default funds because members can now choose how they will spend their funds. BlackRock's default funds offer a choice between cash or annuity matching, as well as the option to stay invested, according to Byrne.
Staying invested in financial markets via a multi-asset fund does help to address the challenges thrown up by freedom and choice.
Byrne says: "Owning this type of balanced portfolio in retirement works because it has assets which protect against market risk and longevity, as well as those that still provide capital growth."
But while these funds help to address these issues, it requires members to be engaged and informed about both investment risk and longevity risk. Achieving that level of member engagement will be challenging.
Todd says: "It would have been helpful if the option for members to use their pension pots as they want had been included in the original auto-enrolment policy." This would have encouraged providers to have considered the member journey to and through retirement, rather than just up to a pensionable age.
Communications
As auto-enrolment relies on nudge economics to offer occupational pensions to millions of employees, there was little need to present a compelling sales message.
The introduction of freedom and choice has pushed the improvement of communication with scheme members up the agenda of employers and providers.
This has been a revolutionary change for the industry as the paternalistic nature of DB and legacy DC schemes made providers and employers adept at talking to each other but less so to members. The industry now recognises that it needs to talk to members using language they can understand.
Stephen Messenger, institutional sales manager at Invesco, says: "Our clients are increasingly aware they need to craft clear communications that can compete with myriad other financial messages."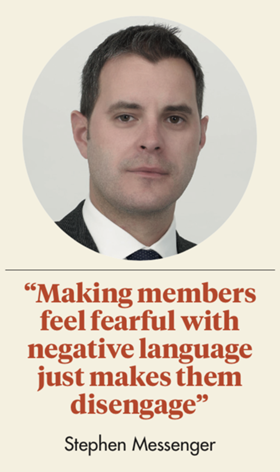 Invesco has used its experience of talking to US DC members to develop core communication principles. Messaging was tested with groups of DC UK members to shed further insight. Messenger says: "By focusing on making communications positive, plausible, personal and plain-spoken, there is a much better chance of engaging effectively with members."
For example, when you ask members whether they would rather have an investment that maximises gains or minimises risks, 70% of respondents prefer the former. "Making members feel fearful with negative language just makes them disengage," says Messenger.
Members are also sceptical about exaggerated claims. When asked whether they wanted to have financial security or independence in retirement, seven out of 10 chose the first option.
And even though schemes will have constructed a default fund which will suit the needs of most members, generic messages should be avoided. Six out of 10 employees want their employer to continuously improve their pension with feedback from employees.
Messenger says: "Although there are slight cultural variations around which particular terms resonate with different populations, these four communication principles tap into universal human behaviour."
While a pension provider is well placed to communicate with its members, the onus of that engagement should in fact rest with the employer. Todd adds: "Workers are much more likely to trust their employer than a master trust or insurance company."
Companies should also be thinking about how to build confidence in the pension scheme. "A broad section of our membership react positively to hearing their pension is used to support wider environmental and social issues, such as minimising the impact of climate change," says Todd.
Netherlands: A new Dutch blueprint
1

2

3

Currently reading

UK: Learning from the lab rat

4