---
Key points
• The rate of UK longevity improvement is slowing
• A highly competitive buyout market makes deals more affordable
• With values at exceptionally high levels, pension fund transfers are popular
Whether or not to insure liabilities via a buyout or buy-in has long been a decision which most defined-benefit pension funds need to consider. Buyout deals have become integral to the pension fund landscape.
Over the past few years, however, the parameters have changed. While once it seemed that UK longevity would improve indefinitely at faster and faster rates, the actuarial industry has been surprised by the slowdown that has occurred.
At first, it was assumed to be caused by blips such as a spike in flu deaths because of a failed winter flu vaccine. But the trend has become established; longevity is increasing at a slower rate than before.
UK mortality rates fell steadily between 1961 and 2011 (see figure), but much more rapidly between 2000 and 2011. Since 2011, however, rates have fallen at a rate last seen 40 years ago. One reason is the high rates of longevity improvements immediately before the fall-off, explains Tim Gordon, partner at Aon.
"In the first decade of this century, longevity improvements were spectacular," he says. "For males, the annual rate of increase from 2000 to 2010 was 3%, compared with an historical average of 1.5%."
The high rates of improvement in that decade are attributed to the reduced influence of cardiovascular disease. This was the result of factors such as less cigarette smoking, and improvements in treatment, such as statins, as well as angioplasties.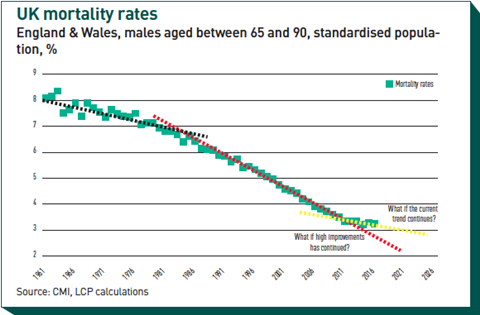 "Because the improvements in the first decade were so high, longevity improvements were always expected to slow down," says Gordon. "But, what's happened is that it has slowed earlier than we were expecting."
There are several reasons for this. First, there is a cohort effect: those born between the world wars – 1918 to 1939 – were a generation where mortality improves in successive birth years, and has been working its way through the pensioner age band, which impacts on measured life expectancy. So their longer life expectancies contributed to the high rates of improvement.
"Second, healthcare has improved not only as a long-term trend – medical advances, healthier lifestyles, and so on – but in the very short term," says Gordon. "The government was spending £5bn (€5.6bn) more each year on healthcare in that decade in an effort to catch up with European mortality rates. But, this huge year-on-year increase was not sustainable and has fallen away, especially after the financial crisis."
Another factor lies in the individual causes of death, principally cardiovascular diseases. The medical profession has developed effective treatments for heart conditions, so that future improvements are inevitably limited in the short term.
The UK is not alone in falling rates of improvement. Similar fallings-off have occurred in the US and the Netherlands. "For many western world countries, the slowdown is a time-bomb ticking away," says Gordon. "However, the UK has been hit earlier than many. Ireland is also experiencing a falling-off compared with the first decade of this century, in a more spectacular way, and for similar reasons."
What are the implications for UK pensions? "The fall in longevity improvement rates has reduced liability values by as much as 5% in some cases," says Charlie Finch, partner at Lane Clark & Peacock (LCP). "This means that sponsor companies are reviewing their contribution commitments. They should review whether to maintain the same level of prudence in their mortality assumptions, or to move to assumptions that are more optimistic, reflecting the recent evidence."
Probably the more important question that pension plans are considering, however, is whether to enter into a buy-in or buyout. "Together with a highly competitive bulk annuity market the recent longevity trend makes doing a deal on liabilities much more feasible than three years ago for many schemes," says Gordon.
LCP estimated earlier this year that since August 2016, driven by competition between insurers, and the recognition of slowing longevity improvements, the funding position relative to the buyout cost had improved by 10%: "As a result, what we've seen so far in 2018 is a lot more activity in buy-ins and buyouts," says Finch. "And as pension schemes increasingly seek to transfer their liabilities, there is up to £2trn of pension liabilities which schemes could look to insure, potentially much of it over the next five to 10 years. This will put pressure on pricing."
LCP's analysis shows that a record £7.8bn of pension buy-ins and buyouts were completed by UK pension plans in the first six months of 2018. This is the busiest-ever start to a year, surpassing the record £6.9bn in 2014.
The pension funds of Heathrow Airport, Littlewoods, Marks & Spencer and Siemens have all negotiated large buyouts, while both Toshiba and PA Consulting fully insured their UK pension plans.
Finch predicts that the total for 2018 will reach a record £15bn, and could exceed £20bn. The previous record was £13.2bn in 2014. "Schemes may decide to lock in the current competitive prices and do a buy-in or buyout now, if they can afford it," he says. However, there may be reasons to wait – for example, future buyout terms could get even cheaper.
Another reason is the changed status of UK pre-retirees. Scheme participants are allowed to take a transfer value from their occupational scheme before retirement, converting it to cash, phased withdrawal plan or another option.
"Because long-dated yields are exceptionally low, transfer values are now at unprecedented levels, which means more scheme participants are looking at moving their pension pot," says Gordon. "Some schemes have seen extraordinary rates of transfer. So if you as a pension scheme are thinking of reducing your liabilities, you might want to wait and see how many of your members do this, before you hand over money to an insurance company."
A further challenge pension scheme managers face is that the fall-off in longevity improvements do not translate equally through all pension plans.
"Over the past 15 years, mortality for the better-off has improved at a higher rate than for the less well-off," says Gordon. "There is now a bigger gap in longevity between the better off and the less well-off."
Scheme managers need to reflect on the demographics of their own plan, particularly in terms of socio-economic status but also data such as their members' postcodes.