Sponsored content from ETFGI
For those who have been involved with ETFs in Europe since their inception, it's hard to believe that April 2017 marked the 17th anniversary of the listing of the first ETF in Europe. Although ETFs are no longer a new product, their growth rate continues to be impressive. And we can see that a number of tailwinds are likely to continue to fuel the growth in assets in ETFs/ETPs listed in Europe.
ETF assets hit new records worldwide
We are seeing continuing net inflows, the increased adoption of ETFs across the full spectrum of investors in Europe, and the advent of new issuers and new types of products. Other catalysts for growth in the ETF industry include regulatory changes, the relative performance and cost of alternative products, and a growing acceptance that ETFs are a solution that can be used by most institutions, financial advisers and retail investors.
In recent years the growth rate in ETFs has accelerated. In the three years to August 2017 the assets in ETFs/ETPs listed in Europe have doubled to reach $734bn (€624bn)1; and in 2017 the asset total increased by 28.3% in the first eight months of the year (see figure 1). We are on target to meet ETFGI's 2015 forecast that European ETF/ETP assets would reach $1.1trn in 2020.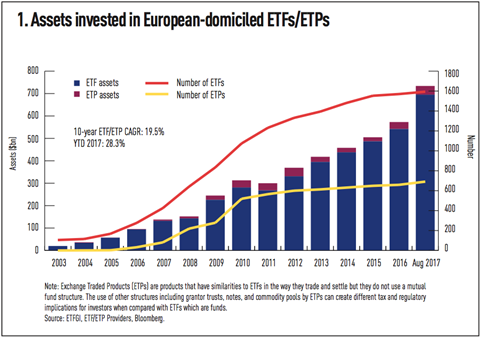 The $4.3bn in net inflows to ETFs/ETPs in Europe in August marked 35 consecutive months of net inflows and a record level of $78.3bn in year-to-date net inflows, nearly double the $39.9bn in net inflows recorded by end-August last year and $22.6bn more than the $55.7bn net inflows gathered in the whole of 2016.
As at end-August 2017, the European ETF/ETP industry had 2,285 ETFs/ETPs, with 7,215 listings from 60 providers across 27 exchanges in 21 countries.
Institutional use of ETFs/ETPs has increased by 44% between 2009 and 2016. An analysis2 by ETFGI found that 4,450 institutional investors in 53 countries and 8,477 mutual funds in 50 countries reported owning at least one ETF or ETP in 2016.
The five countries in 2016 with the largest number of institutions using ETFs and ETPs are the United States, the United Kingdom, Germany, Canada and Switzerland. In aggregate, institutions in these countries represent 81.2% of total global users.
Although the ETF market's growth has been remarkable, it's worth remembering that assets in ETFs account for just 4.3% of total mutual fund assets in Europe.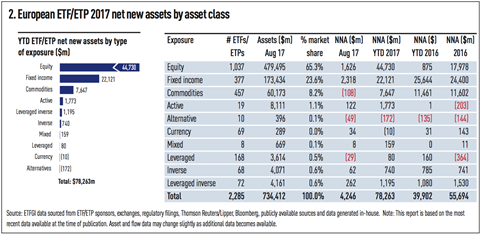 Equities regain most favoured status
By asset class, year-to-date investment flows to European ETFs/ETPs as at the end of August 2017 have favoured equities, followed by fixed income and commodities.
Equity ETFs/ETPs gathered $1.6bn in net inflows in August, bringing year to date net inflows to a record level of $44.7bn (see figure 2). Inflows to equity ETFs/ETPs in 2017 are already well ahead of the $18.0bn gathered in all of 2016.
Fixed income ETFs and ETPs gathered $2.3bn in net inflows in August, increasing year-to-date net inflows to $22.1bn. Fixed income ETF/ETP inflows have, however, slowed from the record levels seen in 2016, when net inflows at the same point of the year had reached $25.6bn.
Commodity ETFs/ETPs saw net outflows of $108m in August. Year to date, net inflows are at $7.7bn, less than the net inflows of $11.5bn gathered over the same period last year.
Overall, equity ETF/ETPs have a 65.3% market share in Europe, followed by a 23.6% market share for fixed income and 8.2% for commodities. Other ETF/ETP types, such as active and alternative ETFs, leveraged, inverse and leveraged inverse funds, have a collective market share of only around 3%.
Regulatory and political trends
In Europe, the use of ETFs and ETPs by financial advisers and retail investors is still low compared with the United States. In many countries across Europe financial advisers are still paid to sell products. The introduction of the second Markets in Financial Instruments Directive (MiFID II) in January 2018 will end this distribution policy for independent advisers. In turn, this will be a benefit for ETFs as ETFs do not pay commissions to those distributing them.
In the UK the Retail Distribution Review (RDR), which banned the payment of commission to independent financial advisers for selling products, was implemented in 2013. There has been an increase in the use of ETFs, but the increase has been slower than many expected as a result of many investment platforms not offering ETFs. Many platforms have justified this policy by arguing that there is insufficient demand for ETFs.
In fact, adding ETFs to most platforms requires a technology upgrade as platforms that have historically offered only mutual funds did not have nor need connectivity to trade. And platforms that have added ETFs typically do not include ETFs in comparisons when a search is done to compare products tracking an index. The UK's Financial Conduct Authority (FCA) is conducting a review of platforms, which should help to facilitate a more level playing field for ETFs in the future.
Robo-advisers in Europe account for a small amount of assets but, unlike platforms, most robo-advisers only use ETFs. The passing of significant wealth to millennials, which is expected to take place over the next 10–15 years, will be beneficial to robo-advisers. And assets invested through robo-advisers are expected to grow after MiFID II, as many retail investors do not understand the full costs of using financial advisers.
MiFID II will provide more transparency around ETF trading, which will be helpful as many investors still have a relatively poor understanding of the trading and liquidity of ETFs. Today about 70% of the trades in ETFs in Europe are done on an over-the-counter (OTC) basis as MIFID I did not make the reporting of ETF trades mandatory.
The imminent arrival of Brexit has caused a number of global firms to put on hold plans they had to launch ETFs in Europe. There remains uncertainty on where it would be best to set up and the requirements that would allow products domiciled in Ireland or Luxembourg to be marketed, sold and listed in the UK, or for products domiciled in the UK to be marketed, sold and listed in Europe.
Competitive trends
The competition within the ETF market continues to intensify as all providers try to find an edge to distribute and grow their assets. The providers of ETFs/ETPs have been competing by lowering fees, creating core product series with lower fees, pursing distribution arrangements with robo-advisers, via partnerships and through acquisitions.
ETFs listed in Europe have an asset-weighted average expense ratio of 31 basis points (bps). The cheapest products track fixed-income indices, at an average expense ratio of 26bps, while the most expensive are alternative ETFs at 66bps. There are 48 ETFs with an expense ratio below 10bps, while there are 37 ETFs with an expense ratio greater than 80bps.
The ETF market is heavily concentrated both in terms of fund size and fund providers.
As at end-August 2017, 165 of the 2,285 ETFs/ETPs listed in Europe had more than $1bn in assets and held a combined total of $485bn, or 66%, of total European ETF/ETP assets. In contrast, 1,262 ETFs/ETPs have less than $50m in assets. Products that have assets below $100m are generally deemed not to be breaking even.
iShares is the largest ETF/ETP provider in Europe, with $330bn in assets, representing a 45.0% market share. Deutsche AM Xtrackers is second with $75bn in assets and a 10.2% market share, while Lyxor is third with $71bn in assets and a 9.6% market share. The top three ETF/ETP providers (out of 60) account for 64.8% of European ETF/ETP assets, while none of the remaining 57 providers have more than a 6% market share.
Gaining scale in individual ETFs and in the overall platform is one of the goals of issuers. Invesco has just completed the acquisition of the Source ETF business, which will be combined with the Invesco PowerShares offering in Europe. And a number of issuers of ETFs in the US have recently entered the European market: Fidelity, IndexIQ Advisors, Franklin Templeton and JP Morgan.
Overall, however, the rate of listing of new funds has slowed down somewhat. There were 118 new ETFs/ETPs launched by 22 different providers through the end of August 2017. By contrast, there were 127, 125, 130 and 101 launches over the same period in 2016, 2015, 2014 and 2013, respectively. The largest number of product launches over the course of a single year was 506 in 2010: then, there were 373 launches during the first eight months of the year.
Year to date through the end of August there have been 62 ETF/ETP closures from 10 providers. In previous years there were 95, 72, 54 and 87 closures over the same period in 2016, 2015, 2014 and 2013 respectively. The largest number of product closures over the course of a year was 150 in 2016, and the largest number of closures during the first eight months of the year was in 2016, with 95 closures.
There has been an increasing interest from investors for new ETFs/ETPs providing exposure to fixed income, smart beta, thematic and ESG strategies.
Smart beta is an area of significant focus for ETF providers and investors. In August 2017, smart beta equity ETFs/ETPs gathered net inflows of $3.2bn, marking 18 consecutive months of net inflows and $48.9bn in year-to-date net inflows, substantially more than the $33.8bn in net inflows at this point in 2016.
Global smart beta equity ETF/ETP assets have increased by 18.3% from $532.8bn to $630.4bn so far in 2017, with a five-year compound annual growth rate of 31.5%, according to ETFGI's August 2017 global smart beta equity ETF and ETP industry insights report.
Of this total, smart beta ETFs/ETPs in the US had $559.4bn of assets, Europe had total smart beta ETF/ETP assets of $46.5bn, Canada $15.0bn and Asia Pacific (ex-Japan) $5.7bn. At the end of August 2017, there were 1,279 smart beta equity ETFs/ETPs, with 2,171 listings, from 158 providers on 40 exchanges in 33 countries.
Active ETF and ETPs, another area of interest for providers, account for just more than 1% of the total assets invested in ETFs and ETPs. Assets invested in active ETFs and ETPs listed globally have increased 40.9% in the first eight months of the year to reach a new record of $61bn at the end of August 2017, according to ETFGI's August 2017 Active ETF and ETP industry insights report. Of this total, $39.6bn was represented by funds listed in the US, $9.5bn by ETFs/ETPs in Canada, $8.1bn in Europe and $3.8bn by funds listed in Asia Pacific (ex-Japan).
At the end of August 2017, the global active ETF and ETP industry had 361 ETFs/ETPs, with 432 listings, from 77 providers on 20 exchanges in 16 countries. So far, the active ETF/ETP market is heavily concentrated by asset class: 72.8% of the assets in active ETFs and ETPs are in fixed-income products.
Deborah Fuhr is managing partner at ETFGI
1 These and all other statistics in this article come from ETFGI reports. For further details, please visit www.etfgi.com.
2 Source: ETFGI Institutional users of ETFs and ETPs 2016 report, published in September 2017, based on an analysis of the ThomsonReuters/Lipper database of regulatory filings from over 70 countries and mutual fund holdings.