Markus Neubauer examines how the clients of the Master-KAG provider Universal-Investment are managing their portfolios
How are investment professionals responding to these challenging times? The Universal-Investment Investor Analysis suggests it is with resilience and a long-term approach.
Who still remembers the stock market crash of the start of the year? Or the recent Chinese equity market turbulence? With one momentous event following another, today's earth-shattering news is soon forgotten.
China's 6.7% economic growth figure quoted in the second quarter of 2016 provides an example. Most market spectators and commentators, who would have regarded such a figure as apocalyptic at the start of the year, have become accustomed to it.
Other topical examples include the Brexit referendum, international terror as well as the European Central Bank (ECB) zero interest policy and extended bond purchasing programme. Today's fund investors not only need to be resourceful but have nerves of steel. Institutional investors have these qualities, our figures show.
Client data illustrate a representative view of institutional investors' activities in the segregated mandates which it administers. This analysis is performed from the perspectives of investor type, asset class and performance, and aggregates the results from January 2012 to the present day. It is investors who decide on their strategic asset allocations, while external asset managers make the choice of tactical allocation to the segregated mandates. As such, we are able to assess the past four years impartially.
Asset classes
A year ago, we described how equities were becoming attractive to institutional investors when compared with the traditional safe haven for investment: bonds. This still holds true today.
Market volatility has slowed the rise, resulting in a sideways movement for the equities held over the past year. Bonds, however, have continued to lose favour, their holdings falling from 51% in September 2015 to just under 48% at the end of June 2016 (figure 1).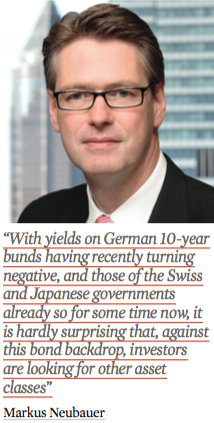 Apart from broader diversification within the equity asset class, institutional investors have been turning to real assets to minimise the impact of volatility. As a result, property now accounts for €5bn, or 2.5%, of their portfolios. Participations and infrastructure projects add another €15.4bn or 7.8%, boosting the real-asset and real-estate holding to over 10%. This is in marked contrast to the holding of under 1% at the start of 2012.
With yields on German 10-year bunds having recently turning negative, and those of the Swiss and Japanese governments already so for some time now, it is hardly surprising that, against this bond backdrop, investors are looking to other asset classes. The allocation to equities has been particularly high. Accordingly, the stock market's recent high volatility has had a greater impact on institutional portfolios than in the past when movements would have typically been offset by large, stabilising bond positions.
This effect has been aggravated by changes in the composition of bond portfolios over the last few years (figure 2). For some time, the market has been seeing a shift away from government bonds towards corporates (figure 3), a trend that is further exposing investors to the ups and downs of the private sector. A glance at the figures from the beginning of 2012 to mid-2016 shows only one fixed income category with constant gains, namely corporate bonds, which have risen from 19% to 33% of overall holdings. At the same time, the weightings of government bonds and other categories have been falling, with the most marked slump being in covered bonds – down from 16% to only 6%.
The Universal-Investment Investor Analysis
Methodology: The analysis covers all assets in segregated mandates which were administrated by Universal-Investment from 1 January 2012 to 30 June 2016 (figure 6). The figures are updated monthly. The total volume of analysed assets is currently about €198bn. This is 14.1% of the total €1.4trn of assets held in segregated mandates in Germany at the end of May 2016, as published by the German investment association, Bundesverband Investment und Asset Management.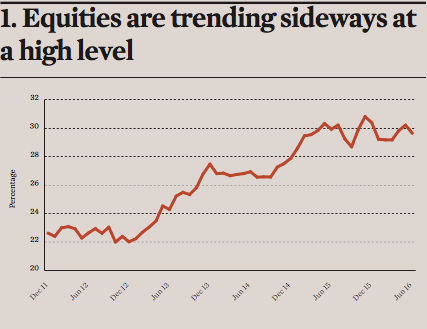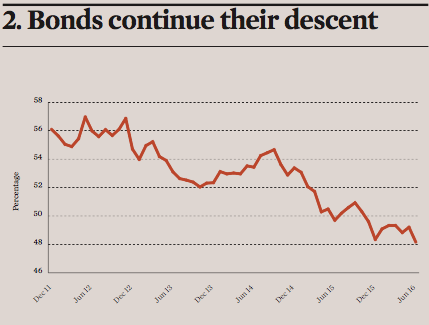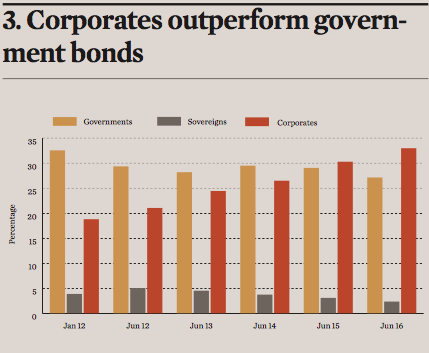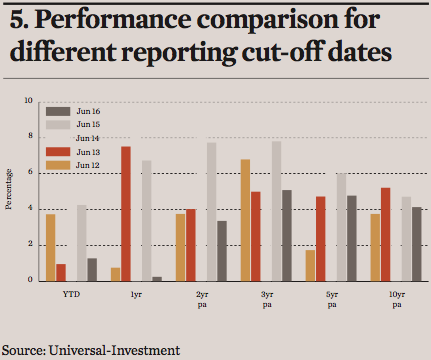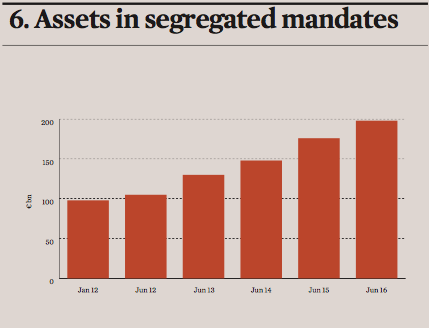 Hedging strategies
Many institutional investors have weathered the turbulent first half-year on the stock markets without dramatic losses, despite their higher risk exposure. While Germany's leading share index, DAX, lost 5% over the first half-year, portfolios on the Universal-Investment platform gained 1.3% on average. If we focus on equity engagement only, the portfolio still significantly outperformed the mainstream market with only a 1.5% reduction.
One reason for this is the hedging strategies used nowadays: with modular overlay management, different segments of a portfolio are allotted to different risk classes. These classifications have been updated with new data, thereby ensuring that an asset's true risk potential is reflected with increasing accuracy.
This allows each individual risk budget to be managed to mirror the investor's objectives. Any remaining risk budget in an asset class can be transferred to other classes to avoid the risk of a full hedge, thereby enabling an investor to optimise returns while avoiding a materially higher risk exposure.
How a long-term strategy pays off
These benefits can be observed in the performance of segregated mandates over the ten years ending June 2016. Despite the market's recent volatility, investors still successfully weathered this year's crashes, returning a more-than-1% gain over the first six months of the year (figure 4).
If we look back one year from June 2016, the negative developments in the second half of 2015 are also evident, manifesting themselves in a 12-month performance of just 0.25% (figure 5). Yearly performances for periods of two or more years are clearly positive, the period for three years being the clear leader at over 5%.
Over a longer time period, annual average growth is about 4% – a key threshold value for many investors. This longer-term stabilisation has been apparent for several years. For the sake of comparison we take 30 June of each year as the reporting cut-off date.
While year-to-date and 12-month values vary from one year to the next (see figure 5), they converge over time. For the 10-year period, they exceed 4% for four years out of five, the strongest two years being 5.2%.
Markus Neubauer is a managing director at Universal-Investment
German Asset Management: Investors climb the risk ladder
1

2

3

4

5

Currently reading

Universal-Investment: Weathering the challenges