The UK's university staff union has called for a boycott of Trinity College, Cambridge after it confirmed its decision to withdraw from the Universities Superannuation Scheme (USS).
The University and College Union (UCU) censured the college's leadership after a motion to reconsider its exit from USS, posed at a meeting this morning, was rejected by 43 votes to 76.
In a statement, UCU said it would set up a committee to attempt to engage with Trinity College fellows and "press the case for it to reverse its decision before the boycott became necessary".
Should this prove unsuccessful, UCU said it would ask all higher education staff "across the globe" to refuse to speak at, attend or organise academic events at Trinity, not to give lectures there and not to take up any form of employment with the college.
Trinity College officially withdrew from the £64.5bn (€72.2bn) multi-employer pension fund on 31 May after its leadership decided that it did not want to run the risk of picking up costs relating to other USS employers if they go bust.
Exiting the scheme will cost 2% of its assets, Trinity said today, amounting to roughly £29m based on data from its 2017-18 accounts. Trinity's endowment funds were worth a combined £1.5bn as of 30 June 2018.
Trinity defends withdrawal decision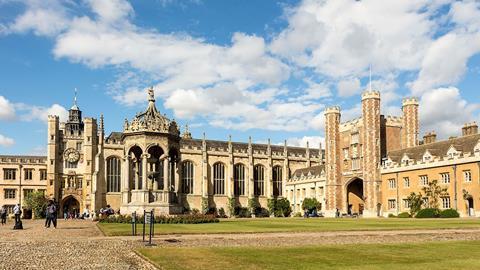 The college said its academic employees had been transferred to a new pension arrangement "providing the same benefits as USS". This would affect "fewer than 20" full-time staff, Trinity said, or 0.01% of USS' total active membership.
"This decision to leave USS will remove the remote but existential risk to the college arising from continued participation in USS," the college said in its statement. "Although the college is a tiny employer, in a worst-case scenario, all of its assets could be transferred to USS."
Rory Landman, senior bursar at Trinity, said the decision followed "substantial legal and actuarial advice" and was "in the best interests of the college". He added that it would support the college's ability to provide funding to other higher education establishments.
UCU head of higher education Paul Bridge said: "The cost to Trinity's reputation from a boycott will be far greater than the tiny risk of being left to carry the can for pensions if the higher education sector collapses. Trinity's overreaction to such an unlikely risk will cost the college millions of pounds and leave it at odds with the rest of the sector when it comes to pension provision.
"A boycott is our most serious sanction, but Trinity needs to be clear that we are prepared to implement one there. The sector needs to work together to deliver high quality, guaranteed pensions and it is up to Trinity to now reconsider its short-sighted decision."
Jo Grady, general secretary of the UCU, wrote to Trinity teaching staff last month arguing that the college would "not benefit from the decision to exit", adding that there was "no plausible scenario in which USS will need to call on Trinity's assets". She described the exit bill as "a waste".
USS plays down impact of Trinity exit
A spokesperson for USS said the withdrawal would not have a material impact on the scheme's funding position or covenant strength "in isolation".
"As a multi-employer scheme backed by more than 340 institutions, USS has significant scale and strength which brings several benefits to all of our sponsoring institutions along with our members in the form of lower investment management costs and the pooling of risk," the spokesperson said.
"The trustee's primary objective is to ensure the valuable benefits promised by USS are secure for all of our members and options for protecting the strength of the collective financial support offered by sponsoring employers are currently under consideration."
Thousands of academic staff went on strike last year to oppose the closure of USS, prompting the establishment of a joint expert panel to scrutinise the valuation and come up with alternative options.
The panel concluded that USS could take more risk to lower the level of employer and employee contributions required, arguing that "USS is a large, open, immature scheme which is cashflow positive and can adopt a very long-term time horizon".
The UCU last month demanded that the pension scheme should adopt all the panel's recommendations, as well as calling for the resignation of USS chief executive Bill Galvin.