The new economy in the US is dominated by large tech firms that are still growing
Key points
• Technology firms have come to dominate the listings of the largest US companies over the past decade
• Large caps are responsible for much of the innovation in the US economy
• The US economy is in a goldilocks position: not growing too slowly or too fast
• Cost and diversification have driven investor behaviour
A decade ago, the US equity market was staring into the abyss. Indeed, investors saw large piles of dollars disappear into it, in the midst of a crisis that would wipe off more than half the value of the S&P500 by March 2009.
At that time, most of the top 10 US companies had been founded in the 19th century, although the market was shifting; Google, which had its initial public dffering (IPO) in 2004, had made it into the listing. The only other new economy stock in the top 10 was Microsoft.
Individual behaviour was on the cusp of radical change; Apple launched the iPhone in the summer of 2007. In the same year, Netflix started streaming a small amount of TV content.
Today, the top five US stocks are all in the new economy. Indeed, seven out of the world's top 10 largest companies are technology firms, all either US or Chinese. "The revolution in markets this represents has been huge," says Julian Cook, US portfolio specialist at T. Rowe Price. "At the time of its IPO, Facebook had $500m (€400m) of mobile ad revenue on its books. That's now $35bn at the end 2017, and the growth has all been through mobile. Two new entrants – Google and Facebook – now have 21% of global advertising revenue."
That is a distinct characteristic of the US. It is not possible to get the same mega-cap tech exposure in Europe, where the top of the market still looks like the US did more than a decade ago – dominated by oil and vehicles.
This would seem to be backed up by factor performance: whereas value small caps outperform large, the opposite is true – by a significant margin – in growth. Counter-intuitively, the large caps have the highest expansion rates.
"These companies are growing revenues by 30% a year," says Cook. "Take out the more mature Apple and Microsoft, and that becomes 40%. When there are murmurs that Amazon is going to look at healthcare, it shakes the market."
Development is no longer a predominantly small-cap phenomenon. "The best experts on AI [artificial intelligence] are employed by Google and Facebook," says Cook "As US growth investors, that's where we see innovation." However, he adds, "not everything that's retail is road kill", with operations such as Ross Stores and A Dollar General successfully exploiting niches.
Paul Flood, portfolio manager of the Newton Multi-Asset Income fund, is warier of the sector: "We are staying away from retail because of the threat from online." He believes this will also have a knock-on effect on retail property returns, as retailers are being forced to renegotiate rents downwards."
The tech giants' ability to pull in talent and take advantage of existing developments creates those investment moats of which Warren Buffett is so fond. But does regulation pose a threat? There is little danger of these being broken up by anti-trust laws, says Cook: "These laws exist to protect the consumer, but if I can buy more cheaply on Amazon than the high street, how does that threaten the consumer?
"Likewise, Google doesn't have a monopoly position. You can use Bing or Yahoo; people use Google because it's better not because of lack of alternative." However, warns Flood, "the government may want to raise more tax from internet companies, to mitigate the disruption of these technologies".
Flood, too, is generally positive on large tech. "Data analytics is an increasingly important factor in the development of all companies and will support strong structural growth," he says. But he adds a note of caution. "Governments may take action against the nefarious use of data."
How long can large tech drive the US market? If Cook is correct, there are still untapped markets for these leviathans to exploit: "Amazon hasn't pulled the lever on advertising. But it has the strong benefit of engaging customers where they are very close to the point of purchase: it's not like driving past a billboard and thinking 'oh, I'll buy a Honda'," he says: "The potential worth of this is huge."
The US economy could not be in more of a Goldilocks position if it were breaking bears' furniture and stealing their food. Consumer demand is robust, unemployment is at its lowest level in almost two decades, capital investment is increasing and corporate earnings results came ahead of expectations throughout last year.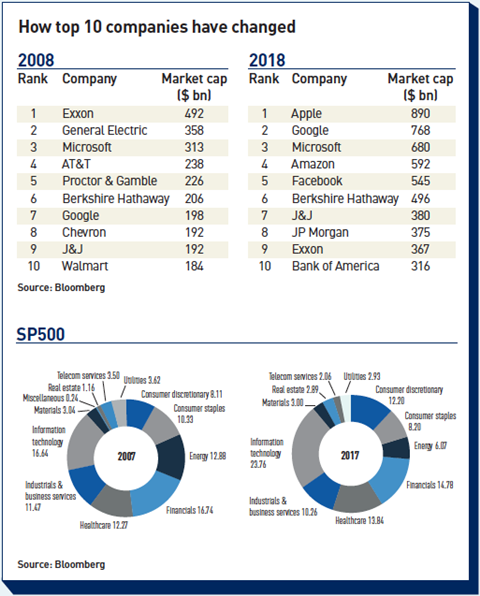 "Everything positive you could have in a market is pretty much already in place – supportive taxation, inflation under control, positive PMI [Purchasing Managers' Index] data, and so on," says Neiloy Ghosh, client services director at London-based Inalytics, which analyses portfolio manager behaviour. In investment, such positives always come with caveats, as he then notes: "If things can't get better, they can only get worse."
The US economy is late in the cycle – this is the third-longest business cycle, according to the National Bureau for Economic Research, whose records date back to the 1800s. Warning lights are flashing as the US corporate debt-to-GDP ratio is in line with previous business cycle peaks in a rising-rate environment.
Professional investors are struggling to keep up with these developments, according to Ghosh: "Since mid-2016, we have seen managers' buying decisions struggle. Very few are doing well with their trade timing."
The US is the world's best-researched equity market. In theory, therefore, it should be the hardest one in which active managers can add value. That is especially true at the moment, given the rapidly changing situation, says Ghosh, as "since the presidential election, there's been lots of sector turnover in what's leading performance – financials have had a bit of a run, cyclicals have – and managers seem to have struggled to keep up with the rotation. Plus there has also been a narrowing of the market".
That narrowing has both been in terms of what has led the market – specific large caps – over the short term, and the secular decline in the number of listed US companies over the past couple of decades, with fewer start-ups listing and more established firms delisting.
"Companies are staying private for longer, able to fund growth through private equity in a way that wasn't possible 10 or 15 years ago," says Cook.
Two factors have driven investor behaviour: cost and diversification, according to Jim Rowley, head of active/passive portfolio research in Vanguard Investment Strategy Group. In terms of the latter, he argues, "30 years ago, inventors would access US equity by buying the Dow – not the best barometer of the market. Then they moved on to the S&P500 – a move forward, as there are more stocks and at least it's weighted. Now they want exposure across the entire cap size of the market, and the necessary instruments to do that."
One distinctive feature over the past decade has been the use of passive investment vehicles, where the US has led the way. However, says Rowley, "passive isn't simply passive. If you look at the performance of aggregate passive exposure, they don't just follow the performance of the broad market, as you might expect. It's active management through asset allocation and style exposure rather than stock picking. There's an increase of use of style and cap exposures, such as small and value, which have gained popularity. There has been a general rise in factor-based investing."
Despite fears that the rise in passive investing could distort the market, with money following capitalisation this does not seem to be the case. Even in the US, passive equity funds amount to less than 15% of the total market cap.
It is hard to see what could disrupt the rise of the disruptors that dominate. However, given where markets are, the situation that has unfolded over the past decade may be in for testing times.
US Equities: A time to focus on value
1

2

3

4

Currently reading

US Economy: Where big is beautiful