After a period of high volatility, the recent rally in the global energy sector has brought some hope but the question is whether the rebound is the result of sentiment or a symptom of fundamental change
At a glance
• The energy sector has experienced high volatility in recent years.
• The sector could become more attractive as companies reassess their costs.
• The critical question to answer is whether the rebound in oil prices has been mainly sentiment-driven or whether it represents a fundamental change.
Investing in the US oil and gas sector is not for the faint hearted. It is certainly clear, as Duncan Goodwin, head of global resources at Baring Asset Management argues, that, without a doubt, the current rally in global resources has been one of the most significant drivers of financial markets this year.
Since hitting multi-year lows in early January, the US energy sector was up 24% by mid-May. The oil price collapse followed by the rebound in the second quarter of 2016 has certainly left many managers wrong-footed and will probably continue to do so.
Joseph McGann, senior investment analyst at NN Investment Partners is bullish on the sector. "We strongly believe that now is the time to be selectively investing in the energy space," he says. "The recent downturn has been driven by oversupply as both OPEC [the Organization of the Petroleum Exporting Countries] and US tight [shale] oil production grew aggressively in recent years."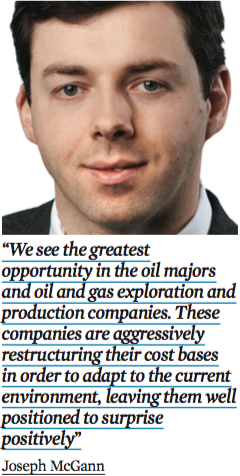 He argues that the downturn means companies have been forced to reassess their cost bases and be more disciplined with their investments. As a consequence, production is contracting and NN expects companies to be leaner and more disciplined coming out of this downturn – better placed to benefit from the up-turn in commodity prices.
McGann is also bullish on oil prices. "Constrained balance sheets and an increased focus on investing at sustainable levels means that production growth will be constrained while demand remains robust; we are optimistic about commodity prices," he says. "We see the greatest opportunity in the oil majors and oil and gas exploration and production companies. These companies are aggressively restructuring their cost bases in order to adapt to the current environment, leaving them well positioned to surprise positively."
Goodwin also expects the oil market to come into balance in the second half of 2016. "If the sector consolidates and opportunities emerge, we would be happy to add companies meeting our quality, growth and valuation upside investment criteria," he says.
As Goodwin warns, the problem even for the oil bulls, though, is that while spot oil prices have rebounded strongly, they remain meaningfully below consensus expectations and also implied valuations for the stocks in the sector overall. "The implication being that while oil prices may rise further, this has, to some degree, already been factored in by commodity and equity markets," he says.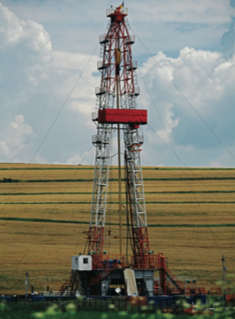 As a result, many managers are still avoiding the sector. "We thought the energy sector would be a promising place to be turning over some rocks, especially as the oil price dropped in January and February this year. By and large, so many of the equities we have looked at need a $60 or $65 oil price to support where the stocks are currently trading. If our analysis had said $45 or $35 that would have looked really interesting for us. It still seems that the whole space is implying a sustained recovery in the price of crude oil," says Connor Browne, a portfolio manager at Thornburg Investment Management.
Forecasting oil prices has proved to be a near impossible task, which, for many managers, makes the oil sector extremely unattractive. "We despise exploration and production companies. They are highly leveraged and are very unstable. We would not own them at any price," says CT Fitzpatrick, CEO of Vulcan Value Partners.
Vontobel Asset Management also finds the whole energy sector unattractive. "When we are looking for predictable stable earnings growth, energy and basic materials and commodities businesses have not met our hurdle because there is an extremely cyclical element to their growth which is extremely hard for us to predict. We like businesses where, depending on when you own them and when you don't are not critical drivers to investment returns," says CIO Matthew Benkendorf.
But he adds that while in the past there were a few franchises he would have bought, such as an Exxon or Chevron in the US, it is arguable now, however, whether they have the access and resource base needed to make them attractive investments. "Now the reserves lie in more difficult regions and in jurisdictions where the national oil companies control them and the countries have become more protective of their resources, so the economics have deteriorated flat out of those businesses. The new blue chip oil companies have become the companies that you can't buy because they are the national oil companies."
An even more worrying aspect for oil bulls is the issue of global climate warming and the increasing pressures to reduce the burning of fossil fuels. Oil companies, both listed and national, are anxious they may be left holding 'stranded assets' with no economic value.
Perhaps the critical question is whether the rebound in oil prices has been mainly driven by sentiment or whether it represents a fundamental change. Benkendorf is right to say that the sector has moved from desperation and despair to some sort of hope. But he might also be right to say that in the absence of any fundamental improvement in the supply/demand dynamics globally, investors would be hard pressed to find any opportunities. With shale oil and fracking in the US providing a possible ceiling to large price rises, it is hard to see that situation changing.
Investing In US Equities: Valuations - Clouded by uncertainties
1

2

3

4

5

6

Currently reading

US Equities: Oil & Gas - Fuel for thought

7