Dodd-Frank and other post-crisis regulation have changed the US banking sector with structurally lower returns on equity. Joseph Mariathasan searches for opportunities
Given that the global financial crisis originated within US financial institutions, it is not surprising that the sectors looks strikingly different than it once did. As Eddie Perkin, equity chief investment officer of Eaton Vance, argues, regulation post crisis has done an effective job in significantly reducing the risk inherent in US banks. Before the crisis, banks did not have to hold much capital against off-balance-sheet exposures. Today, there are regulations – particularly surcharges on common equity and rules on leverage capital – that require banks to hold a significant amount of capital against derivative exposure. As a result, banks have raised and preserved capital, and are currently actively compressing the notional value of over-the-counter derivative books.
But the consequences of this are not wholly positive. "Capital ratios have essentially doubled post crisis, driven by regulatory capital requirements. As a result, leverage has declined and will continue to do so, making bank balance sheets less available today to certain customers," says Perkin. "What happens when the Fed changes monetary policy? There is less balance sheet available from dealers, so expect a significant amount of price volatility in the bond market."
Many would argue that another consequence is that the nature of US banks as an investment proposition has fundamentally changed. Return on equity has fallen and is unlikely to rise, making many wonder whether banks should be viewed more akin to utilities.
Conceptually, commercial banking is straightforward. Apart from the return from the invested equity capital the bank needs to hold to be allowed to operate, commercial banks generate returns by adding leverage and creating a mismatch between assets and liabilities through either borrowing short and lending long, or by taking on credit risk in their lending. But, as Perkin notes, to get really low funding costs, banks need to create a deposit franchise enabling them to raise funds cheaply and that means taking on expenses such as branches, ATMs and so on. It is not worth having an expensive infrastructure unless you have a deposit franchise that is willing to accept lower interest rates than would be available from other sources.
Under current market conditions, however, banks with good deposit franchises, loyal customers, great branch networks with ATMs everywhere and good customer satisfaction, are finding that there is nothing to be gained from the ability to access retail funding at low rates when those from wholesale funding are also close to zero. "There is no benefit in this environment in having a great deposit franchise so that in the earnings stream of banks, the value of that franchise is not fully recognised," says Perkin.
At a glance
• The banking sector has become less attractive since the financial crisis.
• The sector encompasses entities engaged in business other than commercial banking.
• Rising interest rates could benefit some banks.
• The structural case for investing in the banking sector is controversial.
The banking sector, of course, can encompass entities that do far more than just commercial banking, which makes analysis more complex. Entities such as BNY Mellon and Northern Trust have enormous custody franchises that make them different in character to commercial banks. Adding more activities may add diversification but, as Perkin argues, there can be serious penalties in banking when an entity becomes too large and too complex: "JP Morgan has the most onerous capital requirements of any bank. Investors are actively debating whether it may be worth more by splitting apart into its three major divisions of investment banking, asset management and commercial banking – the old Chase Manhattan."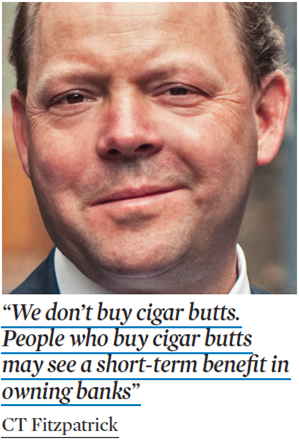 Valuations of each of the three activities are based on different metrics. The new Dodd-Frank regulatory regime – which outlaws proprietary trading – has adversely affected investment banking. Commercial banking depends heavily on the quality of the franchise and the ability to source low-cost funds, which probably accounts for two thirds of the franchise value of a commercial bank. Asset management requires relatively little capital so valuation is a function of the size and direction of growth of the assets under management.
Despite the short-term problems, it is difficult for US equity investors to ignore the banking sector as it accounts for a large proportion of the market. But a key point is whether banks should be seen as a core part of any investment portfolio or just a tactical play.
"The financial sector is a place where we still find plenty of attractive stocks, particularly from a core and value equities investor standpoint," says Paul Quinsee, chief investment officer, US equities, JP Morgan Asset Management. "Higher interest rates and lower legal costs should add to existing trends towards strong credit quality and better loan growth, and there is room for at least a cyclical improvement in investment banking profits as well."
Some analysts are bullish on banks given that the Fed may raise rates at some point in the next few months. A difference will then emerge between those banks that have to pay wholesale rates and those that can lag the yield they can pass on to their deposit holders and hence get better spreads.
Some regional banks are particularly well positioned to take advantage of higher interest rates. Utah-based Zions Bank and Texas-based Comerica, for example, have large commercial floating-rate loan books where margins would rapidly increase if rates rise. They are therefore seen as leveraged plays on a rise in interest rates. The issue for tactical investors in banking is how sticky low-paying deposits will be when rates rise. "If the Fed raises rates, the immediate reaction of bank stocks will likely be to go higher because the first point of view will be immediately reflected in stock prices and then over the next two to four quarters we will find out whether those deposits are really sticky or not," says Perkin.
Investing in banks tactically, however, is not to everyone's taste. CT Fitzpatrick at Vulcan Value Partners is scathing in his criticism of this approach: "There is a cyclical play in banks which some investors take advantage of. We like to buy wonderful businesses that increase their values steadily that we can buy at a discount. We don't buy cigar butts. People who buy cigar butts may see a short-term benefit in owning banks."
The question for long-term investors is whether the US banking industry should be seen as part of a core investment portfolio.
Perkin argues that the large US money centre banks are going to be safer entities with lower returns than before the crisis. While today the uncertainty of regulation and the tough rate environment are affecting money centre bank multiples, the regulatory environment will eventually reduce capacity in the system, allowing well-capitalised US banks to consolidate market share: "Eventually, higher capital standards should also lower the cost of equity – which should later help valuation," says Perkin.
Fitzpatrick, however, remains sceptical: "Broadly speaking, we do not see banking as a very good business. You have high levels of financial leverage, a commoditised product and an increasingly extremely heavily regulated industry, so returns are not going to be as good as they have been. We see a lot of other places in the US equity markets that have much more attractive economics that we can buy at deeper discounts."
For investors, deciding who is right will determine whether US banks should be seen as a long-term core holding in a portfolio or just a tactical play.