States in the US are offering retirement savings plans to workers who are not covered by company-sponsored schemes
Key points
US states are filling the pension gap for those who do not have company pension schemes
The design of the schemes varies from states to state
Some states are using auto-enrolment while others are taking a different path
The limited choices available in such plans have been criticised
"State-sponsored retirement savings plans represent the most significant reform since the creation of social security in 1935," says Angela Antonelli, executive director at the Georgetown Center for Retirement Initiatives. "States have taken a leadership role in addressing the long-standing problem of non-access to a company sponsored pension plan for millions of American workers," she says. "The financial industry has not served a large portion of the market and for decades have not filled this gap. It's time for change."
Change is indeed coming. California, Illinois, Maryland, Connecticut, Massachusetts, New Jersey, New York, Oregon, Vermont, Washington State, as well as the city of Seattle have decided to offer retirement plans to workers who are not covered by a company scheme.
"The smaller the employers are, the less likely they are to offer pension plans to their employees," says David John, a senior strategic policy adviser at the AARP Public Policy Institute, which represents older Americans. According to the US Government Accountability Office (GAO) only one in seven companies with 100 workers or fewer offers a plan. About 55m full- and part-time private-sector workers do not have access to workplace pensions. So they retire with only social security benefits that on average are only $16,000 (€14,000) per year, and they need more public assistance."
Oregon, for example, would save $98.9m on public assistance programmes between 2018 and 2032 if lower-income retirees save enough to increase their retirement income by $1,000 more per year, according to the AARP Public Policy Institute.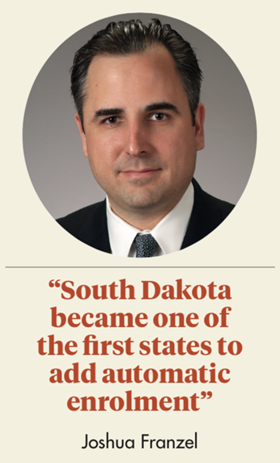 Oregon's plan is called OregonSaves. Its pilot programme began in July 2017 and will be fully implemented by the end of 2020. By November 2018, 45,000 employees had joined it, investing $9m. Illinois began its pilot programme in June 2018. California started its pilot programme in November 2018.
These states offer an automatic Individual Retirement Account (IRA) – they use private-sector providers and money is collected via payroll. In Oregon the state plan is mandatory for companies that do not offer a plan. In California it is mandatory only for employers with five or more employees. In Illinois the limit is 25 or more employers.
Other states took a different path. Vermont's plan is voluntary and looks like a multiple employer plan with a structure similar to 401(k) plans. Washington state has created a marketplace – employers can select pre-screened plans for their employees.
"The initial results of OregonSaves are very encouraging: 75-80% of eligible employees have enrolled, and the other 20-25% said they are already saving in other ways," says John. "I'm biased because I co-developed the concept of auto-enrolment and automatic escalation of contributions, but I really think it is the best way to help workers save."
Auto-enrolment is efficient because it gets as many people as possible, agrees John Scott, director of the retirement savings project at The Pew Charitable Trusts. "The downside is that the participants don't think about retirement savings anymore after they join. If they switch jobs and join a company that is not in the system or they move to a state with no plan, they may be not aware that they will not contribute anymore to a retirement plan."
Moreover, there is a big question hanging over these initiatives, according to Scott: "Can low-income workers save for retirement? First results from Oregon indicate that they can. But we need more data to see if the answer is positive."
Workers participating in OregonSaves are already saving at a higher percentage of pay than expected, contributing an average of $114 per month, according to the state treasurer Tobias Read. On the other hand, a study by the Center for State & Local Government Excellence (SLGE) about the impact of auto-enrolment in the 457 plan for South Dakota public employees, confirms the participation rate is higher with auto-enrolment but the amount of savings can be low.
"In 2009, South Dakota became one of the first states to add automatic enrolment to its supplemental retirement saving plan (SRP) for public employees," says Joshua Franzel, SLGE's executive director. Ten years later SRP's participation rate is 90% for employees of local governments, state agencies and all higher education institutions, which have adopted auto-enrolment; it is only 10% for workers in agencies that did not adopt the auto-enrolment policy. But the default contribution rate for those automatically enrolled is only $25 per month, or about 1% of the $31,907 average annual salary of new hires during the analysed period.
"Contribution limits to these state-sponsored plans are lower than for traditional IRAs, and workers who join them are usually low earners: together these two characteristics mean that assets under management will be small," says Jana Steele, senior-vice president and defined-contribution consultant at Callan. That is why money managers have shown little interest in getting involved, not to mention the legal requirement about the kind of products that can be offered. The latter are, in most cases, only money-market funds, target-date funds, and equity index funds. Maybe money managers will be interested in this business in five to 10 years.
Some in the financial-services industry have criticised the limited investment choices offered by state plans. "Small employers offering their employees a retirement plan for the first time don't need a lot of investment choices because it will take years for the participants to accumulate sufficient balances for this to matter," says Ted Benna, the creator of the 401(k) plan.
Investment managers for OregonSaves are State Street Global Advisors, while the independent provider Ascensus does the record keeping and administration tasks. "We do it also for California and Illinois," says Scott Morrison, chief product officer at Ascensus. "We have a long experience with private retirement systems like 401(k)s and also with saving systems for college (529). State-sponsored retirement savings plans were the next logical place to be."
The first challenge in implementing these plans was to decide which type of record keeping to use, says Morrison. "We chose to invest multi-millions in a completely new platform, a dedicated system, which is different from what works for 401(k)s." A state-sponsored retirement plan has potentially millions of participants from thousands of companies.
The Oregon plan is mandatory for all employers but Morrison says the initial reaction was positive. "A lot of small businesses told us that they are happy about the state initiative because they always wanted to offer a retirement plan but they never did it, they were afraid of the time and money it would cost. We have good testimonials also from employees who say it's very easy to join the plan and they don't miss the money because it's taken directly from their pay cheque."
Netherlands: A new Dutch blueprint
1

2

3

4

Currently reading

US states move to fill pensions gap