Sponsored content from Lyxor Asset Management
Many investors have traditionally associated passive investing with the headline values of indices and the resulting opportunities for capital growth. But over the last decade this approach has changed. Using passive funds to generate income isn't a new concept. But the combination of continuing low yields and a shake-up of active income managers have accelerated the shift towards index-based solutions. Many ETFs now target higher-yielding sections of the bond and equity markets, while the increasing availability of data has allowed passive yield strategies to become much more targeted.
Equity income
In the fund management world, equity income managers are superstars. But passive equity income strategies are still relatively unknown. There are a few reasons for this.
First, there's the allure of the star manager. The size and prominence of equity income managers has long given investors comfort, particularly as some have historically recorded strong returns. This trust has waned somewhat in recent years, as several household names have quit for pastures new and some high-profile funds have struggled.
There were also problems when passive income strategies first appeared. First-generation index-based equity income strategies tended to be too simplistic, often concentrating on just a few dozen shares or incurring large biases towards a few individual sectors. And the costs of passive equity income strategies were low, but still higher than those of traditional tracker funds.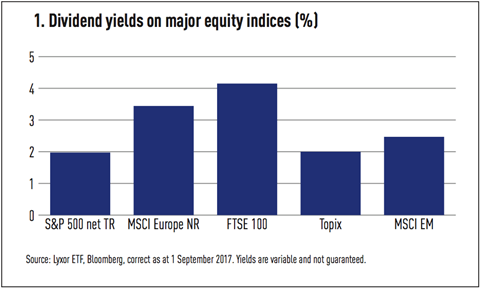 Second-generation passive equity income strategies have tackled these issues head-on, by focusing on company quality and the sustainability of dividends. Meanwhile, funds' ongoing charges have also fallen substantially in recent years.
High-yield or income-focused equity strategies
In broad terms, there are two ways to find passive equity income. The first is to buy high-yielding equity markets, while the second is to buy a strategy that is explicitly focused on income.
The UK or Asia Pacific are generally seen as higher yielding markets. By buying a mainstream index, you will be entitled to the dividends from the underlying companies. This is a simple approach, and these markets are available at very low cost. And buying a whole equity market gives diversification: you spread your portfolio over growth stocks as well as income producers. But over time, the income prospects of a country or region can and will change, so investors need to keep watch to ensure a strategy continues to meet their needs.
Income-focused index strategies use a so-called 'smart beta' approach to target higher-yielding assets. These products may have certain disadvantages, such as being concentrated, or too biased to a certain sector or sectors. The hunt for returns can lead to the 'yield trap' – buying struggling companies with high but unsustainable dividend yields. However the increasing availability of data means that more refined income-focused equity strategies have been launched in recent years, with a focus on sustainability.
Income-focused ETFs are a direct way to target dividends. By targeting only income-producing shares, their overall yield should be higher than a whole-market strategy – which would be preferable when income is a priority. They offer an alternative to an active equity income fund, but without the risk of managers taking a bad call or leaving. At Lyxor ETF we have been managing dividend target ETFs for years.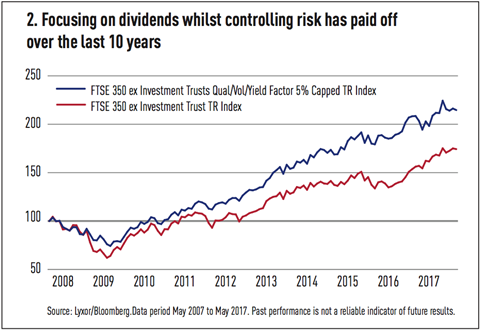 For Europe, the US and now Japan our ETFs follow the SG Quality Income indices. These strategies were created by top rated analyst Andrew Lapthorne. In June 2017, we added two new strategies to the range: Lyxor FTSE UK Quality Low Vol Dividend (DR) UCITS ETF (DOSH LN) and Lyxor FTSE US Quality Low Vol Dividend (DR) UCITS ETF (BUCK LN). Tracking UK and US high-dividend companies, these ETFs focus on volatility and company quality to minimise risk. And with an annual total expense ratio of 0.19%, investors aren't paying back their whole yield in fees.
Bond Income
Historically, bonds were the mainstay of an income portfolio. They represented its slow and steady cash generators. For many a bond fund is preferable to holding individual bonds, since funds are diversified, spreading the risk across a wide range of issues. They also give more choice, since investing in individual bond issues often requires a large commitment of cash, while fund investments can be made with relatively small amounts of money. Also, an advantage of bond funds is that, unlike individual bonds, they don't have a maturity date: your money will remain invested until you want to sell.
Unsurprisingly, passive bond investing has grown a lot in the last few years. In the first nine months of 2017 European bond ETFs saw €22.5bn of new assets – equivalent to a 17.4% annual growth rate. The reasons traditionally given for going passive – low cost, transparency, liquidity, predictable returns—may be most applicable for bonds. When rates are low, you don't want to pay back your whole yield in fees. And although some bond managers can offer top returns, sadly this isn't the norm. This is perhaps not surprising, since it's hard to find relative value in a stable, efficient and well-researched asset class like government bonds. It's hard for an active manager to find enough 'alpha' to compensate the fund for a higher fee.
For a UK investor, sterling corporate and government bonds are likely to be the mainstay of the fixed-income portfolio. But there are reasons to diversify beyond British shores. Interest rates can be higher overseas, or durations might be lower. The hunt for yield might push you towards euro or US dollar-denominated bonds – which, in terms of market size, dwarf the sterling-denominated high-yield bond market.
One thing to bear in mind when investing overseas is that changing exchange rates can affect your returns. For an income investor, there are many currency-hedged options, allowing you to offset the risk of changing exchange rates – but remember that currencies go up and down, so hedging can work for or against you.
Alternatives
Equity and bonds aren't the only way to buy income. A truly diversified income portfolio might look at alternative asset classes. Investing directly in property or infrastructure projects is a direct way to access high-yielding investments.
But there are downsides. The required minimum investment in these asset classes tends to be high, making it difficult to buy a diversified portfolio. It can be costly to buy and maintain these projects. If investing directly in properties, frictional costs can also be high. For example, stamp duty on UK property can add up to 15% of purchase costs, while realising cash can be time-consuming and costly.
Passive investors might buy into alternative assets by means of ETFs which invest in Real Estate Investment Trusts (REITs) or listed infrastructure shares. REITs are one step removed from direct investment in property, but benefit from enhanced liquidity.
Physical property investments can be slow and costly to buy or sell. This was particularly evident in 2016, when redemptions from many UK authorised property mutual funds were suspended as a result of heavy selling by investors in the wake of the Brexit vote, but property ETFs kept trading. In the short run, REIT strategies can behave in a similar way to the broad equity market, but they may also attract the superior yields generated by direct property investment. As at the end of September 2017, for example, the net dividend yield on the FTSE EPRA/NAREIT developed index was 3.97%, although this yield is variable and not guaranteed.
Adam Laird is head of ETF strategy at Lyxor Asset Management, regulated by the FCA in the UK, registration number 435658
Source for charge and yield data: Lyxor ETF total expense ratio correct as at 1 October 2017; FTSE Russell, as at 30 June 2017. Past performance is not a reliable indicator of future results. This also applies to historical market data.