Funds of hedge funds have been in decline since the financial crisis. But in recent months the tide has turned as assets have started to return to the sector. With fund of hedge fund managers increasingly embracing a new business model, the outlook for the sector appears brighter than for some time.
Since 2008, funds of hedge funds have suffered more severely than single managers. According to figures from Hedge Fund Research (HFR), the fund of hedge funds industry suffered net outflows totalling $221bn (€162bn) between 2008 and 2013, including net outflows of $8.1bn in Q4 2013 alone. In the hedge fund industry, more broadly, there was a total net outflow of only $61.4bn.
Importantly, the HFR figures focus on commingled fund of hedge fund vehicles, rather than total assets under management (AUM) of fund of hedge fund firms. "Assets in non-commingled products aren't included," explains Ken Heinz, president of HFR. "If we defined [AUM] in vague terms, it would be very difficult to ascertain the real picture."
While the decline of commingled funds of hedge funds continues, this data clouds a more positive picture of dramatic change in business models across the fund of hedge funds industry, and the growing use of fund-of-one structures and managed accounts by investors.
A different picture
At the firm level, the picture is more positive than at the fund level. Data from Preqin shows that the total industry AUM of fund of hedge fund managers is still significantly down, having fallen from almost $1.2trn at the end of 2008 to $809bn by May 2014. However, in North America, AUM have been increasing since 2012, ending May 2014 at $553bn. The impact of the so-called JOBS Act and the trend for hedge funds to be launched with 40 Act structures in the US, opening up to retail access, have played a significant role – but does not tell the whole story.
Assets in Asia have increased, too.
Even in Europe, where post-crisis AUM fell the most, the tide has turned. Fund of hedge fund managers' assets more than halved from $535bn in December 2008 to $224bn by the end of 2013, but have since edged up to $227bn. Total global fund of hedge fund managers' AUM increased 3% in the first five months of 2014, from $786bn to $809bn.
Although these figures combine the effects of performance and asset flows on total AUM – and, after all, the HFR figures also show assets growing, despite net outflows – Amy Bensted, Preqin's head of hedge fund products, says: "Last year inflows started overtaking outflows. Those inflows have driven the general increase in fund of hedge fund managers' AUM, which we expect to continue."
At the same time, Preqin's figures show little recovery in fund-of-fund launches since 2008. What is going on?
Revolution
The industry has changed, Bensted observes. "Firms have stripped back their businesses post-crisis and looked at where they can add real value to clients – areas such as risk management, due diligence, manager selection and diversification," she says. "This is starting to pay off as money comes back into the industry, particularly in the US, where funds of hedge funds were quicker to adopt this new solutions-based model."
The concierge model of the traditional fund of hedge funds industry, which prioritised access to underlying managers, is being replaced by a partnership model where fund of hedge funds provide investors with tailored solutions, fulfilling specific objectives within an investor's overall portfolios.
"The industry changed how it engages with large, sophisticated institutional investors after 2008, increasingly collaborating with them on a more targeted basis to satisfy specific goals within their overall portfolios, and giving them greater value-added than the one-size-fits-all model," says Scott Schweighauser, president of fund of hedge fund firm Aurora. "The fund of hedge funds industry that is emerging from the crisis is greatly improved."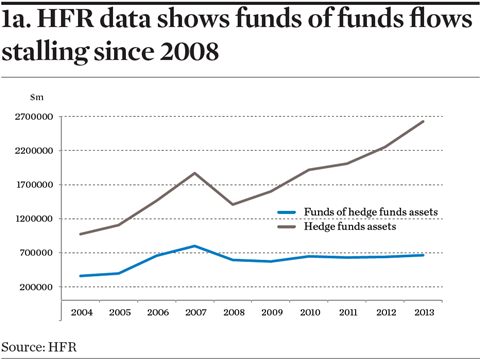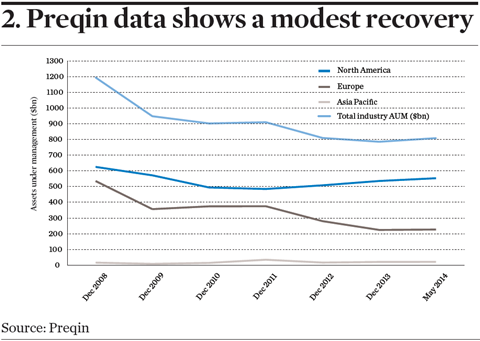 Fund of hedge funds are also finding new ways of working with underlying managers to hone client exposure. For example, firms are beginning to apply greater discretion over an underlying manager's bets to concentrate on their best investment ideas, helping to demonstrate their value-add proposition more clearly.
"Some large fund of fund firms are essentially contracting managers to filter a portfolio to focus on the greatest conviction ideas and removing any offsetting bets," says Heinz.
This changing business model is the main driving force of inflows into fund of hedge funds – and it might explain why it is not so clear in pooled-fund assets.
"Some of the firms we work with have been raising a lot of money," says Patrick Ghali, managing partner at hedge fund advisory firm Sussex Partners. "The old model is dying and traditional fund of hedge funds are losing assets. A few groups have done extremely well, however, and have been raising $100-200m a month as they have moved from the legacy to the new partnership model."
Individualisation
However, the hedge fund industry's change in fortunes is not being reflected by leading data providers, who do not currently include the assets of these new structures in their fund of hedge funds data.
Around 80% of investments in the model diversified portfolio managed by Pacific Alternative Asset Management Company, are made through managed accounts or funds-of-one, according to head of research Lisa Fridman. "Our goal is to get to 100% by the end of this year," she adds. "We believe that such structures provide stronger safeguarding of assets, and improve both governance and our ability to customise investments with underlying managers."
Cerulli Associates believes that fund of funds managers must consider a fund-of-one structure, which offers customisation as well as operational support, or risk losing market share. They expect the US managed accounts industry to exceed $5trn by the end of 2016, from $2.8trn in 2012.
Ghali says: "We see more and more of these fund-of-one structures, even at the sub-$100m level. Some investors want to keep assets segregated, while others see the value of highly tailored solutions."
However, these assets are effectively invisible from some of the leading databases that measure fund of hedge fund assets by measuring commingled vehicles only. Furthermore, the fund of funds may not be the client of record.
John Anderson, president of JP Morgan Asset Management's fund of hedge funds business, says: "For customised solutions including separate accounts and advisory relationships where funds of hedge funds may be helping to set objectives, pick managers and construct portfolios, it can be structured so the client of record at the hedge fund is the underlying client."
The move away from commingled investments distorts some of the leading industry data regarding the fortunes of the fund of hedge funds industry. Because these vehicles are not commingled and are not widely marketed, they are excluded from data on funds of hedge fund AUM provided by leading data houses. As the industry evolves and gathers more of these invisible assets, the divide between total AUM in commingled funds of hedge funds and total assets managed, or under advisory by fund of hedge fund firms, will grow.
Schweighauser concludes: "Funds of hedge funds are the intermediaries between the investors and the investment talent. The vehicle doesn't matter as much as delivering returns efficiently to those investors. Doing this in a targeted, modular and scaleable fashion is what will launch fund of hedge funds into the next generation of hedge fund investing."