In the past, fund managers would not necessarily spring to mind when thinking of ways to tackle climate change. Yet we are increasingly seeing more and more investors on the environmental frontline, taking tangible steps to integrate environment-related metrics into all aspects of the investment process.
Climate change is a systemic risk to the market and it is encouraging to see this momentum gathering pace following the Paris climate pact signed in 2015 by international leaders, agreeing to limit global temperature rises to less than 2°C above pre-industrial levels.
However, time is running out to keep to the promises made in Paris and the 2°C target set means that only a limited amount of emissions can be produced if the world is to stay below this threshold, a concern echoed in a report by the Intergovernmental Panel on Climate Change, published in October. This has often led to concerns around stranded assets, which are a real threat to investors.
It is therefore promising to note a recent Morgan Stanley report which finds that sustainable investing has entered the mainstream, with two-thirds of asset managers now aiming to achieve competitive market-rate financial returns alongside positive social and/or environmental impacts.
Having worked in the investment management industry for over 40 years, I have also seen first-hand how the dial has shifted on the integration of ESG factors into investment processes.
You can't manage what you don't measure
Transparency has to be the foundation for environmental action and the work of CDP is key to this and has been pioneering environmental disclosure since 2002. CDP sits at the heart of the capital market response to water scarcity, deforestation and climate change, and its data is available to the whole market. From portfolio building to policy setting, engagement to ESG research, its work with investors ensures environmental data is integrated throughout the whole investment process.
Following the recommendations of Mark Carney's Task Force on Climate-related Financial Disclosures (TCFD), it is also encouraging to see the gathering momentum behind the TCFD recommendations across industries worldwide, moving climate change firmly up the board agenda. Fulfilment of the recommendations will be key to ESG integration as climate disclosures are incorporated into mainstream financial reports. Regulatory pressure on pension funds provides yet further impetus for positive change.
It is already clear that there are leaders in this space who are responding rapidly to climate change and across the whole spectrum of ESG issues. It is my belief that we have reached a tipping point, and soon nearly all fund managers will not only 'talk the talk' but 'walk the walk' by seriously integrating ESG into their investment processes.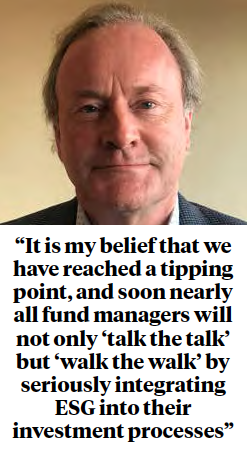 There are multiple ways in which investors are putting ESG factors at the heart of their investment decisions from essentially passive approaches – such as Legal & General Investment Management's Future World fund – to active approaches championed by Schroders and others. Whatever the approach, data is vital to be able to differentiate between companies. CDP disclosure data, with over 15 years of history on a company's emission targets, its climate strategy and how likely a company is to change its business model, provides a critical input.
Investors can also assess the carbon footprint of their portfolios and prioritise engagement with companies. CalPERS, the largest public pension fund in the US, uses CDP's greenhouse gas emissions dataset for this purpose. Based on its carbon footprint exercise, CalPERS selected 100 of these high-emitting global companies and categorised them as systemically important carbon emitters. The fund argues that these 100 companies should be subject to mandatory reporting requirements as they pose risks to the wider economy through their emissions.
This data is also being more and more integrated into financial products such as indices. Indeed, this data is already powering financial products including the STOXX Low Carbon indices, the New York State Common Retirement Fund's low carbon index created by Goldman Sachs, and the new Euronext CDP Environment France index, which uses corporate disclosure data, not just on climate, but on water security and deforestation too.
Climate ratings are also crucial for integrating environmental factors into investment processes. Climetrics , for example, provides a holistic assessment of a fund's climate-related risks and opportunities, by measuring its portfolio holdings as well as the fund's investment policy and the asset manager's climate governance. This rating makes the process of gauging a fund's climate-related risks and opportunities simple for both institutional and retail investors.
It is clear that there are positive signs of progress. However, we need to see a rapid shift in the market with more and more fund managers leveraging their role in the low-carbon transition, and pricing in environmental risk appropriately.
Still a challenge
Despite the general consensus around the increasing importance of sustainability globally, a recent Schroders survey notes that 77% of institutional investors find sustainable investment a challenge. Challenges were particularly extensive in Asia, with 82% of asset owners in the region reporting difficulties, contrasting with 69% of investors in the US.
More positively, a recent UBS report also finds that there are a growing number of funds which would like to start integrating ESG into the investment process. Progress is often stalled by barriers, such as not knowing how to take the first steps or difficulties getting the topic on the agenda.
We have come a long way since the days of climate change denial, and today there is clearly a massive sea change with investors engaging in sustainability. Those not actively considering the opportunities and risks of ESG may be left behind in this global transition.
Now, more than ever, the market has responded to an influx in interest in ESG matters and the role of the investor in pushing forward the sustainability agenda is becoming paramount. As the world's response to climate change becomes ever more urgent, fund managers should leverage their unique positions to help accelerate a low-carbon future, for the benefit of all.
Alan Brown is chairman of the board of trustees of CDP