Managers are finding new ways to pursue long/short equity strategies
Key points
• High-equity beta has drowned the equity long/short alpha story
• Europe and Japan are markets that still have opportunities for regional alpha
• Some contend that a quantamental approach, combining man and machine, is the future of fundamental equity research
Alpha from long/short equity investing seems to have got lost in the beta story of the past nine years. Making the case for equity long/short is hard when these managers returned 5.47% in 2016, compared with the S&P 500, up 11.93%. As a result their outflows totalling $32.6bn in 2017, according to 2018 Preqin Global Hedge Fund Report, are hardly surprising.
Donald Trump's tax cuts and a relaxed approach to quantitative easing (QE) fuelled the equity markets further, adding more than $9trn in value in 2017. And even though long/short equity ended the year up 13.28% after 12 straight months of positive performance, the S&P 500 was up 21.80%.
Investors suspect the market could be hitting the top of the equity cycle, so hedge funds are starting to make a comeback with a role of diversifier/portfolio protection. But the long/short equity universe is facing structural challenges from cheaper alternatives such as exchange-traded funds (ETFs) and risk premia strategies that have been gaining momentum.
"Over the last few years, in an environment characterised by low interest rates, compressed risk premia and flushed with liquidity seeking yield and flowing into ETF and passive funds, fundamental stock picking has not always been rewarded," says Daniela Doria, principal at Mercer in London.
"We believe that portfolios dominated by traditional beta offer a relatively unattractive risk/return trade-off on a forward-looking basis. The exceptional returns of the past eight years are unlikely to be repeated and there is a scarcity of 'easy beta' to be harvested," Doria adds.
Bruce Harington, head of equity long/short at Stenham Advisors, a multi-manager in London, agrees. "We have become somewhat more cautious on equities because we are likely towards the later stages of a bull cycle. Global central banks are pulling back on the provision of liquidity, valuations are higher than average, and no asset class is priced for more normalised levels of interest rates," he says.

Stenham reflects this view in its portfolios by favouring managers with slightly lower levels of net exposure and by increasing the level of importance that it places on the analysis of historic levels of short alpha generated by managers. Stenham Advisors has 40% of its assets in 25 long/short equity managers and the Stenham Growth fund returned 12% in 2017.
It is still anyone's guess which strategies will be the net beneficiaries of asset flows in 2018, particularly in the light of the $2.6trn of S&P 500 losses after February's volatility wipe-out.
According to the HFRI Indices, in February hedge funds were down 1.75%, with equity long/short down 1.84%, against a backdrop of the S&P 500 down 3.69%. Only the technology sector hedge funds survived February, up 0.42%, proving that looking at managers through a thematic, sector or geographic lens makes a difference. In 2017, the HFRI Technology/Healthcare index was up 16.79%, while the Fundamental Value index was up 18.85%.
"Although, geographically, we are invested 60% in the US, 35% in Europe and 5% in Asia, sector exposure has become more important to us," says Harington. "We favour sectors where we believe there is a niche opportunity set that allows managers to generate abnormally high levels of risk-adjusted return. At the moment, these sectors include healthcare, utilities and US banks," he adds.
ESG considerations
One of the themes is socially responsible investing, says Andrew Allright, chief executive officer of the $30.2bn managed-account platform InfraHedge. "More investors are seeking [hedge fund] returns along the ESG spectrum which requires the type of transparency and reporting that a platform like ours can offer," he notes.
Arnaud Langlois, portfolio manager at Lombard Odier Investment Managers is exploring themes around sustainability. "We are looking at finding alpha on sustainability topics with a longer-term view. For example, we are looking at trends in environment, society, ageing population and nutrition. There are plenty of shorts if you focus on bad governance, poor tax practices or poor ethics," Langlois says.
Geographically, most long/short equity funds are biased towards the US because of the liquidity and depth of markets as well as the ability to trade the short side adequately, but Europe and Japan offer more opportunities for alpha, argues Alastair Barrie, head of US Wealth Management Sales for Martin Currie.
"Take Japan – it is a deep liquid market that is under researched, under invested and has fewer crowded trades. It makes up 8% of the MSCI ACWI universe and is currently undergoing a corporate governance reform," Barrie says. "If you could take Japan out of the title and show an investor the return profile, they would buy the return stream, as it has low volatility and has low correlation to other markets," he adds.
"Europe is a less efficient market structurally due to a diversity in companies, sectors and languages and the sell-side research is typically organised geographically, with patchier coverage in the small and mid-cap sectors," says Cutler Cook, associate director responsible for European long/short equity investments at Pacific Alternative Asset Management Company (PAAMCO).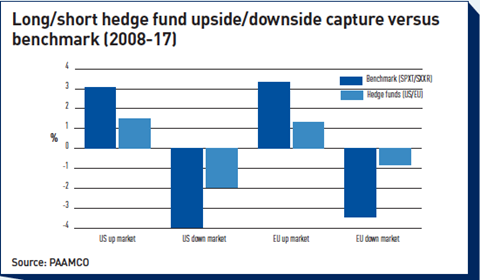 PAAMCO's paper European Hedge Funds – What's the Point? puts forward the case for European equity long/short funds by showing that they had lower market-related returns and more outperformance than their US long/short equity counterparts (see figure). Using the S&P 500 and the Eurostoxx indices, PAAMCO showed that US long/short equity funds had beta of 0.48 and alpha of 0.3%, while the European equity long/short managers had a lower beta of 0.27 and alpha of 3.4%.
In Europe in recent years, the overall trend has been fewer launches with larger average dollars invested, potentially a reflection of the growing barriers to entry due to rising costs and regulation. "This trend may also be driving a higher quality of new manager. I also think that fewer managers and less money chasing ideas means higher returns available to managers who get calls right, making it another reason for the alpha opportunity," says PAAMCO's Cook.
Data science
If the days of the classical fundamental research hedge fund set-up – that is, a portfolio manager, an analyst with an Excel spreadsheet and a Bloomberg terminal operating from a small room – are over, what is the future of long/short investing?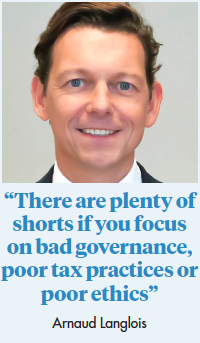 "Today, it is far more common to see equity long/short managers hiring dedicated data scientists in addition to 'traditional' analysts," says Tim Wilkinson, head of investment research at Aurum Research. "Today, there is an increased expectation that analysts will have strong computing/coding/programming skills and the ability to handle the complexities of dealing with large, amorphous data-sets."
Aurum's Wilkinson says the rise
in the importance of alternative data is one of the greatest challenges to the long/short equity manager today. "By this I mean incorporating that data into traditional fundamental long/short investment processes; selecting and vetting the data from vendors; as well as purchasing, cleaning; and interpreting and managing all this data in aggregate," he says.
Fabian Blohm, co-head of GLG European long/short at Man GLG agrees. "With today's volume of data, both structured and unstructured, we believe the equity long/short hedge fund with an edge will be the one that has access to quantitative techniques to crunch data faster".
"We are now using quantitative models which create outputs that become an additional input for our fundamental equity process. For example, GPS data and credit card information might inform our decision to buy or sell a stock and potentially when," says Blohm.
Whether or not 'quantamental' is the new way to run a long/short equity strategy, quantitative techniques have definitely entered the fundamental research arena. "We are definitely in the age of man and machine, where the machine might have the edge for trading and execution, but we believe man is definitely better at picking stocks for the foreseeable future," he says.
Hedge Funds: Activist funds turn up the heat
1

2

3

4

Currently reading

What future for long/short equity?