Rachel Fixsen spoke to Carsten Stendevad about his vision for Denmark's labour market pension fund, ATP, and his first two years as CEO

Carsten Stendevad does not look like a man with the weight of the world on his shoulders. As head of one of the world's largest pension funds his smile and easy manner belie the fact he has steered the DKK750bn (€100bn) Danish institution through big changes, not to mention political controversy, over the past two years.
Some of these changes were under way before he crossed the Atlantic to become CEO in April 2013, but Stendevad is clear that his international background has helped the supplementary labour-market pension fund. "On the one hand, ATP is as Danish as it gets, and on the other hand we're a very international investor because of our size," he says.
"I think of myself as [being as] Danish as it gets, but obviously I have spent most of my life abroad so I have a very international outlook and background. In that way it was a good match."
Since the global financial crisis, Stendevad says that ATP and all other big investors have had to face huge challenges, and has responded by completely redefining and reconstructing its investment processes to be more aligned with the new order in financial markets.
"When we look at how we had to rebuild our investment processes in light of the markets – to reduce our reliance on fixed income, where we were very dependent, increase our investment flexibility and to use that flexibility to be more active in equities and in alternatives – it was helpful to have an understanding of global best practices and try to learn as much as we could from the best investors in the world," he says.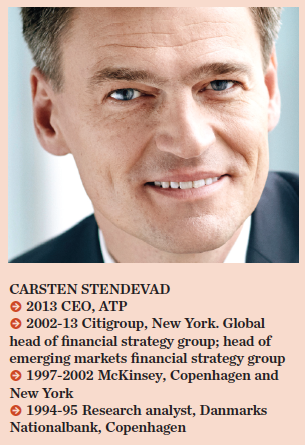 Apart from spending much of his childhood abroad, the 42-year-old Stendevad has studied and worked in the US and Denmark, latterly at Citigroup. As such he was a good fit for the Danish-but-international vacancy outlined by ATP chairman Jørgen Søndergaard back in 2012 when the pension fund was looking for a replacement for Lars Rohde, who became the governor of the Danish Central Bank.
Learning from international best practice is a working method Stendevad has consciously instilled among colleagues at ATP. "I told our team six months ago when we had a group meeting, that one of the tasks for 2015 was that every department had to identify in their area who were the two or three best players in the world," he says.
"We have a good dialogue with a dozen sophisticated and like-minded institutional investors including sovereign wealth funds, pension funds, hedge funds and alternative asset investors across America, Europe and Asia."
Stendevad says ATP also looks to certain hedge funds with excellent analytical platforms, while some global fixed income players have enviable trade execution capabilities.
"We're not looking for trade secrets, these are institutional practices. We seek inspiration – we don't copy. We have to put it into our context here, which means we try to implement it here given the investment strategy we have," Stendevad says.
Stendevad points to the Focusing Capital on the Long Term initiative co-founded by McKinsey and the Canada Pension Plan Investment Board. Stendevad is a member, along with a select group of global institutional investors. "It started with the paradox that we have so much long-term institutional money, yet so much of the market is focused on the short term. Why is that?" the CEO asks.
"This is an example of where we're grappling with some issues, and they're grappling with the same issues. We should just be very humble and say if we can be inspired by others, then absolutely, we should try to do that."
Stendevad's time at ATP so far has been marked by changes. After only a few months into the job, in October 2013, he oversaw the implementation of a new discount yield curve to value pension liabilities. The move means that in the future ATP only needs to use fixed-income investments to cover 75% of its liabilities, as opposed to 100% before the change. The remainder can be covered with higher-yielding investments in real assets such as property and infrastructure.
In August 2015, ATP made a radical change to the structure of the guarantees it gives members, opening the door to greater investment flexibility and allowing it to seek higher returns for lower costs with a greater range of assets that can be used as hedging tools. The length of the return guarantees on pension contributions was shortened to 15 years from the lifelong guaranteed returns it had paid until that point.
In January 2014, Stendevad steered ATP through political controversy when the pension fund took a stake in the Danish state enterprise DONG Energy as part of a deal that also involved Goldman Sachs. ATP took a 4.9% stake in DONG for DKK2.2bn in a recapitalisation deal, while the Danish commercial pension fund PFA took 1.8% and Goldman Sachs took 18% — reducing the Danish government's holding to 57.3% from 81%.
The deal sparked demonstrations outside the Danish parliament with critics objecting to US bank's behaviour during the global financial crisis and alleging that the investor selection process in the deal had been unfair.
In March 2014, ATP took part in an investment worth DKK17bn to buy the Danish firm Nets, a specialist financial transaction provider, which Stendevad said would create value for ATP's pension members.
ATP is now redesigning its entire portfolio construction processes and is on the verge of revamping the investment portfolio structure it has had for many years, involving five risk classes. The number of those classes is likely to be whittled down in the next few months. Over the past two years, ATP has also been able to cut administration costs by over 10%.
Although the tasks at hand may be difficult and the job involves reaching into the unknown for answers, Stendevad is clearly a happy man. Does that come from working for a public cause?
"It is what attracted me to come here," he says. "I had a great life personally and professionally in the US and I came here in large part because it was a professionally stimulating challenge, a big portfolio, and when I take a taxi the taxi driver will ask me — how's my pension doing? That's very satisfying."
Others find it rewarding too, Stendevad says, pointing to ATP's Danish equities team which last year produced a 52% increase in the value of their portfolio.
He smiles. "What I thought was fantastic was that, based on that performance, we could raise pensions for the entire nation – five million people. If that doesn't give you goose bumps, you're not in the right place."