"Successful investing is anticipating the anticipations of others" according to John Maynard Keynes, one of the most influential economists of the twentieth century.
He was, in effect, explaining why equity prices often differ from their fair value due to the single biggest behavioural bias on the part of investors: herding. Corporate fundamentals do not change nearly as much as their share prices in the short term. Contrarian investing based on the notion of fair value is the key value driver in the final analysis, he concluded.
Keynes's views resonate in today's pension landscape where sky-high asset valuations are mostly attributed to crowded conviction-less trades driven by central banks' quantitative easing (QE). Investors have been forced to purchase risky assets, irrespective of their intrinsic worth.
Now that QE is in retreat, the correlation between stocks is falling and the dispersion in returns is getting wider, long-term investing is set to gain traction. These are among the key findings from the latest Amundi/CREATE survey, involving 161 pension plans with total assets of €1.71trn.*
Indeed, the revival of interest in long-term investing is based on nascent shifts that are coinciding with the rise of populism in the wake of three geopolitical developments: the Brexit vote, the election of Donald Trump and the unexpected gains by far-right nationalist parties in the latest round of elections across Europe.
The shifts in question are: from globalism to populism, from monetary to fiscal policy, from deflation to inflation and from over-regulation to deregulation. History shows that rarely do such shifts appear material at the time but they can be hugely consequential in hindsight.
Case study: a Norwegian pension plan
"Two bear markets in the short span of the last eight years has side-lined investment wisdom. Asset class diversification failed when it was needed most. As if that was not enough, central bank action has created artificial markets. With just a single large buyer, bond markets have ceased to function. But as pension investors, we have to remain invested. We have to accept the markets.
"The 2008 collapse devastated our portfolio. Since then, we have been trying to come up with a strategy that can deliver decent returns over a longer period, while offering protection against wild rides from time to time. For us, long-term investing makes sense when you have long-term contractual liabilities. The world of investment is best considered in terms of 10 to 20-year cycles. There is no
'old' normal and 'new' normal – just different normals for different phases.
"In this current phase, our investing is based on four core beliefs: diversification still works if based on risk factors, not asset classes; risk generates returns, if you're a buy-and-hold investor; markets revert to their mean; and a degree of opportunism is essential."
As for the likelihood of these shifts in the near term, most respondents consider them 'very likely' or 'maybe' (figure 1). But there are widespread concerns that while markets are transitioning from a long period of asset reflation into the late-stage cycle, new risks could unexpectedly emerge.
For example, the shift from monetary to fiscal policy means that markets will move away from their current artificial levels and reconnect with fair value. But might a premature rate rise initiate a 1937-style collapse, where the economy slumps after a period of apparent recovery? Woe betide the central bank that causes it. To control volatility and keep a floor under asset values, are central banks not effectively trapped in a QE-forever cycle? What cracks will the current excess liquidity slip into over time?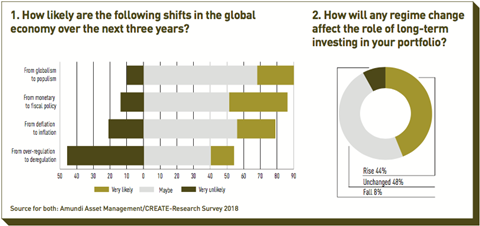 In any event, policy normalisation may not be orderly. The scope for timing errors is considerable due to the uncertainty around the Trump agenda on deficit spending and trade protection. Tax cuts and infrastructure spending could boost US growth, jobs and inflation but would Congress allow the resulting budget deficit to balloon out of control? Could trade protection invoke retaliation? Will competitive devaluations become the norm?
On the inflation front, the shadow of deflation is receding in the developed world, but will the rising global debt mountain act as a brake, as subsequent deleveraging bears down on economic growth?
Depending upon how these and other risks pan out, it is feared that markets could get as volatile as during 2011-13, when the euro-zone crisis left them directionless for long periods. Hence, there is a clear shift in sentiment compared to the recent past (figure 2). In total, 44% of our respondents report that the role of long-term investing will 'rise', 48% expect it to remain 'unchanged' and only 8% expect it to 'fall'.
Long-term investing has come to the fore as geopolitical events and their impacts have proved hard to forecast. Timing the market is a fool's errand. Few pension plans have the skills and nimbleness to engage in it. In today's environment, investing is also about sifting the relevant investment signal from the market noise.
Old style volatility is set to return, widening the dispersion of returns and reducing correlations within and between asset classes. Furthermore, evidence shows that the dispersion of returns is positively correlated with time: the longer the period, the greater the dispersion, and the greater the opportunities for differentiated performance based on a disciplined process.
The old wisdom that true value always triumphs in the end is gaining renewed currency. That means investing in quality assets, so as to gain more by losing less and outperforming over a full market cycle, while allowing more time for risk premia to emerge.
*Back to Long-Term Investing in the Age of Geo-political Risk, available from amin.rajan@create-research.co.uk
Pascal Blanque is CIO of Amundi Asset Management and Amin Rajan is CEO of CREATE-Research