AP2's in-sourcing journey has reduced costs and boosted its flexibility and transparency
Key points
• An in-sourcing process has reduced AP2's external management to 17%
• Chinese equities, global equities with ESG focus, private equity and catastrophe bonds are managed externally
• New rules for AP Funds 1-4 may change the requirement for 10%+ external management
• The exercise reduced errors in transactions, partly via built-in links to execution system
Sweden's Second National Pension Fund (AP2) – the only one of the state pension system's four main buffer funds to be located outside Stockholm – has been gradually in-sourcing asset management for the last five years. The Gothenburg-based fund is at the point where just 17% of its SEK345.9bn (€33.9bn) investment portfolio is managed externally, having come down from an external management level of 29% at the end of 2012.
AP2's rationale for in-sourcing is three-fold: the reduction of costs; creating a basis where it is easier to rebalance assets; and improved transparency.
Some examples of areas of external asset management for AP2 now are Chinese equities, global equities with ESG focus, private equity and catastrophe bonds.
AP2, in common with the other three main buffer funds – AP1, AP3 and AP4 – is limited by its investment guidelines in the proportion of assets that it can manage in-house. The funds are mandated to have at least 10% of investments externally managed.
However, this is likely to change under the revised set of rules which is going through the consultative and legislative process in Sweden.
The existing rules also demand the buffer funds manage private equity externally, and place a range of limits on other types of investments they may hold in their portfolios.
The pension fund has taken on more staff in the past few years as it has brought asset management in-house. Ola Eriksson, AP2's head of business support, says the fund is capable of conducting its own investment management well:
"We now have more people, and we have changed a lot within our internal processes as well," he says.
The fund has increased the amount of its assets that are managed quantitatively. This is not passive investment, as the pension fund takes risk and still gets alpha, but it is less traditional asset management than was the case before, Eriksson says.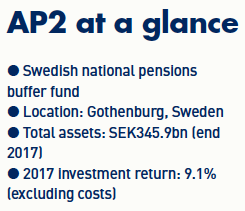 The shift to quantitative management means AP2 has a greater need for data than in the past, particularly when it began managing emerging market equity and debt in-house, including emerging market debt in both hard and soft currencies.
"Because a lot of our assets are quantitative, this involves rebalancing and therefore a lot of transactions," Eriksson says.
The amount of transactions has doubled to about 60,000 a year from about 30,000 for AP2.
"We have met the challenge of this change in several ways – streamlining the input of basic data, reducing transaction errors, and outsourcing some of the flow to the custodian bank," he says.
When AP2 analysed the practicalities of managing higher volumes of transactions, it found the most time-consuming part of this to be correcting deals that contained errors.
"It was very important for us to reduce errors, and we did this by making much more use of built-in interfaces between the execution system and the portfolio system," he says. To make the process even more efficient, the matching and settlement of transactions have been outsourced to the custodian bank.
All in all, the higher level of in-house investment management works well, Eriksson says.
"You have to do your homework both on asset management and administration, so it's not a walk in the park, and the process itself is a demanding process.
"But from the cost side it is worth it, and today we are an organisation with more people and more flexibility," he says.
"We have built up more of a learning organisation, and when it comes to forex and rebalancing, this is much easier as we all sit in the same room.
"The key to success if having a lot of different departments working together," he says.
Eriksson agrees such flexibility could be a particular benefit when the buffer funds' changed investment rules are finalised and asset allocation alternations may be needed.
Multi-Asset Strategies: Worrying developments
1

2

Currently reading

AP2: Demanding but worthwhile

3

4

5

6

7