• Consensus forming that new Italian government will reverse its anti-EU rhetoric
• Euro-zone looking for positive overspill, as production levels falter
• Localised turmoil in emerging markets as current account deficits penalised
There have been many times when Italy's volatile politics have entertained the world. And occasions when that volatility has spilled into financial markets. Although the campaign talk of the two parties now forming Italy's coalition spooked markets, it seems that those politicians, albeit populist, may be more sensitive to financial market stresses now they are in power; their approach could turn out to be less confrontational than initially feared.
For now, it seems investors are cautious on the grounds that peripheral Europe is in a better state than six or seven years ago in terms of current account, fiscal position and the health of individual countries' banking sectors.
Although negative for Italy, risks may not translate to contagion in the region. It is worth remembering another feature that runs through Italian politics, which is how short-lived many governments have been. The European summit at the end of June will provide an insight into just how this Italian government intends to fit in with its EU peers.
Aside from Italy, the shocks keep coming this year – from the VIX to Argentina's debts and the possibility of trade wars. At a time when investors' risk aversion appears to be rising – as the inflows into US money market funds may be indicating – risk assets have been hit, although some have recovered quicker than others.
On top of the usual macro forces, and as the world's major central banks continue to reverse their QE operations, geopolitics will exert its unpredictable influence, whether from anxieties over trade protectionism, or tensions with Iran, or from the words and actions of the increasing number of mercurial leaders.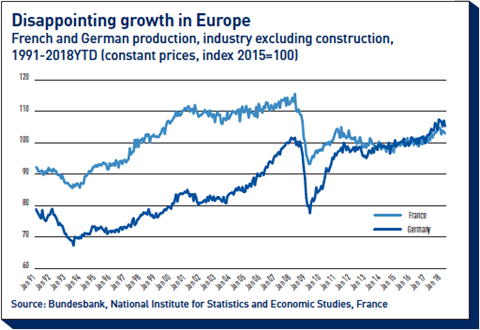 Bonds
Although contagion from Italy has, so far, been modest, the spread of Italian inflation-linked government bonds over Bunds has remained about 100bps wider. It seems unlikely that the ECB used Italian tensions to adjust its QE purchases, nor does it seem probable that the timing of bank's tapering plans will be changed because of Italy.
After some hawkish rhetoric, from ECB executive board member Peter Praet, market expectations of a possible postponement of the first rate hike, which started to be priced in, have been put aside.
Perhaps, it is the steady flow of exogenous shocks, but bond markets seem to be finding it hard to identify any underlying trends for rates. Although, the upbeat macro picture in the US might favour risk assets, the failure of longer-dated US Treasury yields to maintain higher levels suggests some downward pressure on rates may be in play too.
For Europe, the economic picture is less clear, with Germany, France and Spain all posted disappointing industrial production figures. This early data may be indicating that the first quarter's economic weakness will continue into the future.
With the US and much of the world, including China, still enjoying solid growth, Europe looks set to benefit from positive spillovers from the global economy, and its current 'soft patch', may not develop into anything serious.
Certainly, the ECB has not intimated any concerns about European economic growth, nor that it has altered its plans to stop asset purchases. It will still be on high alert to avoid any risks of another taper tantrum.
Currencies
Although, emerging market currency indices are flat for the year to date, this does not reflect the heightened volatility as well as the considerable divergences in performance between geographical blocs and individual countries.
Asian emerging currencies, supported and shielded by China's stability, have remained steady throughout the period though not untouched by the troubles.
For other regions, in particular Latin America, stresses have rotated between markets with first Argentina, then Brazil and now Mexico suffering turmoil.
The Turkish lira and the South African rand have been caught up in selling, as investors have been quick to lighten positions in 'weaker' countries.
For emerging markets, the outlook for Fed policy and the dollar remain key. And, as ever, the most vulnerable are those foreign capital dependents running large current account deficits.
Although, many economies have improved their current accounts over the past five years, with Argentina a notable exception, for many Latin American economies, as well as Indonesia and South Africa, these deficits expose their dependencies on international capital flows and benign capital markets.
Like rates markets, FX markets are looking for clearer medium to longer-term trends. Many forecasters stick to their structurally bearish views on the dollar, citing unfavourable trends in interest rate spreads as well as the significant matter of twin deficits to fund.
Underestimating the potential damage that Italy's politicians could wreak is unwise, even if it seems likely they will be more conciliatory towards Brussels. And, if confidence in European economic growth is under threat, with signs appearing in Germany, then remaining structurally bullish on the euro becomes harder too.
Switzerland's thwarted Vollgeld plans
The Swiss electorate has rejected the so-called Vollgeld initiative, thereby avoiding a shock to its banking system of Brexit-like proportions, according to opponents. The outcome will be a relief to the Swiss National Bank, the Swiss government and Switzerland's commercial banks, all of whom had argued that changing the system would be expensive for little obvious gain.
Vollgeld would have meant the beginning of the end of the fractional reserve banking system, where banks 'create' money, by lending money and electronically crediting accounts. Around 80% of money in the UK economy, for example, is created in this way. It works because, according to the Bank of England, generally "people aren't going to need their money in the form of cash at the same time… this also means banks can vary the quantity of money in response to changes in the economy".
The alternative would be that the central bank would have to do this itself, which is what the Vollgeld initiative was proposing. Supporters argued that fractional reserve banking leads to unsafe banks and credit bubbles, and that the majority of the money created flows not to the real economy but to financial markets.
Although not backed by the country's financial institutions, it did garner some well-informed economists' approval, including the FT's chief economics commentator, Martin Wolf. He welcomed the proposal, arguing that finance needs change and since the financial crisis, the system has just been patched up, not sufficiently overhauled.
He suggests people need reassurance in times of crisis that their money is unambiguously safe, and that consequently "it would be far easier to let risk-taking institutions bear the full consequences of their failures".
Although, the Swiss will not conduct their Vollgeld 'experiment', the initiative has provided food for thought for the rest of the world.