---
Key points
• Risks remain as central banks look to exit QE
• Low volatility is leading to unease over investor complacency
Despite yet another weak and rather confusing US jobs report, there was no rush to alter Federal Reserve rate hike forecasts for the remainder of this year. Overall, the US economy remains safely within its now late-stage economic expansion.
Globally there is a similar story of tepid economic growth with somewhat mixed real data coupled with modest inflation prints. Central bank quantitative easing (QE), along with the prospect of policy normalisation, remain the dominant drivers of investment.
The calm – particularly as measured by the low levels of the VIX volatility index – is making some observers uneasy, leading them to wonder whether low volatility across assets classes is indicative of a potentially dangerous degree of complacency.
Other risks abound, as ever. Although never far from investor minds, China has been more in focus recently. The authorities have tightened controls on capital accounts, as well as adjusting the operations of currency fixing, both perhaps serving to maintain financial stability. The flow of new credit to the private sector has, however, moderated quite sharply, which may herald declining future activity.
The Chinese government will do all it can to ensure a smooth and stable economic situation as autumn's nineteenth Party Congress approaches, and it was clearly annoyed by a recent downgrade from Moody's. The ratings agency did, however, voice the concerns of many that "tighter systemic liquidity could crystallise the risks inherent in the more complex and opaque funding structures used by the smaller banks".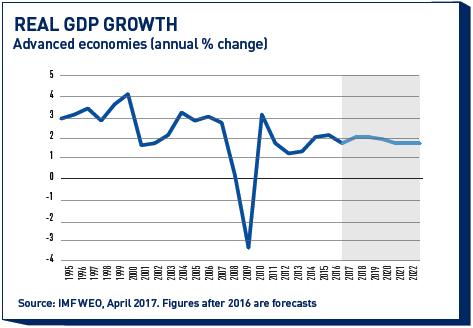 Geopolitics – whether North Korea's ongoing belligerence, Italy's wobbling political system, or the volatility of the Trump administration, as well as various elections across the world – will retain its capacity to keep everyone on edge.
Bonds
Although the Fed undoubtedly has a tricky job ahead as it tries to carefully tiptoe down its best path to policy normalisation, it is arguable that the European Central Bank (ECB) – at the helm of the widely disparate Eurosystem group of central banks – faces an even tougher task in formulating its exit strategy.
Economic activity is improving almost synchronously across the euro-zone, easing a little the ECB's constant struggle with its one-policy-fits-all mandate. There is, however, little sign that inflation will be reaching target any time soon, which continues to argue against any tightening of policy just yet.
The ECB has 19 different yield curves to consider, although the purchase programme was limited to fewer. While QE is acknowledged to have lowered bond yields, to date the effect has varied across the region, perhaps in part because the purchasing levels were set across markets, and not necessarily related to each country's respective need for monetary stimulation.
"Economic activity is improving almost synchronously across the euro area, easing a little the ECB's constant struggle with its one-policy-fits-all mandate"
The ECB also acknowledges that QE has contributed to a lowering of sovereign bond market systemic stress. Experience has shown that countries on the periphery have shown themselves to be considerably more sensitive to perceived risks of EU disruption.
Bund yields, and those in a few other core markets, are below fair value, and it is also arguable that these core economies are ready for, and could withstand, higher rates. Higher rates could be particularly damaging for other economies – notably those on the periphery and not just those still suffering anaemic economic growth but also the significantly indebted ones – and could once again endanger this newly felt harmony in the region.
Currencies
For the foreign exchange market there seems to be a lack of dominant themes or trends driving currency moves, aside from watching the main central banks planning to extricate themselves from their QE policies.
There has, however, been a swathe of forecasters downgrading their dollar bullishness, pointing to varying combinations of stronger economic growth outside the US and downgrading the size of the possible fiscal stimulus from the Trump administration.
The euro has been rising, and on a trade weighted basis has risen about 4% since April. Economic growth in Europe is certainly strengthening. There is also hope, with Emmanuel Macron as French President, that European reform plans might be better supported.
"Economic growth in Europe is certainly strengthening. There is also hope, with President Macron in office, that European reform plans might be better supported"
Flows into European risk assets have been increasing and many of these flows appear to have been unhedged. With European inflation prints remaining stubbornly low, investors must also be banking on the prospect of the ECB maintaining its extremely accommodative monetary policy.
There are, unquestionably, weak links, with Italy arguably the most serious. Italian politics have the potential to materially increase tensions and send Europe back into crisis. Fundamentals are poor with the country barely contributing to euro-zone growth. Reform has all but stalled, and public debt remains high. In summary, Italy remains vulnerable to shocks.
In the absence of other strong headwinds or tailwinds, and in the light of global reflation maintaining its momentum, the carry trade may also retain its appeal.
Some European currencies, such as the Swedish krona or Polish zloty, may benefit from the genuine recovery in economic growth, although perhaps not sterling, with the UK embroiled in domestic politics.
FOCUS: Minsky Moments
About a decade ago, at the height of the sub-prime crisis, a frequently mentioned name in broker pieces and financial journals was that of the late Hyman Minsky.
Minsky was a scholarly but not well-known financial economist. His Financial Instability Hypothesis was published 1992 to little fanfare. However, within that paper the second theorem caught the attention of many economists during the sub-prime crisis. It states that "over prolonged periods of prosperity, the economy transits from financial relations that make for a stable system to financial relations that make for an unstable system".
The term Minsky Moment was first coined in 1998, in the aftermath of the Russian debt crisis. According to the Levy Economics Institute, where Minsky originally published his paper, the term describes "when over-indebted investors are forced to sell even their less-speculative positions to make good on their loans, markets spiral lower and create a severe demand for cash". A succinct description of a great deal of what went on in the 2008-09 financial crisis.
Volatility measures are now low, not just in the VIX but also across a range of asset classes, including bonds and currencies. Unsurprisingly, some are arguing that this could be a sign of complacency and that the extremely low levels of volatility could be encouraging greater risk taking.
Many observers take a contrary view that a low VIX is no harbinger of impending doom. For some it is an indication that intra-market correlations are falling, so despite more variation in price movements within the index there is not necessarily a big change in the index itself. Another argument proposes that with so much cash sitting unused on the sidelines, smaller dips and sell-offs are quickly bought, thus dampening volatility.
Others suggest that it may reflect the current low frequency of macro-economic surprises, and that markets' vulnerability to these surprises, as measured by access to market liquidity or the degree of participant leverage, is also low – although China might be an obvious exception.