Italian pension funds are diversifying their asset allocation in response to low yields
Key points
• Asset allocation is continuing to shift towards alternatives
• Sovereign bond exposure fell five points in 2017 while non-state debt rose slightly
• Pension funds are diversifying and stepping up risk for strategic reasons and due to low yields
• Tactical allocation is seen as important while political uncertainty continues
Italy's pension funds took a significant stride last year in broadening the spread of investment types within portfolios – a development Mario Padula, chairman of pensions regulator COVIP, highlighted in his presentation of the authority's 2017 report in June.
Over the course of last year, the proportion of assets held by complementary pension funds – including national social security fund Fondinps but not the first pillar Casse di Previdenza – in sovereign bonds had fallen five percentage points to 41.5%, he told legislators.
Investments in other types of security increased, according to the COVIP data, with the share of non-sovereign debt increasing to 16.6% from 14.5%, equities expanding to 17.7% from 16.3% and UCITs investments growing to 14.4% of portfolios from 13.5%.
Seen as a whole, Italy's pension funds have largely confined their investments to liquid assets, such as large-cap equities and government bonds. But looking ahead, funds are set to turn increasingly to riskier investment types, says lawyer Daniele Cusumano, finance specialist at Gitti and Partners in Milan.
"For strategic reasons, and because of the continuing situation on financial markets with a zero-interest-rate policy at the macro-economic level, and low yields in many assets classes, Italian pension funds are likely to adjust their risk-return profiles and asset allocation in the near future by investing in more risky assets such as alternative investment funds – for example, private equity, infrastructure funds, real estate and private debt funds," he says.
Part of the reason for this shift is funds' need to boost their average investment yields, but pressure from policy makers is also playing a role.
In certain cases, says Cusumano, this has translated into new regulation at both EU and Italian levels aimed at making the Italian economy less dependent on the banking sector by fostering an active role from other finance providers as an alternative to traditional banks, to sustain the economy.
Alternative investments
Claudio Pinna, head of retirement Italy at Aon Consulting in Rome, says that in the past few years, there have been moves in the asset allocations of all categories of Italian pension funds towards different types of investment such as real estate and other alternatives, and this change has been continuing in the past 12 months.
Most of the Casse di Previdenza have already introduced such alternatives – often illiquid investments – to some degree and are still making moves in this direction, Pinna says.
But he says making such changes is no simple matter for the funds, not least in terms of governance: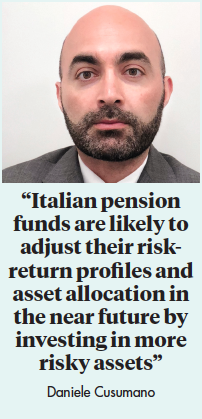 "The Casse di Previdenza cannot easily conduct the investment selection in this area the way they historically have preferred to do it for the classic asset classes – that is to say, doing it themselves," Pinna says. "They would need to have a specialist team in-house to select real estate and other alternative investments, but since they don't, they should be using external advisers," he says.
Slowly, Italian pension schemes are trying to adapt their asset allocation to changing market environments – with alternatives and fixed-income investments such as senior secured loans starting to feature in portfolios, according to Andrea Mornato, director at Invesco Asset Management in Italy.
"We expect the trend to continue in line with the European environment of rising interest rates," he says.
Olivier Cassin, head of institutional distribution for Europe at BNY Mellon Investment Management has noted a clear spike of interest from Italian pension schemes over the last 12 months in private debt, as part of their continued diversification away from traditional markets into alternatives. "Institutional investors have been paying an increased level of attention on the seniority and securitised nature of the private debt opportunities," he says.
The Italian government's move to introduce tax benefits for investments in the country's real economy, limited to 5% of the portfolio, has fed through into asset allocation action, according to Alessandra Pasquoni, head of investment at Willis Towers Watson in Rome.
"We have already observed an increase in non-listed assets, particularly in infrastructure and investments in small and medium-sized enterprises, both in private equity and private debt vehicles," she says.
Amid the swing towards alternatives generally, she also notes an interest from pension funds in hedge fund-like strategies, which she says has been supported by the increase in volatility since the beginning of this year, as a way to protect portfolios from down-side risk.
Pension funds now have an average allocation to alternatives of between 5% and 15%, according to Matteo Astolfi, country head for Italy at M&G Investments. He says his firm expects the allocation to increase in the course of 2018.
"We have recently seen trends toward more allocations to alternatives in general, including private debt, private equity, real estate equity and debt, and ESG-related investments," he says, adding that allocations into income-generating investments are continuing. ESG-linked strategies are likely to attract increasing attention from Italian pension funds in the next 12 months, he predicts.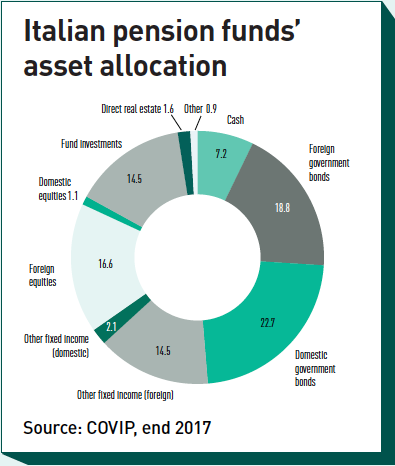 Among these are private debt impact funds, which lend to projects that can, for example, reduce companies' carbon emission, generate clean renewable energy or build social housing.
Cassin also notes the shift towards ESG in Italy. "Over the last few months, we have also seen schemes introducing ESG criteria within their traditional bond and equity exposures, and we very much welcome this trend that is so prevalent in Northern Europe and the UK," he says.
New guidance
Each of the different types of occupational pension fund in Italy is subject to a particular set of rules, which can have implications for asset allocation.
For example, while the fondi pre-esistenti can make direct investments including, to a certain extent, direct real estate investments, the newer fondi negoziali are required to manage and invest their assets through specialised external entities – banks, insurance companies and management companies.
But in January this year, COVIP effectively made it easier for fondi negoziali to invest directly in investment funds, rather than using an intermediary, by issuing new guidance that they no longer need approval from a full meeting of stakeholders to change their rules to allow such investments.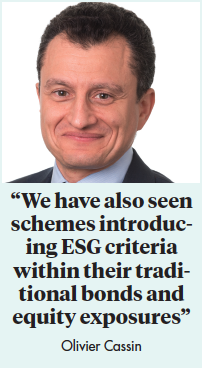 This came on the heels of an announcement from Prevaer, the air transport pension fund, that it made three direct investments last year with no intermediary, in deals involving investment in Italian SMEs, European companies and infrastructure which together amount to around 6% of its total assets.
However, even though the Casse di Previdenza can make investments in a more direct way than this, the indirect approach is gaining popularity among them currently.
"What we have seen is the increase of the investment via UCITS funds, and more recently alternative investments funds such as private debt funds," Cusumano says. This is to make the investment process more efficient in terms of asset allocation and economies of scale. "It is likely that this trend of 'indirect investment' by Casse di Previdenza will be consolidated in the future," he adds.
Mornato acknowledges that the different types of pension scheme in Italy are subject to different regulations and different risk appetites.
"However, all face the same market opportunities and ALM challenges, so in the long run they will move to converge in terms of asset allocation decisions," he says.
The dramatic change in political leadership in Italy could certainly have an impact on asset allocation at pension funds, but Pinna says it is far too early to say how the new Five Star/League governing coalition will legislate in this area.
Italian pension funds need to be flexible in their investment tactics, he says, to take advantage of opportunities the markets will offer during this period of uncertainty and adjustment. "Tactical allocation will be crucial in the next two years," he says.
Italy's public pensions: Unfinished business?
1

2

Currently reading

Asset Allocation: Tactics come into play

3

4

5

6