Are strong equity markets signalling an optimistic outlook for economic growth? Possibly, although economic data – particularly from the US and China – has been pretty disappointing since the start of this year. This year's strong equity performance may have more to do with the fact that money remains extremely easy and economic growth, although dull, remains steady.
Similarly, it has surely not been signs of overheating economies that set bond markets into a spin. Although weaker economic data might historically have boosted sentiment in bond markets, this is not the case when interest rates globally are at, or even below, the zero bound.
Despite observed weakness, the consensus is that the global economic recovery is intact, and that the poor data seen over the first four months of this year will be reversed in the coming months, as happened last year in the US.
Year-on-year inflation in the euro area edged up to zero during April. Gratified as Draghi and his fellow European Central Bank members must be, given that this measure was running at minus 0.6% just four months previously, even they would have to acknowledge that inflation expectations are fragile. The rise in Bund yields was not a reaction to the prospect of an imminent surge in inflation but it certainly rapidly cut the number of negative-yielding bonds in the euro area.
In fact, the sell-off – in all government bonds as well as the dollar – seems more like a decent shake-out of overcrowded positions in a consensus market, a sharp reminder that global yields are set to move higher. And, given the constant large set of uncertainties, it might be expedient to expect more market wobbles.
Whereas many seem to be hoping the US slowdown will be transitory, China's weak economic growth has been more troubling for both the EM universe and global growth generally. There are many imbalances and headwinds hampering the Chinese economy's return to a stronger growth rate: a highly leveraged corporate sector; huge over-capacity; and far too great a dependence on the property sector. Amid signs that the consumer sector is also showing signs of weakness, and even with the recent 100bps cut in the reserve requirement ratio there is every danger that the economy could continue to struggle.
Agency mortgage-backed securities
Since 2009, the Fed has been the biggest buyer of agency mortgage-backed securities (MBS) and, indeed, throughout 2013 until October 2014 was essentially the only buyer as other investors were net sellers in aggregate.
The Fed holds approximately $1.7trn (€1.5trn) of MBS, which represents almost 40% of agency MBS debt outstanding, and is greater than the Fed's quarter share of the US Treasury market.
The spread between MBS and Treasuries is, unlike much of the credit universe, close to historic lows. There is little doubt that the Fed's massive purchases of MBS have had a significant effect in this market, keeping spreads, and thus US mortgage rates, near all-time lows.
There are, however, other concerns for the MBS market. Today there are far fewer dealers – the top five account for more than 75% of MBS volume – and trading volumes have declined steeply from their pre-crisis peak. Also, regulatory pressures means that risk-taking is lower as trading books have shrunk. And the fact that the Fed owns so many MBS, and is not close to selling any, has also affected liquidity for more active investors.
The Fed has said that it will not sell its MBS holdings as part of its 'normalisation process', but that the securities will be held until maturity instead.
This has caused a degree of upset, even within the Fed, as some argue that it might interfere with and possibly distort the normal workings of the credit markets and could keep mortgage rates artificially lower.
Bonds
By many metrics, government bond yields in the developed world are significantly lower than they 'ought to be', given prevailing economic/technical conditions and what's already priced in for the predicted course of official rates. As we all remember, however, yields were also 'too low' at the start of 2014 before trading significantly lower over the course of last year.
In 2015 there will surely not be a repeat of last year, not with the oil price rising or at least staying steady, and not with economic growth – albeit dull – still ongoing in the US at least, and now finally appearing in the euro-zone. The considerably softer trade-weighted dollar will also bring relief to US policy makers worried about the softer data, as net trade was one of the biggest negatives pulling US GDP down in both the last quarter of 2014 and the first quarter of this year.
Central banks in much of the developed universe are ahead of the curve, having pushed real interest rates very low and even into negative territory, as well as apparently fighting off the threat of deflation, with some apparent success. At this point, although risk-free rates themselves might not offer value, not all fixed income classes are trading close to historically tight spreads over risk-free rates.
Although bond yield volatility may be on the rise generally, as attention focuses on the Fed's next move, looking for carry might still prove to be a winning strategy. Credit and carefully chosen EM debt offer premia over risk-free that are not at historic lows, and ought to benefit – and indeed have done historically – if rates rise in response to stronger growth.
Currencies
Some forecasters are arguing that with the threat of deflation lifting in Europe, the downward pressure on the euro should ease significantly. However, Europe's inflation expectations are still significantly below the ECB's target range, and core HICP will have to follow a very steep upward trajectory from now on if it is to reach the 'forecast' 1.5% in 2016. Furthermore, peripheral Europe is still enduring very strong downward pressure on pricing levels.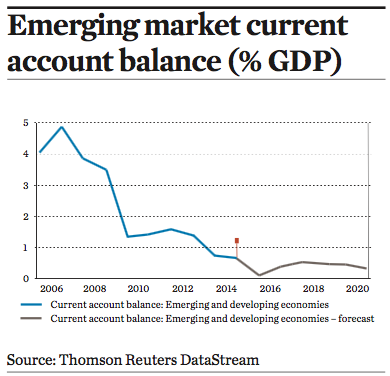 Emerging market currencies have been particularly volatile compared with other assets, buffeted by conflicting forces from the relief of a weaker dollar on one side, but on the other the unpleasant prospect of higher rates in developed markets. Although the Fed's recent dovish statements support emerging markets for now, many emerging market central banks are still behind the curve, and their respective policy makers are not doing enough to rebalance their economies.
Despite rate cutting by several emerging market central banks, easing has not kept pace with falling inflation expectations, so real interest rates have risen and monetary conditions tightened in many economies. This has, in turn, served to delay many potentially painful restructuring plans to build the new growth models needed across the spectrum of emerging markets.
Overall, emerging market current account imbalances – and dependence on foreign capital – have stopped deteriorating, and average inflation is also lower, greatly aided by the fall in energy prices. As is always the case, however, there are good and bad economic stories within this universe.
India, the current model student among emerging markets, has markedly improved its current account imbalance and inflation, albeit aided by the decline in oil, is now well within target range. Turkey, on the other hand, has a current account deficit that is almost as bad as it was back in 2013 (along with Columbia, the worst in emerging markets). Coupling this poor external balance with a significant inflation problem, suggests that Turkey, and other similarly flawed economies, might find it very hard to attract capital when US interest rates start to rise.