The plunge in China's stock market in July was dramatic. There is still debate about how worried global investors ought to be.
Given that the sell-off appeared to be retail driven, and that the authorities were quick to step in and provide plenty of liquidity, the more sanguine view is that China's market crash should be viewed in isolation. From this perspective, fears of contagion are overdone.
The index had surged in the months running up to its fall. A more pessimistic interpretation of the reversal is that it may be unwise to ignore history. Similar stock market trajectories, with price rises driven by leverage, rather than economic growth, have turned into crashes.
There are other significant global trends which, of course, can be interpreted in more than one way. Some economists are arguing that there could be a direct linkage between Chinese economic growth, global (commodity) demand and falling commodity prices. Others argue that as the Chinese economy matures the composition of its economic growth is transforming and re-balancing into a far less commodity-thirsty phase.
While China's stock market gyrations might not prompt mass deleveraging across emerging markets, the decline in Chinese trade is definitely having a substantial impact. In the year to the end of first quarter of 2015, Chinese imports were more than 15% lower (in dollar terms) than in the previous 12 months, causing pain to many East Asian exporters, particularly South Korea, Taiwan, Malaysia as well as Japan.
Many emerging economies, especially natural resource producers, have suffered as a result of falling commodity prices. This has compounded their difficulties in balancing their external deficits, a challenge made even more difficult by the prospect of rising global rates
Commodity currencies
The weakening demand for, as well as rising supply of, commodities has hit many emerging economies hard. This year the currencies of Latin American commodity producers have suffered most. It is also apparent that a group of developed market economies is also under severe pressure from this reduction in commodity demand and prices, and that these economies face substantial structural changes.
Australia, Canada and New Zealand fall into the category of troubled commodity producer. These economies are already suffering from significantly lowered domestic income as well as both lower commodity trade volumes and falling prices.
They are also enduring collapsing capital spending in their most important industries.
Canada's economy contracted significantly over the first half of this year with the central bank already cutting rates. More easing could well be needed, as it looks highly likely that commodity prices will fall lower and stay lower for longer than central bank's forecast at the start of the year.
The Reserve Bank of Australia announced that trend output growth was perhaps "lower than the 3% or 3.25% we have assumed for many years". The Australian dollar's inflation-adjusted trade-weighted exchange rate fell over 20% from its peak in 2013. The economy is changing structurally, with tourism overtaking coal to become the country's second-largest export sector.
As soft-commodity prices have declined, so too has the health of the New Zealand's agricultural sector. The falling milk price, in particular, is creating acute problems for the cash-strapped dairy sector which, it now appears, invested far too heavily in fixed assets during the boom times.
Australia, Canada and New Zealand run significant current account deficits – the largest, along with the UK – among the G10 developed economies. And they each have bond markets with significant foreign ownership, particularly Australia and New Zealand, which means a high dependence on foreign funding.
The currencies of the three countries have been declining for many months. However, with such poor economic outlooks, markets may have to price in rather more interest rate cuts, which could mean that the currencies have not hit bottom yet.
Bonds
The European Central Bank (ECB) will be watching commodity price trends closely. Although European forward-looking inflation measures finally ticked up from their lows of the first quarter, they remain at the lower end of stated ranges. The ECB will surely be hoping that Europe's economic growth will continue to improve, thus closing output gaps and offsetting some of the downward pressures on future inflation.
US growth has been subdued and although there is diminishing slack in the economy, the Federal Reserve may still be concerned about falling commodity prices and the impact on its inflation target. Inflation rising towards 2% is one of the Fed's key requirements, along with a healthier labour market, before rate increases can be considered.
The US Treasury curve flattened gently over the summer, with the market moving its underweight position away from the front end as the year progresses. Whether the Fed moves in September or December there appears to be agreement that a rise will happen before this year ends.
Despite signs of some rather pleasing economic activity in Europe's core (but notably not in France), in Spain and in Italy, the ECB is set continue its asset purchase programme for many more months, which will keep a cap on European rates. And as the drama around Greece diminishes, for now, there could be scope for Bund yields to retrace some of their mid-year sell-off highs when tensions were at a peak.
Weakening commodity prices have also taken their toll on credit markets, with energy sectors and now metals doing particularly badly. Absorbing the huge supply in US investment grade corporates has created some difficulties as the asset class as a whole shares the Treasury market's anxiety about the Fed's next move.
Currencies
Although the dollar has had some ups and downs this year, buffeted as the Greek saga unfolded and by the lurches in US economic growth, the fundamental supports of stronger growth (than most other developed economies) and the prospect of higher US rates remain. The structural problems of so many other economies add to the US currency's attractions.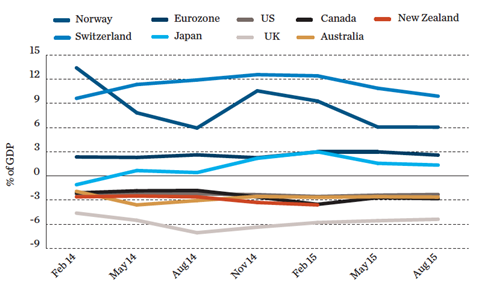 Although not as strong as the dollar, sterling's strength has been buoyed by decent economic growth and a central bank readying to raise interest rates. For many years, rising inflation has been the UK economy's weakness but not, it seems, in today's low-inflation world. Sterling immediately weakened on the surprising news that the Monetary Policy Committee's meeting minutes acknowledged inflation in the near term might be lower than previously forecast. It is possible that the Bank of England made this sideways move to avoid being the first central bank to raise rates. Alternatively, a strong (trade-weighted) currency could be becoming a problem for the BoE, and it might have wanted to ensure any strength does not get in the way when it eventually starts raising rates.
Emerging market currencies remain generally unloved and under pressure. With global economic growth failing to take hold, and a dramatic contraction in trade globally, not just with China, structural imbalances have become ever more painful for many economies and currency weakness appears to be the most obvious path for many emerging economies. Weakness in emerging currencies has been a theme for this year and will surely continue to be so for much longer.
Asset Allocation: The big picture
1

Currently reading

Asset Allocation: The big picture

2