The US Federal Reserve's decision in September not to hike rates, along with its comments about soft inflation trends and global developments, surprised the markets with its dovishness. However, although rates fell across the curve and the dollar weakened, equities and other risk assets have not taken much solace from these easier financial conditions.
Another set of weak payroll data in October shocked forecasters and the more bullishly positioned market. Reservations that the US economy is rather weaker than expected are keeping investors cautious. There are also hints that the US housing market is slowing.
And there now looms the spectre of another debt-ceiling debacle in the US, which could result in another government shutdown and perhaps the threat of another ratings downgrade. The dovish Fed seems to have hit a raw nerve and heightened concerns about both global and domestic growth outlooks, thus pushing back expectations of hikes from the Fed and
the Bank of England, while also increasing expectations that the central banks of Japan and Europe may have to embark upon more quantitative easing (QE).
Although China's economy is still nominally smaller than that of the US at market prices, it contributes more to the global economy through trade, which means that when China's economic growth alters, this quickly affects rest of the world.
Although it may be hasty to write off Greece's capacity to spook financial markets, the recent election was not a trigger for 'risk-off' portfolio adjustments.
Nor was the outcome viewed as particularly bullish for markets. It is a politically busy time in Europe, but outcomes have not significantly distracted market attentions.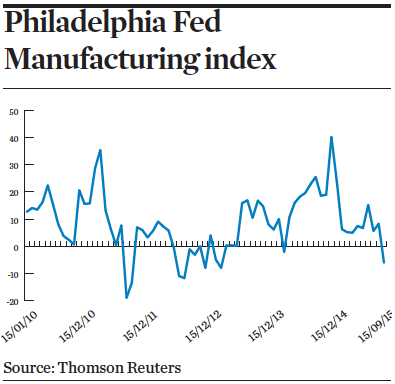 Bonds
Although investment grade credit has grimly hung on, high-yield (HY) spreads have widened dramatically, as equity market volatility has risen, economic worries have worsened and commodity prices remain depressed. In the US, the energy sector has unsurprisingly borne the brunt of the bad news and has experienced more than three-quarters of all defaults in the US so far this year.
Talk is now of the possibility, or even probability, of the US economy slipping into recession. US HY spreads are balanced near the mid-point between historical recession-wides (of about 1,200bps) and economic expansion lows (400bps). With investors clearly reassessing the likelihood of a 2015 lift-off for US rates, and wondering whether the stock markets sell-off could broaden into a bear market in equities, US Treasuries have remained well bid.
European forward breakeven rates have garnered quite a few headlines over the past year and a half, and now inflation breakevens in the US are joining the parade with the US 5Y5Y breakeven inflation rates falling to record lows in recent weeks. Debate goes on about the relative successes of market versus survey-based inflation forecasting. Those who doubt the market pricing of TIPS argue that, given such dramatic falls in energy prices, the TIPS market is wrongly pricing medium-term future inflation, putting too much emphasis on what could be a one-off drop in energy prices, and that they are underestimating the underlying trends in service inflation, for example.
It seems clear that the Fed, in planning its policy, is paying close attention to breakevens. A speech by Janet Yellen, the Fed chair, referred to the need to see longer-term inflation expectations "remaining near their pre-recession level", if the 2% medium-term inflation target is to be achieved.
Currencies
Despite dipping after the dovish Fed statement, the dollar index was essentially directionless throughout the mayhem in other markets, although it did nudge new highs. As deleveraging continued apace, funding currencies like the yen and the euro held their ground versus the dollar.
Neither the Bank of Japan nor the ECB will have been especially pleased, as both would prefer to see their currencies weaker. Any delay to US rates rises holds back the dollar's upward move.
The commodity currencies within developed markets have continued to suffer significant losses versus the dollar and are now down about 12% over this year.
The New Zealand dollar experienced a little bounce in September but its 18% drop in 2015 means it has been weaker even than many Asian emerging market (EM) currencies.
EM currencies are under pressure, declining pretty much across the board. The Brazilian real has led the way down, having lost about 30% of its value year-to-date, with much of the drop happening in Q3.
The real, along with the Turkish lira and the South African rand, are each languishing at record lows against the dollar. There will be bounces but there are insufficient net buyers of these currencies, despite the significantly cheaper levels.
According to the Institute of International Finance (IIF), the EM universe is on course to experience (annual) net capital outflows – defined as non-resident capital inflows minus resident capital outflows (excluding official reserve accumulation) – of $540bn (€578bn).
This will be the first annual outflow since 1988. The IIF noted that private outflows from EMs were on course to top $1trn in 2015, mainly owing to EM corporates, particularly Chinese, repaying currency loans.
Focus: Correlation
Although the main central banks have been involved in QE in recent years, there has been a notable lack of synchronisation in growth among the main economies, making this economic period quite unusual compared with past cycles. There have also been some interesting patterns in correlations between regions and asset classes.
The summer turmoils saw similar moves in many markets and asset classes worldwide. While it is common for such correlations to rise during periods of heightened volatility, the positive correlations between and among global equity markets were as high as have been observed for decades, peaking as the sell-off accelerated. High-yield indices were also trading in remarkably matching patterns like a well-rehearsed and perfectly synchronised demonstration of 'risk-off'.
Even Japanese equities, for years trading and trending on their own as if insulated from outside forces, were swept up in the indiscriminate selling in August. Here too the correlation of TOPIX with the S&P500 gapped up hugely, hitting extremes not seen in about 25 years.
Over the last 25 years emerging market equity/FX correlations* have tended to be reasonably strongly positive and have become even more positively correlated. But European and Japanese stock markets have tended to move in the opposite direction to their respective trade-weighted currency indices. In Europe, this relationship then turned positive as the euro-zone crisis wore on, with worries about the collapse of the euro.
European equity/FX correlations have reverted to negative over the last three months. Interestingly, in both Europe and Japan, negative correlations have recently turned very sharply more negative. While it is hard to connect these trends to fundamentals, intuition suggests that both these currencies are now firmly associated with 'risk-off' sentiment, perhaps via their funding currency status.
*Using trade-weighted currency indices rather than selected currency versus the dolllar.