Risk markets have regained their poise after the China-triggered summer sell-offs, the mood aided by Chinese interest rate easing and the prospect of more European liquidity. The oil price, having fluctuated, appears to be finding an equilibrium which, given its proxy as a barometer of risk, may signal a pick-up in risk appetite.
The Fed felt sufficiently reassured to remove (previous) direct references to global concerns affecting the US outlook from its October Federal Open Market Committee (FOMC) statement. It was interesting to note the markets' upbeat reactions to October's hawkish Fed, which might imply that the precise timing of the rate hike is less of a focal point.
It is likely that the two-year budget deal, agreed by the US Senate, came as a relief to both financial markets and the administration.
Although the Bank of Japan (BoJ) kept monetary policy unchanged, it downgraded economic forecasts and postponed the reaching of its 2% inflation target. The lack of easing surprised some but, given the downbeat assessment from the BoJ, cannot be viewed as a hawkish stance.
China approved its thirteenth Five-Year Plan, emphasising social spending, environmentally friendly growth and a two-child policy. As well as easing monetary policy, the People's Bank of China (PBoC) has been active in FX markets, intervening to protect the value of its currency from capital outflows – mainly Chinese corporates paying off foreign currency loans.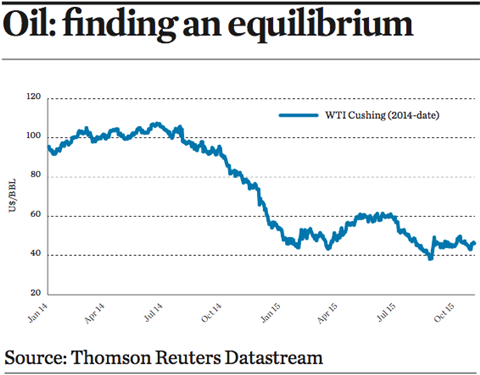 Although October's rebound in emerging markets (EMs) was sharp, it is hard to see from where momentum can be generated, particularly with China's economic fortunes remaining in the balance.
The PBoC seems willing to cushion the economy from headwinds, although there is little prospect of growth picking up, which keeps downward pressure on commodity prices and EM currencies.
Focus: Latin America
All emerging markets, led by FX, have been hit this year, with the worst being Latin America. Having got through the 2008 financial crisis much better than many predicted, many Latin American economies' close linkages to commodities meant there was little chance to avoid consequences when prices started to fall.
However, there has been a wide range of responses, which has resulted in regional divergences. Successes include Chile, which has hauled its current account deficit of 4% of GDP to 'flat', and Mexico where moderate GDP growth has been maintained and inflation kept low.
For Brazil and Argentina, however, there has been little to celebrate. Brazil's political paralysis has added to the damage wrought by the collapse of commodity prices, and the country is poised to lose its investment grade rating.
Until the election in 2018 it looks like politics will prevent meaningful improvement, as the Brazilian government fails to propose the much-needed reforms and instead tries to cut spending – all moves that will be blocked by the opposition parties aiming to increase the government's discomfort.
Argentina, also in the midst of political upheaval, has high inflation. with huge pressure on its now over-valued currency (maintained only by strict capital controls) and large fiscal deficits (representing about 7% of GDP). These statistics cannot continue to worsen, and the economy is on the brink of implosion. Many observers suggest that the first thing the new president can, and should, do is to lift capital controls and allow a devaluation of the peso, which might represent the only starting point for economic renewal.
Bonds
Despite some adjustment in Treasuries to October's hawkish FOMC, and although the timing of the first hike may have been re-configured in the forwards, the path for further rises has remained unchanged for months. This sanguine view ought to be challenged, bearish observers argue, suggesting that hikes will come faster than is currently priced and that longer rates ought to have already been adjusted higher.
Higher risk-free rates do not necessarily mean bad news for all fixed income and a pre-emptive rising rates policy from the Fed suggests an economy in reasonable health. However, the US is ahead of Europe in the credit cycle and is now facing its own challenging issues. US high yield is more exposed to oil prices than its European equivalent and has consequently suffered badly as the price plummeted, but there are other factors working against US credit quality.
With a current low threat of recession, US default rates overall are not poised to rise significantly. However, there has been a deterioration in US corporate balance sheets. This is primarily because of share buybacks despite a challenging outlook for earnings and revenues. Net leverage ratios in investment grade and high yield are now well above their respective historic averages, although interest coverage ratios have remained high.
Currencies
On the 'news' of more QE from the ECB, the immediate reaction of the FX market was to sell the euro, although there was no huge show of enthusiasm for buying the dollar. Recently, the dollar bull market has run out of steam and buyers will need positive news from the US economy, not just bad news from elsewhere, for the currency to rise.
Although many factors influence currency cross rates, short-rate differentials have consistently been influential for EUR/USD, and any hint that future rates in the US may not be rising as fast as already priced-in affects the currency cross. With European rates lower and set to stay there, sensitivity to the direction of US rates is heightened.
As the Fed has downgraded, in its opinion, the chances of potential negative impacts from "international events", the US economy becomes more important in policy making. So far in this economic cycle there has been a huge difference in the relative contributions to GDP from the vibrant service sector and subdued manufacturing. Manufacturing data has repeatedly disappointed this year, and we await better news. It is unclear whether services can continue to thrive and drive global demand while manufacturing remains in the doldrums.
As often the case with China, it is not quite clear from official figures, just how much intervention – direct or otherwise – has taken place. Although the renminbi (RMB) has appeared stable, fears of further devaluation are still alive. And adding to investor fears is the perception that the motives and direction of the PBoC remain unclear.
For now, the consensus appears to be that a stable fix for the currency is the aim, although, eventually, the depreciation forces pushing the euro and EM currencies lower will drive the RMB lower versus the dollar, which will put pressure on EM currencies with high liabilities and low reserves.
Asset Allocation: The big picture
1

Currently reading

Asset Allocation: The big picture

2