It might have been pardonable to hope for a steady start for capital markets in 2016 after the Fed's smooth execution of its first interest rate hike in nearly a decade together with seemingly global dormant inflationary pressures and economic growth variously described as mediocre, sluggish, or below trend.
As ever, other complex, but not always opposing, forces are influencing a direction-less market and the new year started with record falls on many stock markets on the first day of trading.
Gyrations in China's A-share market appear to have triggered January's stock market jitters. Chinese economic growth indicators suggest more macro weakness ahead, although without the economy noticeably slowing further. However, the bigger worry for China could be its currency. December's introduction of a new RMB trade-weighted index has raised concerns that the currency could have the scope to weaken both further and faster.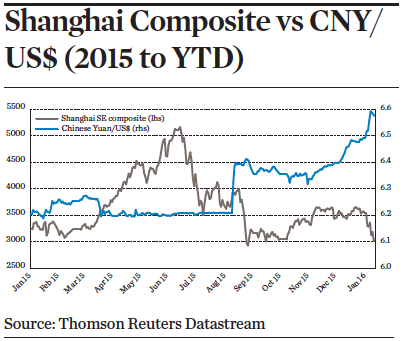 The economic headwinds created for many emerging markets by weak Chinese demand have been an investment theme for months. The possibility of a rapidly weakening Chinese currency in 2016 poses new risks for many emerging markets and their pressured economies and currencies.
The dollar's strength continues, with the broad trade-weighted dollar index up over 20% since mid-2014, and 8% in the last six months, this strength will be weighing on economic growth and future inflation. It was unsurprising that the FOMC's dovish minutes of its December rate hike meeting referred to concerns about achieving the inflation mandate and how any future rate hikes would be gradual.
Bonds
Yields in government bond markets have declined across the curve this year, benefitting from falls in risk assets in response to Chinese worries, oil's decline and worries about tensions between Saudi Arabia and Iran. In fact, January's strong US employment report did little to deflect falling yields.
And 10-year Bund yields have been dropping towards, but not through, the 50 basis point level once again. Although yields did hit extraordinary lows last year, the aggression of the subsequent sell-off will not be forgotten.
In an environment of falling oil prices and intensifying worries about China's economic health, it is not surprising that inflation expectations are trending lower. Despite this, markets do not appear to be pricing in more immediate action from the ECB yet. That said, there would be general shock if there were no easing move in the near future.
Most credit classes had a poor 2015, although European investment-grade spreads did hold reasonably well, aided by the year-on-year declines at the shorter end of euro government curves. US high yield, however, had a torrid year, its worst ever in a non-recession environment and was the worse performer with spreads widening by over 150 basis points over the year.
With high exposure to energy-related corporates, the falling oil price was always going to damage US high yield, but even stripping out energy related entities, high yield was a bad asset during 2015. Some argue that there is now too much bad news in the price and few would look to buy outright longs just yet, especially in a 'risk-off' market environment and with the oil price showing little sign of stabilising.
Currencies
In China, December's introduction of a currency index was a significant development and an indication that the People's Bank of China (PBoC) was signalling the USD/CNY rate would be downgraded in importance. Unfortunately, the authorities' plans and motivations with regard to a future currency regime remain unknown and this uncertainty is proving to be unsettling.
It is tricky to find definitive data on key currency indicators for China and 'official' figures often have to be dissected to reveal the truest picture. It seems apparent that the PBoC has been facing considerable selling pressure on its currency, as domestic corporates' foreign debts are repaid as well as an increase in the accumulation of foreign assets by domestic accounts.
Other currencies have also needed defending recently, in particular those of oil-producing Middle Eastern countries. The steady fall in the oil price since 2014 has coincided with a rapid decline in global FX reserves as monetary authorities have fought to withstand the pressure on their respective dollar pegs.
Short positioning in the euro (on the Chicago Mercantile Exchange) is extreme, which could result in a sharp bear squeeze should Draghi disappoint again. However, it is hard to forecast any sort of sustained currency appreciation, with the euro facing several headwinds. Most importantly, inflation expectations hav e been falling, taking them further below target levels. Also, the ECB's introduction of negative interest rates could influence more reserve managers to continue cutting their euro portfolios. The possibility of a declining Chinese currency, with China being an important trading partner for Europe, might also add further downward pressure on the euro.
Focus: Geopolitics
Geopolitics – including geological, meteorological, political and other effects – will always play a part, sometimes benignly but often chaotically, in market dynamics. On the list for 2016 are elections in the US and across Europe, the UK Brexit referendum, El Niño, nuclear bomb testing in North Korea, as well as natural disasters.
Oil is an important commodity whose price is more influenced by geopolitics than any other. The current price is depressed by multiple factors: China's weak demand; warm weather throughout the northern hemisphere; and oversupply, with OPEC, led by Saudi Arabia, failing to agree on quotas.
New oil supply could be coming soon as it seems likely oil and banking sanctions on Iran will be lifted. Saudi Arabia will not enjoy seeing its enemy, Iran, welcomed back to the diplomatic and commercial fold, and many argue that Saudi Arabia's efforts to keep the oil price low have been motivated by its desire to inflict (economic) pain on Iran, as well as trying to squeeze out higher-cost producers, such as the shale companies.
Relations between Saudi Arabia and Iran have long been fraught, with the nations divided by religion, Sunnis against Shias. Their respective spheres of influence stretch beyond their own borders, with the Middle East shaped by this sectarian schism. Arguably, the two are fighting each other by proxy, in the conflicts in Yemen, Syria and Iraq.
Over the past five years, there has been an escalation in the number and scale of other conflicts around the world, as well as an increasing threat of violent extremism, most especially in the Middle East, but also within Africa too. The rapid escalation of tensions between Saudi Arabia and Iran is worrying, not just because of the power of the countries but because of its capacity to create devastating effects across the Middle East, with the potential for unquantifiable global ramifications.