In most elections, pollsters do their best to gauge voting intentions. However, until the votes are cast, experience has shown that exercising a more cautious pre-election stance is probably advised.
A win for the Democratic nominee, Hillary Clinton, in the US presidential race could mean four more years of a divided Congress, with Democrats controlling the Senate, and Republicans in charge of the House of Representatives. If Republican candidate Donald Trump wins it could lead to the Republicans gaining control of both houses of Congress, with the potential for more radical changes in policy. That, however, is almost a secondary issue, since a president Trump would embody so many unknowns for the future of US politics.
The Italian constitutional referendum has been set for December, and will doubtless create tension for European financial markets.
OPEC's production-cutting deal triggered an initial surge in the oil price. However, it was also greeted with a degree of scepticism, partly reflecting the diminished power of the cartel to control the global oil price, coupled with the sense that agreeing the details, such as individual country quotas, at OPEC's November meeting (to which non-OPEC member Russia has been invited) could prove challenging.
The economic news from China has improved as the year has progressed. It is, however, apparent that better economic data, including a surprising slowdown in defaults in the domestic bond market, has been achieved through more state support accompanied by yet more leverage.
This has added to the sense of disappointment that the Chinese authorities are, yet again, pushing back the more painful reforms.
These reforms ought to include allowing more defaults, which should then improve capital allocation.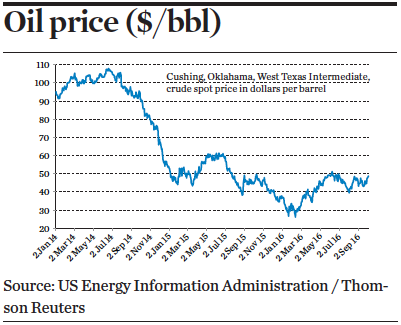 Bonds
July was a month of historical lows for many developed market government bond yields. ECB President Mario Draghi pointed out in September that since June there had been, in Europe, a "substantial weakening of the foreign demand outlook.… [which] will continue to pose downside risks to the euro area's growth prospects".
Draghi was no doubt referring in part to the economic growth threats posed by the UK's Brexit vote. However, it was the Bank of England's "comprehensive easing package" that triggered the subsequent freefall of longer-dated Gilt yields, and which then appeared to haul global yields lower. The bull-flattening seemed to have little to do with perceptions of deteriorating economic prospects – which have remained fairly steady over recent months across developed markets – but rather to do with the fact that a large central bank was buying more government bonds.
With inflation expectations stagnant or declining across the developed market domain, investors feel insufficiently motivated to move their money into riskier assets, reasoning that the rewards, for example from stronger economic news, are not ready to be unlocked.
The success, or otherwise, of quantitative easing (QE) in Japan has perhaps been under the greatest scrutiny, as the economy remains in its now multi-year stagnation, while the Bank of Japan (BoJ) has been under intense pressure to come up with new ideas.
As well as QE, specifying the quantity of named assets to be purchased, various central banks have also eased 'qualitatively' – for instance, the ECB through its targeted longer-term refinancing operations where the size of loans is not pre-determined and lower-quality collateral is generally targeted.
The BoJ announced changes in its monetary policy at the end of September. The main focus was a move to what the BoJ called "yield curve control", and what the market interpreted to be yield targeting at the 10-year maturity. The measures were, however, badly received by financial markets.
Currencies
This could be a good year for emerging-market currencies. After gaining about 6% versus the dollar by May, followed by a somewhat precipitous decline, emerging-market currencies have been crawling back up to their May highs.
Some argue that emerging markets are vulnerable to rises in developed-market yields, and that this year's lowering of expectations of US rate rises has protected the emerging-market universe from negative forces. Pessimists go on to suggest that a shock reminiscent of the taper tantrum in 2013 could now be in the offing.
However, there are circumstances that could still help guard against turmoil in emerging markets. First, economic growth has been steady and positive, and emerging-market economies are much stronger and resilient than in 2013. There has also been widespread improvement in current accounts which, having been in deficit every year since 2011, are back in surplus and as high as they were in the early 2000s. This implies lessened vulnerability to external funding shocks .
With particular significance for currencies, inflation-adjusted interest rates in emerging markets remain higher than their historical average. US policymakers have downplayed their hawkishness, pointing to persistent mixed messages from the US economy and the rest of the world. Perhaps the Federal Reserve is also mulling over worries expressed by those who question its ability to run a monetary policy diametrically opposed to the other large central banks.
Focus: Comparisons with the 1930s
There is no standardised definition of a depression, but it is often described as a more severe version of a recession. For example, during the Great Depression of the 1930s unemployment in the US rose from 3% to nearly 25% between 1929 and 1933, and prices fell nearly 10% a year during the early 1930s. The economy only began to recover as World War II broke out.
It is generally acknowledged that the financial crisis of 2008 did not push any large economies into a depression. But there are comparisons with the Great Depression that raise questions about how the US and the rest of the world can be dragged onto a path of higher growth.
In 2007-08, there was much talk about how the authorities had to avoid the policy mistakes of the 1930s. And for the first few years, with central banks pouring liquidity into the system and governments unleashing new rounds of spending, their combined actions probably did avert a depression.
Many now worry that today's policymakers are forgetting to look back to the 1930s for guidance. Causes of the two downturns share key features: asset price bubbles and subsequent balance-sheet recessions. Today's indebtedness is high and the need to repair balance sheets has dominated corporate and private thinking since 2008, and subsequently served to reinforce existing disinflationary pressures.
Tighter regulation for banks has also significantly dampened their willingness and ability to ease the financial intermediation process.
What today's policymakers are hoping, perhaps with increasing desperation, is that corporates are on the verge of recovering their collective outward-looking, capex-expanding mentality, which will send demand higher. The real danger is that business confidence has still not fully recovered.