While politics will always have some sway over capital markets, 2017 looks like being one of those years in which unpredictable political influence is the dominant theme throughout.
The world is trying to figure out how US politics might function under the presidency of Donald Trump, whether the UK's Brexit plans will become clearer any time soon, or how a disgruntled European electorate might vote this year. But the good news is that the global economic picture does look sound and the reflationary theme remains intact.
Business confidence within the G4 (Brazil, Germany, India and Japan) is rising, reflecting a high degree of optimism in the corporate outlook, and in some of President Trump's proposals, such as tax cuts or deregulation plans. Wearily, we can look back and see that these measures have been this high before, over the course of 2014, but that they did not translate into stronger GDP growth.
However, this time there are more variables pointing in the 'right' direction. US economic growth is at its near potential, assuming such measures as the unemployment rate are reliable. That inflation expectations have bottomed out is potentially the most significant factor for the outlook. In addition, the shift towards fiscal easing is also a potentially significant tailwind for the global economy, particularly with the growing perception that central banks' monetary tools are losing their usefulness.
Emerging markets (EM), particularly in Asia and in equity markets, have generally benefited from the reflationary mood, and even EM fixed income has been resilient. But valuations and technical measures across the various emerging market asset classes remain fair, perhaps because of the significant risks overhanging markets.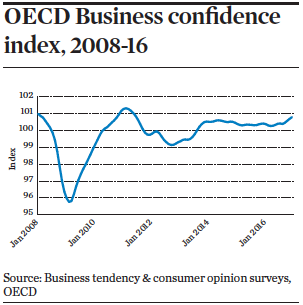 As well as the usual risks, such as how much China's economy might slow, or whether the US Federal Reserve either tightens too much or falls behind the curve, trade protectionism stands out as a potentially damaging risk.
Bonds
There is much talk about whether bonds are at the end of their 30-year secular bull trend, and if the yield lows, seen in the summer of 2016 in the developed markets, will soon be reversed. We have heard this talk before in 2013, only to see bond yields moving relentlessly lower.
The return of inflation will undoubtedly cause worry for bonds, not least because investors have got used to its absence, though there seems to be little consensus as to where inflation in the G4 is heading. Some argue that turning on the fiscal taps in the US, at this late point in the economic cycle, with unemployment so low, could result in over-heating and a subsequent surge in inflation.
The counter-argument, that inflation is unlikely to surge higher, points to the fact that the US economy is not overheating, and that the US Federal Reserve has embarked upon its rate-normalisation track, which is already tightening monetary policy. Also, the unemployment rate has been below its non-inflationary rate in previous cycles without triggering a significant rise in inflation.
The uncertainties about US policy direction are already having an impact on European spreads. Germany's huge current-account surplus has come under fire as part of the US assertion that the euro is 'grossly undervalued'.
However, in the uncertain political environment, it will be harder to predict Germany's reaction. Will it start spending, racking up deficits, triggering an inflationary boom, pushing global real rates higher, providing relief to the periphery and thereby narrowing the spreads? Or will it choose to maintain its balanced budgets?
Currencies
President Trump's comments that the dollar was too strong, caused the currency to fall against the euro and the yen. Though remaining above its pre-election levels, the dollar index is down significantly since the start of the year
Political intervention in currency markets tends to make participants nervous and, while the consensus view is probably still long-term dollar-bullish, there has been a clear move to reduce currency risk.
Talking down a currency does not tend to work well in the medium to longer term, especially if the fundamentals are generally pointing the other way. However, with confidence in the US administration quite fragile, investors may be right to wonder whether dollar weakness may come about via unexpected moves elsewhere.
Conceivably, Trump's proposals for significant fiscal stimulus might be met with too much resistance from deficit-wary Republicans as well as hostile Democrats. Calling for a weaker dollar may be easier, and require no 'permission' from Congress. If US growth turns out to be weaker, then there would also be less pressure on the Fed to raise rates, one of the key supports for a stronger currency.
Since January, there has been a notably stronger correlation between dollar-developed market currency pairs, than there has been between dollar-emerging market currency pairs. Perhaps for emerging markets, the implications of a belligerent currency war, combined with emerging markets' customary wide range of individual country idiosyncrasies, then coupled with the fear of protectionism on the rise are too hard to untangle.
Focus: The Fed's balance sheet
The US Federal Reserve's asset holdings will be reduced when "the normalisation of the federal funds rate is well underway", according to the Federal Open Market Committee. Investors are readying themselves for that to begin, as well as trying to predict how rates, yield curve shapes and currencies may be influenced as a result of the divestment.
Uncertainty is amplified by the arrival of President Trump. It is more likely that Fed Chair Janet Yellen will leave in 2018, and that she might be succeeded by a hawkish Republican who may wish to divest assets more quickly.
Although quantitative easing (QE) did lower long-term bond yields, it is not clear how much upward pressure on rates the undoing of QE will create, though bonds will most likely have to cheapen for extra supply to be absorbed. Moves in the Fed Funds rate have the benefit of precedence: a 25bps hike in the Fed Funds rate has historically translated into a rise of about 8bps on 10-year Treasury yields.
As the Fed reduces its holdings, putting upward pressure on longer yields, financial conditions will tighten. But, unlike 'conventional' tightening via higher Fed Funds, which would tend to flatten the curve, the yield curve might steepen, which could tarnish its reputation as a reliable leading indicator of the business cycle.
In addition to the substantial domestic complexities, and the usual slew of macroeconomic influences, there are also the effects of QE from the European Central Bank and Bank of Japan, which will impact on global bond premia, and thus on Treasury yields.