In this final article on a new study, Nicholas Lyster and Amin Rajan argue that the tail winds from quantitative easing (QE) will be easing noticeably
The balance sheets of the central banks in the US, China, Japan, Switzerland and the UK have risen by $9.8trn (€8.7trn) since the 2008 crisis, thanks to quantitative easing (QE).
It has forced investors to accept more risk in search of yield. It has incentivised companies to issue new debt to retire old debt, while jacking up dividends at the expense of capital investment. It has shifted an ever-larger proportion of sovereign debt to central bank balance sheets. It has also inflated asset values, taking the main equity markets into record high territories.
Against this background, our survey* aimed to assess investors' return expectations over the next three years (see figure). They imply a marked reduction from what was achieved in the recent past.
Six years of QE and the accompanying economic recovery have provided powerful tail winds for valuations across all asset classes. The scope for further improvements is much more limited now; yields have further to rise, spreads don't have much room to narrow and equities are trading at near full valuations.
Indeed, valuations may be inching towards bubble territory. But the chances of a big correction are deemed low owing to fresh impetus from the QE programme of the European Central Bank. Besides, key central banks worldwide are likely to retain ultra low policy rates until signs of sustainable economic recovery are evident.
In any event, fundamental bear markets do not just pop out of the air. Currently, there are a few signs of them. In the past, aggressive rate rises have been the main cause. On present form, these seem unlikely on either side of the Atlantic. As for future prospects, the salient points for three broad asset classes follows.
Equities
First, emerging market equities are likely to deliver the best returns. At 7%, their expected returns are just under half of what was delivered in the last decade. On relative valuations, they look cheap. At end-2014, their trailing price/earnings ratio was 12 times, compared with 16 times for Europe and 19 times for the US. They are still perceived as more risky.
Second, with the emphasis on good quality stocks, the 'bondification' of equities will be an important theme as investors chase stocks with defensive features – high dividends, pricing power, free cash flow, low debt and strong balance sheets.
The highest volatility quintiles will be in less demand, since with high-flying stocks, there are many losers with every big winner. Overall, good quality stocks will be favoured for a smoother ride.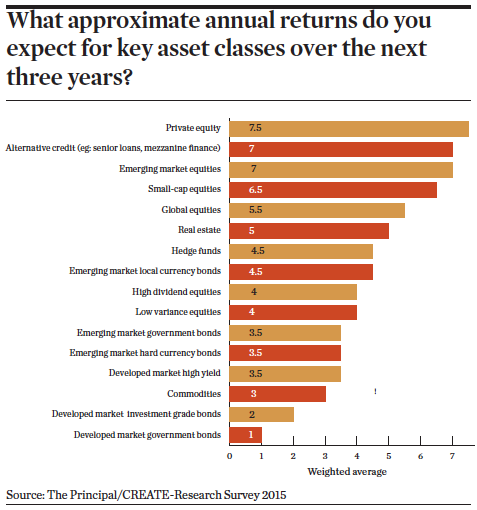 Bonds
First, persistent economic worries around the world will continue to fuel demand for highly rated bonds, even though investors will be squeezed out of safe haven assets offering negative yields. European high-yield offers seven times as much as the German 10-year Bund. Nearly $4trn of public debt in Europe now offers negative yields.
Second, as a result, the sector rotation that started in earnest in 2013 may well continue. With better equity returns, investors who missed out on the recent equity rally will deliver the bulk of the late cycle inflow.
Third, bond investors will face a liquidity crunch in the event of a large correction. QE has pumped up the primary markets but the financial regulatory and other changes since 2008 have caused a drought of liquidity in the secondary markets. The volume of assets held by market makers is half the level it was five years ago while the volume of assets held by investors has shot up fourfold.
Alternatives
First, net flows into hedge funds will continue despite the fact that, for the sixth year running, they have delivered an annual gain of about 2% – far less than the S&P 500 or a balanced portfolio of three parts equities and two parts bonds. This is because investors will continue to value downside protection against tail risk.
Second, the demand for real assets – real estate and infrastructure – will remain strong. They are increasingly viewed as hybrid assets that deliver capital growth, regular income, inflation protection and low volatility.
Third, with the ECB embarking on QE, the search for yield will enter new territory. Alternative credit – covering senior loans, direct lending, mezzanine finance, floating rate notes – will be emerging as an asset class in its own right.
Conclusion
QE has boosted valuations in the past six years, irrespective of intrinsic value. The scope for further uplift remains limited while valuations remain so distorted. Stock selection has become just as important as asset allocation, if not more so.
Nicholas Lyster is CEO of Principal Global Investors (Europe) and Amin Rajan is CEO of CREATE-Research; *Available from amin.rajan@create-research.co.uk
Viewpoint: a Hong Kong pension plan
"Emerging markets (EMs) have entered a new era with the end of the commodity super cycle and the near 50% plunge in oil price. Outwardly this is manifested in capital flows.
"The money that has gushed into EM economies since 2008 is being reversed. The largest capital outflows was in the second half of 2014. This is partly a result of the seemingly unsustainable pile of debts owed by EMs and partly because of fears of an appreciating dollar and rising interest rates.
"For example, the debt-to-GDP ratio surged 83% in China and 45% in South Korea during 2007-13, while their foreign exchange reserves are depleting. A decade ago, the market for EM hard currency corporate debt hardly existed. Today it is worth $2trn, bigger than the total high-yield markets in Europe and the US.
"The fact is that EMs can no longer deliver the stellar returns of old. From 1985 to 2013, their equities generated an average annual return of 12.7% with an average volatility of 24%. In contrast, over the same period, developed market equities returned 9.9% with volatility of 17.6%. Return expectations for EM assets have declined markedly.
"Past successes created their own challenges. For example, by any criteria China is overbuilt and over-borrowed. The crises in Ukraine and Russia show no sign of easing. Countries such as India, Indonesia, Mexico and the Philippines are making great strides but they have a long way to go."