Despite calls for a greater level of alignment between asset managers and pension funds, alternative fee models have not yet taken off, as Brendan Maton finds
At a glance
• Despite calls from institutional for more equitable fee models, few asset managers have embraced the challenge.
• Models include fee caps, escrow accounts for outperformance and fee clawbacks.
• One estimate shows the average global equities mandate costs 52bps compared with 10bps for internal management.
How much does it cost to run an asset management business? This might be a useful question for pension funds to ask. There have long been grumblings about paying excessive fees, especially for hedge funds and private equity. But no one seems to ask the deeper question of how much money a successful asset manager needs in order to operate.
According to George Cooper, CIO of Equitile, a new London-based equity manager, the answer is about £350,000 (€464,000) per key employee per year. That figure covers not just their salaries but other costs – administration, IT, rent, legal costs, and so on.
Cooper, a former strategist at JP Morgan, Deutsche and Goldman Sachs, is not making a theoretical estimate. Equitile is growing Resilience, a global equity pooled fund that will cap its 70bps management fee when the fund reaches £350m of assets under management. On assets thereafter, Equitile will charge a 10% performance fee, although all unit holders will pay a proportionate mix of performance fee and fixed fee. This means there is no advantage to subscribing either before or after the £350m target is reached.
Equitile is equitable and innovative but not necessarily the most favourable to clients. Five years ago IPE discussed the merits of shock absorber fees (SAFe), a structure devised by Kirill Ilinski, founder of the London-based hedge fund, Fusion Asset Management. SAFe allows for no fixed manager fee but instead puts all outperformance into a separate account, which prioritises client wealth preservation.
The separate account is not merely an escrow account. On the contrary, a manager can adjust the risk taken and the potential performance fee from the investment strategy, but only by consigning a greater buffer to protect client wealth from the risk of losses. Always second to clients in claim on the pool, the manager is dependent on positive performance for success. The typical time periods before crystallising this success as a performance fee – with all the temptations to increase volatility and ignore long-termism that these bring – are absent. In brief, SAFe makes the cost of capital to commercial asset managers much more stark.
Cooper says there is no point proposing these zero-fixed-fee structures "because the industry won't go for it". Having criticised this alternative, he then admits that the probability of asset managers adopting the Equitile structure is also very low. His conclusion is that only institutional investors will force change.
Ilinski and Cooper both agree that the benefits could be huge, not merely to pension scheme members but to the whole financial services industry, and capitalism itself. Both point to the short-term herding of asset managers around benchmark indices as evidence of the weakness of the fixed-fee model and its danger to the global economy.
Ilinski writes: "What differentiates financial services from other industries is that herding behaviour prompts managers to take risks which are similar in nature, even if they look different on formal risk reports, thus creating a situation where the negative performance is synchronised across the whole industry in times of financial stress."
Despite being praised, SAFe has had few adopters since it was launched six years ago. Some large pension funds have expressed regret at the disappointing costs of their investment management, especially in private markets. But the asset owners are yet to revolt.
Ungathering assets
What if far more of asset management entailed big risks to the agents, not clients? A reduction in asset gathering would be the main consequence. As Nick Motson, senior lecturer in finance at Cass Business School and co-author of a paper on asset management fees, has observed, hugging an index benchmark should not be a commercial endorsement of an active manager's business.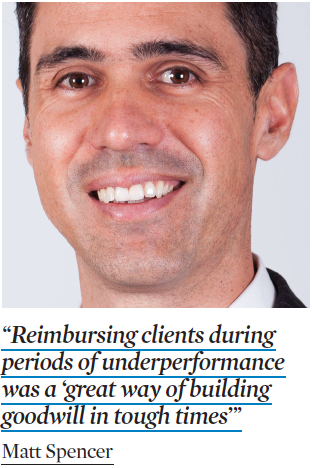 That paradox, however, has been worn down by decades of custom, to the point where it is hardly visible. Asset gathering is all about growing the business, whereas genuine active management might mean underperforming for several years. That brings us back to the question of how much it costs to run an asset management business.
Nick Sykes, global director of manager research at Mercer has suggested that loyal clients should be rewarded with lower fees. From a manager's perspective, if client revenues were assured for seven years in advance, then more managers might be prepared to ignore benchmark indices to be truly active.
This would not be wholesale change as envisaged by Cooper and Ilinski but at least it would be a start. After all, client loyalty for nearly a decade is part of the contract in private equity partnerships and running at a loss in the early years is not uncommon among start-up companies. Perhaps the commercial active management of public securities needs to regain its sense of entrepreneurship.
Equitile has been established to survive even if it underperforms for several years. In other words, the £350,000 per key employee includes a buffer for hard times. Orbis, possibly the best known house for alternative fee structures for long-only mandates, appears to be even more resilient. As part of its contract for underperformance, the Bermuda-based manager has refunded a significant amount of fees recently, according to head of Orbis Investment Counsellor Group, Matthew Spencer. He says the performance-fee reserving mechanism pays for periods of underperformance but even if this ran dry, Orbis could use the firm's reserves to continue in business for the best part of a decade.
In this light, the cost of asset management becomes a matter of reserves. All CEOs could say that they suffer in a bear market – and plenty of managers on ad valorem fees have survived miserable periods of underperformance lasting the best part of a decade. But Orbis is one of the very rare few that fulfils a wish made by Peter Borgdorff, director of PZFW, the Dutch healthcare workers' pension fund when he said two years ago that asset managers ought to give something back when times are bad.
"What differentiates financial services from other industries is that herding behaviour prompts managers to take risks which are similar in nature, even if they look different on formal risk reports, thus creating a situation where the negative performance is synchronised across the whole industry in times of financial stress"
Kirill Ilinski
Spencer says Orbis would obviously prefer to be outperforming but adds that reimbursing clients during periods of underperformance was a "great way of building goodwill in tough times".
Not all share classes at Orbis have the same remuneration structure. The non-refundable base fee in the Core RRF share class is 45bps on the first $100m (€89m). To give some sense of the total impact on returns, the annualised difference between the performance of the Orbis Global Equity fund gross of fees and net of fees equates to 230-250bps, depending on the fee structure, since inception.
In terms of returns, over this period of more than 25 years, net of fees the fund is at least 540bps ahead of the MSCI Global Equity index annualised and at least 660bps ahead of the average global equity fund.
There is no place like home
When examining the cost of running an asset management business, it makes sense to look at the cost of in-house pension funds themselves. Worldwide, the average annual cost of key staff (including back-office) is $250,000*, according to CEM Benchmarking.
That figure is less than half the estimate we began with for a commercial manager, although it should be noted that Equitile's €464,000 covers the running cost of the business while the CEM figure is purely remuneration for key staff. On the other hand, the in-house figure also covers performance fees, whereas Equitile's is a basic.
Another way to view the data is cost per mandate. An actively managed global equities mandate costs an average 52bps (or 48bps for the median) if externally managed; this compares with just 10bps for internal management, according to CEM data. These figures include not just portfolio management but also in-house monitoring and oversight of the portfolios, although these latter are minor costs. Given the preponderance of very large schemes in the CEM universe, the figure for externally managed mandates suggests that economies of scale are not that meaningful in pension fund management. Even the biggest clients have to pay a lot to get the external managers they want.
As one last point of comparison, how about the running costs of the British Steel Pension Scheme, the overall 2015 IPE Awards winner? The scheme claims an 'efficiency metric' of 6bps of assets under management. The efficiency metric is investment management expenses divided by assets under management.
The scheme's reported assets under management at the end of the last financial year were about £14bn in cash, so the costs translate to £8.4m, a shade over what Michael Dobson, chief executive of Schroders, a publicly-quoted asset management company popular with institutional pension funds, earned in the same period.
*Figure is drawn from research of 318 pension funds globally, ranging in size from £100m to £500bn (€129m to €194bn).