Nearly $3.3bn (€2.9bn) is invested in funds and strategies designed to make a positive impact on gender equality, according to consultancy group Cambridge Associates.
The group said so-called "gender lens" investing formed part of the growing trend towards firms investing in environmental, social and corporate governance (ESG) themes.
"Research has shown time and again that diversity of thought and perspective leads to better investment returns, better business strategies and stronger organisations as a whole," said Deborah Christie, managing director at Cambridge Associates. "That's why an institutional investor who looks at strategies through a 'gender lens' may see excellent opportunities they may have otherwise missed – opportunities to both make an impact that aligns with their mission and to benefit from investment diversification."
Christie authored a report outlining several findings from research into firms actively promoting gender equality. These included: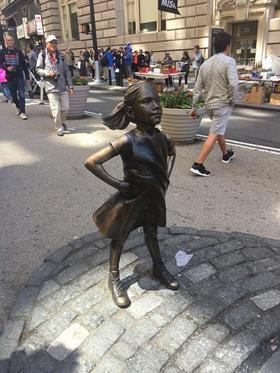 Sales growth, earnings per share growth and return on assets were all higher in companies where women comprised 50% or more of leadership positions;
Start-ups founded by women generated 10% more revenue than male-founded counterparts;
The performance of venture capital firms improves as the ratio of investment in women-led businesses increases, despite these businesses receiving less funding;
Female investors are less likely to 'churn' portfolios, which helps net returns; and
The overall intelligence of a team or company increases when women are included, due to more perspectives and fewer blind spots.
In addition, Cambridge's analysis of 37 female hedge fund managers found that their strategies outperformed a sample of hedge funds over a 10-year period.
BlackRock adopts ESG tilt for long-term DGF
BlackRock has launched a multi-asset fund aimed at UK institutional investors and targeting long-term growth with a lower volatility than equities.
The BlackRock Strategic Growth fund is run by the firm's diversified strategies team and invests across equities, bonds, listed real estate and infrastructure, and gold. It also takes ESG considerations into account, BlackRock said, with "at least 5%" of the fund committed to ESG "themes", such as renewable energy.
Andrew Stephens, head of the UK institutional business at BlackRock, said changing fund levels, time horizons and scheme demographics had shifted the risk profiles of pension schemes, meaning diversified growth funds had to adapt as well.
The fund has an annual charge of 0.25%, and aims to deliver a return of cash plus 4.5% gross of fees over a 5-7 year period.
DWS invests in tech firm for MENA push
DWS is to take a 15% stake in Neo Technologies, a financial technology firm, and agreed a "strategic partnership" to use its digital operations platform for its Middle East and North Africa (MENA) businesses.
Neo Technologies supplies digital asset management services to firms based in the MENA. Its front, middle and back-office services can be adapted to local languages and regulatory requirements, as well as integrate with external distributors' systems.
Thorsten Michalik, co-head of DWS' global coverage group, said: "By investing into this platform, we further underline our growth commitment into digitization and technology as communicated in the course of our IPO. Neo Technologies enables DWS to obtain further presence in a region with high growth rates in asset management."