IPE asked the top 120 European asset managers how they were dealing with the issue of third-party research costs
As 2017 drew to a close, asset managers were still deciding how they would pay for third-party investment research under MiFID II rules introduced this month.
IPE asked 120 of the biggest managers of European institutional assets how they planned to comply with the requirement to unbundle this previously implicit charge.
As of 18 December 2017, 102 managers had responded to IPE's enquiries. The majority plan to absorb costs onto their balance sheets – 92 companies, responsible for more than €8trn in assets.
Two groups are understood to be setting up research payment accounts, which will charge costs directly to investment funds, so the client foots the research bill.
This includes Fidelity, which incorporated the shift within a bold restructuring of its equity charging structure. It has lowered the base annual charge and plans to link it to performance – including lowering the fee during underperformance. The reduction in the base fee more than outweighed the cost of research, the company said. The other company to charge costs to clients is Germany's Metzler Asset Management.
Contrary to prior indications, Amundi, along with subsidiaries CPR Asset Management and Pioneer Investments, has decided to not pass on the costs. Senior executives at the French group had commented it was their favoured approach but in mid-December it decided on the opposite. The three companies manage more than €350bn of European institutional assets between them.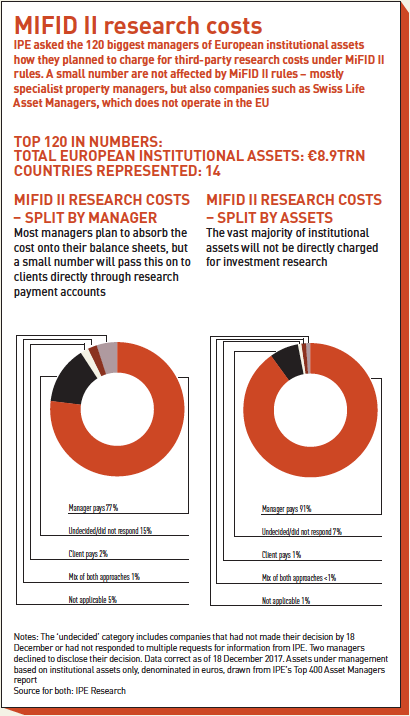 Principal Global Investors and Capital Group said their approach to paying for research would vary depending on asset class and fund structure.
Several companies indicated that the MiFID II research rules would have little effect. Pantheon plans to absorb costs, but given its primary focus is private equity, this will not make much difference to its business model.
Dimensional Fund Advisors and Arrowstreet Capital both said that they would pay for external research but make little use of it, preferring to use internal resources.
Some asset managers have indicated that internally sourced research could become more widespread as the MiFID II rules bed in. Lars Dijkstra, CIO at Kempen Capital Management, last year predicted a shift towards internal research teams as the short-term nature of investment banks' research became outdated.
"There is pressure on the buy side from passives to deliver value," he said. "In my view that means you have to focus on long-term, highly active, high-engagement portfolios. Probably 80-90% of sell-side research doesn't qualify for that, which means you have to do the research yourself."
Kempen was one of the first managers to announce it would absorb research costs.
MiFID rules do not apply to a small number of managers in the top 120 list. Property specialists such as Nuveen, Patrizia, Hines and Prologis are exempt, while Swiss Life Asset Managers only runs money for Swiss investors, which are outside the scope of MiFID.
Of the 120 managers surveyed, 16 did not respond.
Two managers – Bridgewater and Macquarie – declined to disclose their decision.
Investment Research: A new regime dawns
1

2

3

Currently reading

Asset Manager Survey: Scramble to hit deadlines

4

5