US convertible bonds have come into their own in the low-interest-rate environment
Key points
US convertible bonds are gaining popularity in Europe owing to the prolonged low-interest-rate environment
The asset class offers higher risk-adjusted returns with lower volatility than equities and other fixed-income securities
Opinions differ as to where convertibles belong in a portfolio but they can happily sit in either a multi-asset credit or standalone fund
US convertible bonds are having their time in the sun as the credit cycle is drawing to a close and interest rates are beginning to rise. In this environment, they not only provide a less expensive route for companies to raise capital but offer yield-hungry investors stronger risk-adjusted returns than government and investment-grade bonds. However, as with any popular investment, selectivity is the key.
It is easy to see why these hybrid securities which convert to stock at a given price have become one of the hottest investment tickets. For example, as of mid-August, US convertibles generated a total return of 6% compared with a loss of 5.8% for investment-grade-rated corporate debt and a 2.4% drop for high-yield bonds, according to Bloomberg Barclays indices. This is partly a result of the strong showing of technology companies which account for almost half of US convertible issuance.
Overall, first-half global issuance topped levels not seen since before the financial crisis. Figures from Edmond de Rothschild Asset Management reveal that the US market through September ratcheted up a record of about $46bn (€40bn). Breaking it down by sectors, technology represented $21bn followed by healthcare and financials which, respectively, comprised $6.3bn and $5bn. The main drivers were related to financing growth, acquisitions and share buybacks.
By contrast, Europe lagged behind with $6.2bn of new issuance, down from $13.1bn for the first nine months of 2017 and $16.9bn for the full year. "We think the sentiment in Europe, in the context of political uncertainty such as the populist government in Italy and Brexit in the UK, is acting as a bit of a drag on the market and impacting its ability to catch up to the US," says Antoine Lesne, head of SPDR ETF research and strategy, EMEA at State Street.
Despite the slowdown, Ludovic Dufour, fund manager, convertible bonds at Edmond de Rothschild Asset Management points out that there has been a greater diversity of European companies coming to the market. Real estate has typically been the most active sector but the spectre of rising rates seems to be keeping them at bay. This year issuance has ranged from Adidas's €500m convertible bond to primarily finance its share buyback programme, to the Spanish company Cellnex's €600m to diversify its funding sources.

Although regions are moving at their own pace, the normalisation of rates kick-started by the US is expected to fuel future activity and demand. "Investors, particularly those in Europe who are loaded with government and investment-grade corporate bonds, will face challenging times as interest rates rise," says Nicolas Delrue, head of investment specialists, and convertible bond investment specialist at UBP . "The benefit of convertibles is their convex revenue stream. They are not linear to equities, but can offer equity-like returns but with lower volatility and reduced drawdowns. Also, they have an embedded conversion option, which makes them much less sensitive to interest-rate movements than straight bonds for a similar duration."
Research from UBP shows that over the past 20 years, global convertible bonds have suffered – on average – half of the downside in relation to equities but have kept about 60% of the upside. In addition, crunching numbers during that timeframe which looked at the jump in yield of the 10-year Bund in Europe or 10-year Treasury by 120bps also reflects their resilience.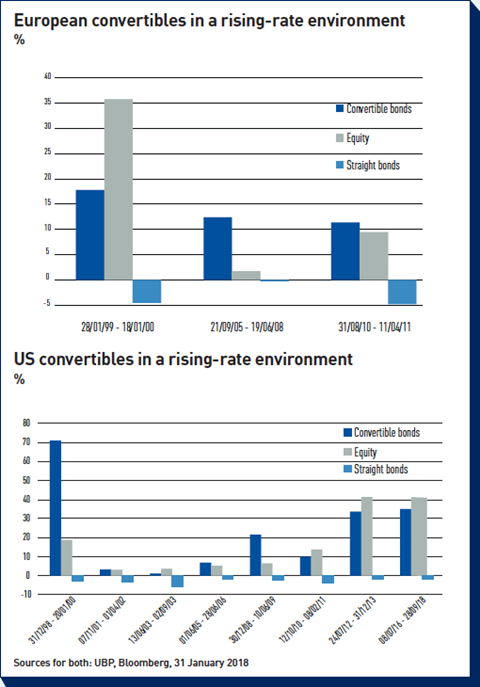 UBP found that during each of these 11 periods (three in Europe and eight in the US), convertible bonds systematically outperformed straight bonds.
The other attraction is that the bonds are high-quality. While investors typically have to go down the ratings spectrum to enhance return potential, convertibles are rated investment grade, with the return derived from the equity market exposure, rather than carry.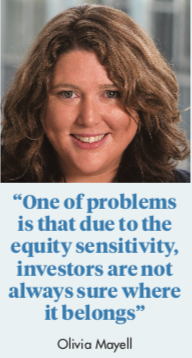 Arnaud Brillois, portfolio manager on the global convertibles team at Lazard Asset Management , also sees investors using convertibles to add returns to high-yield portfolios to offset tightening spreads and to increase diversification in their fixed-income portfolio. "They offer an interesting opportunity set for European investors but we advise taking a global approach," he adds. "The US is the largest market, with roughly half of this year's new issuance coming from technology companies. And while Europe valuations are more attractive with an implied volatility below the historical average by around 5% compared to 1% in the global market, the sector distribution does not allow for active bond picking."
Analysts expect issuance to continue to be buoyant in the US with fast-growing tech companies remaining a prominent feature. It is not only a cheaper way for these firms to raise capital than issuing debt or equity, but as Pierre-Henri de Monts Savasse, portfolio manager at BlueBay Asset Management convertible bond team notes, "the investors and companies are aligned in that, if the company performs well and the stock rallies, everyone is paid in shares and there is no debt on the balance sheet. However, you need to be selective and we think that mid-sized software companies offer the best and most attractive opportunities because of the potential for growth and M&A activities."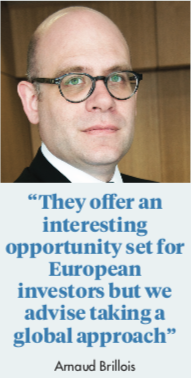 Pierre Luc Charron, head of convertible bonds management at Amundi Asset Management also emphasises that the "bottom-up selection of names with further upside potential is crucial". He says European investors may benefit from newcomers whose issues offer a new issue discount. These are important as they ensure the regular renewal of the convertible-bond universe and bring diversification to the market.
As to where convertibles fit into a portfolio, views differ. "One of problems is that due to the equity sensitivity, investors are not always sure where it belongs," says Olivia Mayell, multi-asset investment specialist at JPMorgan Asset Management. "Some people may put it in the alternative bucket because they are a good diversifier, while private banks or fixed-income-heavy European pension schemes see them as a separate asset class and have a standalone fund allocation."
"They provide equity-like performance with lower volatility, a bond floor and downside protection"

James Peattie
James Peattie, head of long only convertibles at CQS , says convertible bonds can fit nicely into either a standalone or multi-asset credit fund. This is because "they provide equity-like performance with lower volatility, a bond floor and downside protection. Given the significant high exposure to high yield in many MAC [multi-asset credit] funds, it is also important to have securities that create a dispersion of returns," he says. "High-yield has significant correlation with equities but they do not provide the same downside protection. You want to ensure that you have high-quality issues that have a floor. Convertibles can also add value because they give investors exposure to credits such as fast-growth technology companies that do not issue in high yield."
The positioning will, of course, depend on the institution's particular risk appetite and requirements but whichever route it chooses, it can expect a more stable market than in the past due to the changing profile of the investor. Peattie says that pre-crisis around two thirds to three quarters of convertibles were owned by leveraged players such as banks and prop houses but fast forward to today and the participants are pension funds, insurance companies and wealth managers.
Credit: Reading the cycle
1

2

3

Currently reading

Convertible Bonds: Just the ticket

4

5

6

7

8