High yield bonds should weather volatility better than investment grade
Performance is more tied to economic growth than rate rises
Predictions for defaults remain low
High yield did not have a good start to the year. Rising inflation and a more hawkish central bank tone in the US and UK triggered panic selling in January. However, as the dust settles and bad news is priced in, the asset class looks more appealing than other fixed-income segments. Easy pickings may be gone, though, and opportunities will have to be selected carefully.
The figures speak for themselves. As of 11 February, data from Lipper Refinitiv showed that global high yield, and short and medium-term bond funds suffered net selling of $4.01bn (€3.5bn) and $2.08bn respectively – a fifth straight week of outflows. Inflation-protected funds were also hit with outflows for a third successive week, at $1.55bn.
Meanwhile, the ICE BofA US High Yield index – a commonly used benchmark for the high-yield market – slid nearly 3% in January, the biggest fall since March 2020's decline of 11.7%. The index's option-adjusted spread, which measures how much premium riskier companies should pay compared with what the government pays, widened to 367bps at the end of January, from 308bps a month earlier.
Markets were getting skittish last year when the US Federal Reserve signalled a new tighter regime and a possible half-percentage-point rate rise in March. However, the unexpected jump in inflation to 7.5% in January – a 40-year high – changed the Fed dialogue and triggered a report by analysts at Goldman Sachs that seven instead of five hikes could be on their way if inflation remains at these lofty levels.
European markets were also spooked with the surprise 5.1% record inflation leap in the euro-zone. This caused the Bloomberg High Yield Euro index, which tracks more than 600 euro-denominated bonds across Europe, to drop 0.86% at the beginning of the year. For now, ECB president Christine Lagarde is monitoring the situation and biding her time, but she is no longer ruling out any action this year.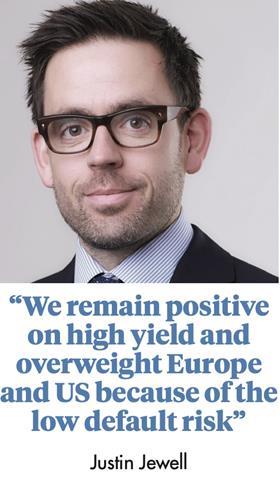 Although views differ on the outlook for inflation, the International Monetary Fund (IMF) provides a rough guide, raising its forecast to an average 3.9% in advanced economies and 5.9% in emerging markets and developing economies in 2022, before subsiding next year. While many constituents in the fixed-income market will continue to be impacted, if history is anything to go by, high yield should prove more resilient.
In part, this is structural in that investors have traditionally been less willing to lend to riskier borrowers for longer periods. High yield is short-duration and should act as a buffer to the normalisation of the US rates curve, according to Justin Jewell of BlueBay Asset Management. Historically, when US Treasury yields have risen, high-yield bonds have tended to outperform quite significantly versus higher-duration investment-grade corporate bonds over a 12-month period.
"We are seeing an unwinding in fixed income and a de-anchoring of spreads, but we do not expect them to move to 500 or 600bps," says Jewell. "We remain positive on high yield and overweight Europe and US because of the low default risk. The biggest challenges are a policy mistake or growth shock. Challenges we see are rising input costs, tighter supply chains and labour but the liquidity conditions remain quite resilient."
Low high-yield default rates
The other reason for their appeal is that these bonds are more impacted by the health of the economy and, ironically, rising interest rates reflect robust economic growth. "One of the important things to remember is that high yield is much more impacted by the business cycle than the interest-rate environment because you lend to companies against cashflows of the business," says Mike Scott, lead portfolio manager at Man GLG.
"It looks more at the fundamental picture and the question for us is whether inflation will impact consumer spending, which is the main driver of the economy. I think we will see increasing dispersion, though, which is why we like companies with stable businesses and strong pricing power."
Thomas Moore, co-head of fixed interest at Invesco, is also optimistic especially on European high yield. "It is a bit more complex going forward because, on the one hand, you have tightening yields but, on the other hand, high yield can provide a cushion against the volatility of base rates and they have done better than investment grade, which has fallen more sharply," he says.
"It has been a bumpy 10 weeks and spreads are widening but we are still at the tighter end of valuations. The good thing is that corporate earnings are relatively strong and the default outlook for this year is benign."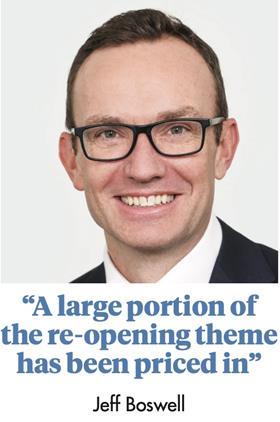 In fact, the yield gap between high yield and US Treasuries, which is a rough guide to gauge market default risk, has remained small at about 3.3 percentage points, only slightly higher than the post-financial crisis low of 3 percentage points last year.
In terms of actual default predictions, the latest figures from Fitch Ratings show that the US high yield trailing 12-month (TTM) rate is 0.3%, the lowest level since 2001. Forecasts are for it to remain low until 2023 despite worries over inflation, supply chain challenges, continued pandemic uncertainty, and rising interest rates.
The same scenario applies to Europe where the TTM high-yield bond default rate was 0.7% at the end of 2021, down from 3.3% in 2020. However, in both regions, there will be a greater divide with vulnerable credits related to the travel, leisure and office sectors looking more promising as the economy reopens. Those in consumer staple and industrial cyclicals could show weaker near-term operating profits as rising input prices outpace increases in prices and volumes, according to Fitch.
Rising stars, fallen angels
Against this backdrop it is unsurprising that the rising star/fallen angel trade is back on the table. The latter, which are bonds that have been downgraded, can offer value and yield pick-up as the economy gathers steam. "The fallen angels are an interesting opportunity set because as the economy recovers these names have the potential to be upgraded," says Manuel Hayes, senior portfolio manager at Insight Investment.
"They have the rare characteristics for both compelling total returns and compelling income, with potentially attractive risk metrics. The best way to capture rising stars is to do so before they are upgraded but our advice is to have a diversified portfolio of both."
However, overall, finding the right opportunities will require more homework and due diligence. This explains why many fund managers are being much more discerning and deploying a bottom-up research-driven approach. As Jeff Boswell, head of alternative credit at Ninety-One, puts it: "A large portion of the re-opening theme has been priced in and the market for these bonds is not cheap. What looks more interesting to us is the US and European double-B and high-beta bonds space, as they have underperformed. However, you have to be willing to take a bit of interest-rate volatility."
Stephen Marsh, a portfolio specialist based in London in the fixed-income division of T Rowe Price, adds: "Fundamentals have never been so important, and we are being highly selective. We are reducing our positions in, for example, streaming services which benefitted during the pandemic and increasing allocations in good names in entertainment, service industries, consumer staples and healthcare."