Darkening mood despite good US employment numbers
Fed and ECB in full-on hiking mode
The yen has continued its slump against the dollar
As we reach the midpoint of the year, there is little sign that the second half of 2022 will be any less turbulent than the first. The conflict in Ukraine slogs on – a destructive war of attrition, pain and fear. The repercussions are huge, global and unpredictable, be they surging energy prices or impending, but acute, shortages of basic foodstuffs, or of semi-conductors, so vital to 21st century life.
And the battle against rising prices is in full swing as inflation indices hit new highs across the world. The EU's price data has certainly caught up with the US, with the headline Harmonised Index of Consumer Prices (HICP) reaching 8.1% in the year to May, the highest ever recorded for the region. Although we have seen European wage pressures increasing, EU data tends to lag, so we await more news on this key component.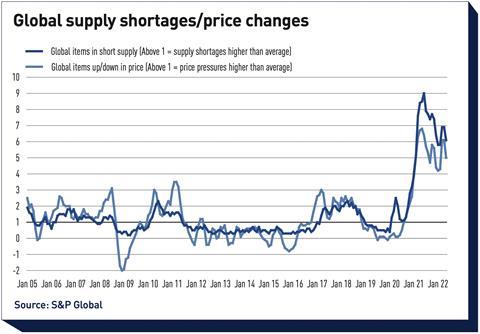 UK politics: Brexit and stagflation again
After the jubilee celebrations for the Queen's 70 years on the throne, a national outpouring of affection and pride for a much-loved monarch, the UK put away its bunting and its mechanical corgis and turned to face life's more stressful realities.
Although chaos at airports, strikes on the trains and tube, as well as soaring energy costs, are not wholly the fault of Prime Minister Boris Johnson and his Conservative government, the electorate is not in the mood for sympathy for their beleaguered PM.
The UK once again finds itself languishing near the bottom of the G10 in terms of forecast macroeconomic performance for 2023, according to the OECD, for example. Confidence measures (like the Purchasing Managers' Index) have been sinking, with inflationary pressures remaining extremely high, and talk of stagflation starting up again.
While the March budget was fiscally prudent with Chancellor Rishi Sunak emphasising the need to get the country's large deficit under control, he followed it with a policy u-turn and a package of measures aimed at helping out the least-wealthy households, with £5bn to be raised from a controversial windfall tax on energy sector companies.
Although the Bank of England's recent poor communications strategy may be partly responsible for investor wariness of sterling assets, the macroeconomic outlook is undeniably tricky. Britain's trade performance, particularly since reopening after lockdowns, has been lacklustre, and many sectors of the economy are struggling with acute labour shortages caused initially by Brexit and then exacerbated by the pandemic.
The Conservative government's pursuit of a hard Brexit has generated much tension, potentially jeopardising the Northern Ireland Protocol, and creating rising risks of a damaging trade war with the EU.
It might be a slight exaggeration to say, as some commentators have done, that the UK shows more characteristics of an emerging economy. But its dependence on international money flows to fund its worsening external accounts does highlight the UK's very acute need to maintain a reputation as an attractive investment destination. Johnson, or indeed any successor, has a difficult task ahead.
Although there is some evidence emerging that the pressures on supply chains might be easing, as measured by May's release of the S&P Global PMI Commodity Price and Supply Indicators (see figure), the number of managers reporting supply shortages remains three to four times higher than the long-time averages.
The US employment situation remains robust, with low unemployment and very high job openings. But the mood is darkening. Indeed, the US Conference Board's Q2 Measure of CEO Confidence slumped to levels last seen at the start of the pandemic, with 60% of CEOs anticipating a worsening economy over the next six months.
Various polls seem to suggest that investors, like those US CEOs, are also inclined to predict a US recession in the next 12 months. When inflation is this high, it becomes that much harder to envisage any sort of 'central bank put' happening this time around, as they are choosing to prioritise their fight against inflation over economic wellbeing.
Less pessimistic outlooks argue that with inflation possibly showing signs of peaking, the Fed will not need to tighten policy so aggressively that a recession becomes inevitable.
The war in Ukraine has already had a sizable, negative impact on growth, not just in the region itself, but also in Europe and especially many commodity importer countries. The conflict poses many risks, and it is possible, or maybe even likely, that it will cause further damage to already disrupted supply/demand balances, altering inflation and growth outlooks even more.
Bonds
Although inflation could be nearing a peak some time this year for the US, history would tend to suggest that in the case of US 10-year yields, rates are most likely to peak in the months following the inflation high. This is particularly the case when inflation has reached a very high level, as it did in the 1970s, 1980s and, arguably, will this time around too. Rates tend to peak when markets pre-empt the Federal Reserve's pivot towards dovishness, so nearing the end of the hiking cycle and not near the start.
US rates markets have been wavering between fretting about inflation, causing the yield curve to bear flatten, or worrying about a growth scare – for example, when Walmart missed its earnings estimate as rising costs put pressure on margins and operating costs – which triggered bull steepening. It is not yet clear which side of the dynamic will eventually take over, although inflation's relentless rise is, for now, pointing to a Fed in full hiking mode following June's 75bps hike.
For Europe, the European Central Bank's much anticipated June meeting was suitably hawkish. It seems that July's 25bp hike could potentially be followed by a 50bp hike in September as the bank did not push back against this suggestion at the press conference.
There was, however, also some disappointment. Some observers argue that the aggressive inflation-fighting response, at the possible expense of economic growth, re-ignites concerns of periphery vulnerabilities and of fragmentation. With little to assuage investor concerns of spread widening as European economic growth falters, there is a danger that the ECB may be perceived as stepping back from any role as a potential backstop. And with that, perhaps there could be the beginnings of another crisis on the periphery.
Currencies
The yen has had another lurch down, with USD/JPY touching highs not seen for over two decades and nearing levels last witnessed in the previous century. With the economy recovering post-omicron wave, and headline inflation (finally) nearing target range, some are now arguing that the Bank of Japan may start to care rather more about the weakness in the currency, given the risk of even higher inflation from rising import costs.
Japan's current account surplus in 2022 is likely to be about half of what it was the previous year as the yen has slumped, and energy prices have soared. As domestic prices have started to rise, the government has come under considerable pressure from its voters, who are very unhappy and anxious about rising inflation.
Although previous interventions were executed at around USD/JPY 125-130, and with the trade-weighted yen about 15% undervalued – so arguably not even as cheap as it reached mid-2021 – there are still low expectations of official FX intervention today.
Perhaps policymakers are waiting for the US economy to slow, which would likely be bearish for the dollar, and supportive for the yen. Alternatively, signs of a meaningful Japanese recovery, and thus the potential for an end to the BoJ's yield curve control policy, would also signal a more supportive currency backdrop.