US jobs relatively benign but with weakening indicators
The yen has continued its slide against the dollar
Stabilisation of China's property market remains an important goal for future growth
The global outlook for economic growth is deteriorating, with repeatedly revised economic forecasts pointing to ever-higher inflation and lower GDP growth. The far-reaching impacts of the Russia-Ukraine war, moving principally through energy and commodity channels, have exacerbated so many of the world's existing pandemic-related supply-side bottlenecks, which had been gradually easing in the weeks and months before Russia invaded.
The US economy is, nevertheless, still generating strong jobs growth, and risk markets remain reasonably sanguine, if not quite upbeat. Many more forward-looking business sentiment indicators, however, are pointing to potential weakness ahead, and particularly in Europe.
Although European Purchasing Manager Indices (PMI) have shown some resilience, the March EU consumer confidence indicator, which had already begun slipping in Q4 last year, has slumped further since the shock of February's outbreak of hostilities.
China's property market and high-yield defaults
While there is so much to focus on in the Ukraine war, and its widespread implications, China's zero-COVID policy, with much of Shanghai in strict lockdown, seems like yesterday's news.
However, these lockdowns have the capacity to create significant downside risks for the domestic economy, and purchasing managers indices (PMIs) have weakened notably.
China's property market represents a significant share of the overall economy, accounting for about 14% of GDP in 2021. So when Evergrande, at one time China's second-largest property company, defaulted on some of its $300bn ($276bn) debt towards the end of last year, there were considerable economic and financial shockwaves.
Policymakers did step in to ease both monetary and fiscal policy at the time, although the housing market remains fragile, and several indicators, such as new home sales and land purchases, are still declining.
Demand for housing in China has declined over the past five years or so, due to a combination of lower economic growth, changing demographics and a significant revision in policymakers' attitudes to property. President Xi Jinping's "housing is for living in, not for speculation" pronouncement dates back to 2017.
Stabilising the huge property sector is an important goal for policymakers if China is to achieve its (quite ambitious) growth targets. Policy remains accommodative and vice-premier Liu He's statement, after this year's Financial Stability and Development Committee meeting, referred to forthcoming plans that would "efficiently deal with risks" in the property sector, which may indicate that further support for beleaguered property developers might be forthcoming.
Last year was a record one for Chinese high-yield property company defaults. So far this year, Chinese high-yield defaults, whether in US dollar or the onshore RMB market, have involved only property developers. The sector remains under pressure, and stability in the housing market has not yet been achieved.
This means increasing challenges for central banks. Hawkish talk from US Federal Reserve chair Jerome Powell has been well received by markets and significantly more rate hikes are now priced in for this year. However, although the Fed has maintained its (enviably) strong credibility with market participants, it is undeniable that the risk of a policy mistake has risen.
Towards the latter part of last year the prospect of the Fed successfully navigating a path to a soft-landing – tempering the strong growth just enough to control the big supply-chain inflationary shock – seemed a reasonable expectation. Today, however, pressures and uncertainties are much more severe, and the chances of the Fed either tightening too much, or not enough, have risen significantly.
With the ongoing tensions of the conflict as a malignant backdrop, other geopolitical issues also have the capacity to further unnerve already nervous markets. Prime minister Viktor Orban's convincing victory in Hungary's recent election, for example, means he will maintain his uncomfortably belligerent attitude towards the EU.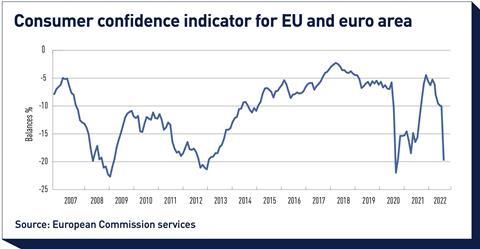 And it is increasingly apparent that the Ukrainian war has the capacity to trigger large structural changes to trading and investment behaviours across the world, potentially resulting in a return to last century's more volatile growth and inflation patterns.
Bonds
The US yield curve continued on a flattening trend until early April, flirting with inversion, prompting opinions that recession may be on the way.
Powell downplayed the significance of the 2-year-10-year Treasury spread curve flattening, and instead pointed to the continued steepness of the curve at the shorter end, namely the three-month to three-month, 18-months forward (what the three-month rate will be in 18 months).
While the 2s-to-10s might legitimately have been hinting at higher risks of recession, there also could have been credible technical and fundamental reasons why the curve has been quite so flat.
The demand-supply balance is influenced by the Fed's enormous quantitative easing programme, by huge private demand for longer-dated fixed income from pension and insurance funds, as well as by a general flight to quality. All three factors have contributed to the lowering of longer-dated term premia.
Another argument is that today's high inflation prints may mean we should look back to curve shapes during the high inflation 1970s and 80s, when there was a similar decoupling of nominal and real/inflation-adjusted curves.
The real US curve remains steeply positively sloped because the breakeven inflation curve is itself deeply inverted (suggesting that markets still expect inflation to moderate in the medium term). And looking back to the high inflation of the 1970s and 1980s, the probability of recession implied by inverted 2s to 10s curves was lower than in subsequent (low inflation) decades.
Currencies
In the same way that the flight-to-quality trade may be encouraging flows into the safe-haven of US Treasuries, the dollar is also benefitting in these highly uncertain times. That said, the dollar is also supported by the rapid re-pricing of Fed rate hikes over the course of this year and a tripling of the two-year rate.
Also supportive is the resilience of the US economy, particularly with respect to Europe, which is already experiencing record-high inflation and stands to suffer more severe economic damage from the Ukraine war. This perhaps helps explain the ECB's reluctance to commit to rate hikes.
It was a volatile first quarter in FX, with commodity prices either ratcheting higher, or gapping lower on hopes that the tensions might be easing in the conflict, and then the Japanese yen plunged to a seven-year low versus the dollar as the quarter closed and into April.
The end of March, Japan's fiscal year-end, is often an unpredictable time for the yen, but this year's move was particularly dramatic, and clearly discomfited various government officials, even if the Bank of Japan stayed silent and policy remains unchanged. Japan, a large commodity importer, has seen its terms of trade severely affected by rising commodity prices, as well as by fast-deteriorating interest rate spreads as other central banks raise rates.
For commodity currencies overall, moves have been upwards, and surprisingly rapid. However, because many were coming from low fundamental valuations, few have arguably yet entered into overvalued territory, and are still lower generally than levels reached in previous commodity boom periods. This could leave room for further appreciation. Much, however, depends on the course of the conflict and hopes for its resolution.