Rachel Fixsen reviews the Cyprus Hotel Employees Provident Fund with Marinos Gialeli, its general manager
At a glance
• The €300m Hotel Employees Provident Fund in Cyprus is implementing a strategic asset allocation shift conceived four years ago.
• International diversification is increasing, with global investments set to outweigh local.
• The hedge fund allocation is about to rise to a target of 15% after the addition of global macro strategies.
• Cash levels are falling by 8.5% a year as the fund takes on DGF investments.
It is a paradox that those in the smallest countries can have the broadest horizons.
The Cypriot Hotel Employees Provident Fund (HEPF) is a case in point, being a naturally international investor because the size of its local investment market forces it to turn to foreign markets. While the pension fund, which covers workers operating within the tourist industry, has always invested a high proportion of its assets abroad, its international diversification has increased further since a strategy change was introduced in 2011.
"We are trying to increase the investment returns for the fund and minimise the risk, of course, so we examined this together with our investment consultant, Aon Hewitt," says Marinos Gialeli, general manager of the €300m pension fund. Most recently, the fund has increased its hedge fund exposure to 11% of total assets from 9%, with the aim of eventually boosting it to 15%.
HEPF first invested in hedge funds in 2011 when it allocated assets to a fund of hedge funds. In June, it announced it was expanding this hedge fund portfolio to include global macro hedge fund strategies as a satellite alongside the core fund-of-funds it already had. It allocated 25% of its strategic hedge fund allocation to a combination of systematic and discretionary macro strategies and selected Capula Investment Management, Lynx Asset Management and Winton Captial to run these new investments.
Gialeli points to the diversification from traditional bond and equity portfolios – as well as other hedge fund strategies – that the global macro strategy could offer as a key reason for embracing this asset type.
The new addition will bring the pension fund's strategic hedge fund allocation to the 15% of total assets it is aiming for, with 11% in multi-strategy and 4% in global macro. "In the current high-volatility phase that has been triggered by the fall in crude oil prices since late 2014, we expect hedge funds to perform well and global macro hedge funds – systematic and discretionary – provide a high conviction strategy in the medium term," Gialeli says.
For the past four years, HEPF has been trying to reduce its cash reserves. "We feel that we have a lot of cash reserves that we shouldn't have, so we are now minimising that cash," says Gialeli.
About four years ago, the pension fund held 30% of its assets in cash, but this has been reduced to 18% and the target is to whittle it down to just 10%. This means that HEPF has been slimming down its cash component at a rate of 8.5% a year.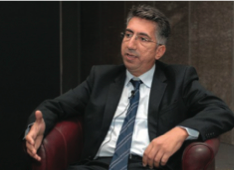 In late 2014, HEPF added diversified growth funds (DGFs) to its asset mix, and these multi-asset investments now make up 7% of the pension fund assets.
"The DGFs we have are split between equities and bonds, and we found out that including these will add a lot of growth to our portfolio as well as making returns more stable," Gialeli says. "Looking at their track records, we have seen some very good returns coming out of those funds, and part of new strategy is to increase our exposure to these DGFs to 10%".
In Cyprus, pension scheme members are legally allowed to borrow from their pension scheme against the savings they have accumulated, up to a level of 45% of their total pension assets.
Given the prolonged global economic downturn, it is unsurprising that loans to members make up a large slice of HEPF's overall assets. However, from an investment point of view, the return from these assets is reasonable, at 2.5%, particularly since the loans are without risk – if the member fails to pay the money back, the pension fund simply no longer counts their savings as a liability.
As part of the implementation of the new strategy, HEPF's global equities allocation has increased to 12.5% from 10% and global infrastructure funds have expanded to a 12% allocation from 9% before. Fixed income, on the other hand, is set to remain at 5% of strategic asset allocation, but the balance between domestic and foreign will shift.
Under the old strategy, global and local bonds made up 5% of strategic allocation, but under the new investment strategy, this will be divided between 0.5% global bonds, 4.5% in global absolute bond funds and nothing in local corporate bonds. At present, the fund has 3.8% in local bonds, 0.3% in global bonds and 1.4% in global absolute bond funds."There is no growth in bond investments, and that is the reason we are decreasing our exposures," Gialeli says.
Looking at overall asset allocation from a geographical point of view, the balance is set to shift to international exposure."Right now we are at around 57% with our local investments and 42% for global, but this will change to 54% global and 46% local," he says.
It makes sense for the fund to look to international markets for several reasons, he says, citing more diversification, more growth, less risk and a bigger range of investments opportunities to choose from.
All of HEPF's investment takes place via mutual funds. "That is how we do it now, but I don't know about the future," Gialeli says. "Our aim is to have a high level of liquidity, because liquidity is important for us."
It is the characteristics of the Cypriot pensions culture that makes it important for HEPF to maintain liquidity. "That is one difference for Cyprus," he says. "When members change their job, after six months they can take their pension fund with them and spend it if they want, so we have a lot of withdrawals."
The hotel business has a high level of staff turnover – in Cyprus as in other countries. But because the hotel industry in Cyprus is a sector that continues to do well, the pension fund also receives many new deposits, he says. Employer contributions, on the other hand, have dropped, having fallen since last year to the legal requirement of 3% from the old level of 10%.
While the Cyprus economy does have links to Greece, Gialeli says the pension fund would not be directly affected by a Greek exit from the euro-zone. "We have only have a very small proportion, about 1%, of our portfolio invested in Greece," he says. This consists of about €3m in Greek corporate bonds.
And the turmoil within the euro-zone itself is not a great concern to the pension fund from a currency point of view, he says, since 75% of its global portfolio is denominated in US dollars.
Given that those international investments are making up a larger portion of the pension fund's assets, does this mean HEPF is becoming less European? Gialeli is ready with a response. "Money doesn't have a nationality," he says.
Iceland: A glacial pace of change
1

2

3

Currently reading

Cyprus: Hotel Employees Provident Fund

4