Worldwide, diversity increasingly characterises defined contribution (DC) schemes. There are employee-managed plans in Hong Kong, Japan, the UK and the US. There are trustee-led plans in Australia, Brazil, Chile, continental Europe and South Africa. There are state-supervised DC plans in China, India, Malaysia and Singapore.
This diversity will be duly reflected in the choice of asset classes by DC schemes over the next three years, according to the 2014 Principal Global Investors/CREATE-Research Survey* (see figure). Behind these choices lie a number of salient points.
A world of difference
First, the widespread interest in traditional passive funds rests on two factors: the elusiveness of alpha and its charges. More and more investors now see charges as a key source of returns when compounded over time. Besides, trustee-based plans on the continent have become overly cautious. Those in the UK have also opted for passive indexing in their target-date funds. Cost is one contributing factor. The other is career risk; trustees have become over-zealous when discharging their fiduciary role.
Second, interest in lifecycle funds is growing in many markets. For example, target-risk funds are now attracting interest in India via mutual funds with an insurance wrapper. They are also becoming popular in Hong Kong and Malaysia as a way to promote a buy-and-hold culture and protect plan members from the latest fads. They also facilitate the mitigation of career risks for trustees.
Third, DC plans are under renewed pressure to perform. In all markets, including the exemplary Australia (see case study), plan balances are undershooting their targets, creating a credibility gap. For example, the state pension system in China has enrolled urban workers into individual DC accounts with a contribution rate of 8% as a top-up in the pay-as-you-go national system. About $400bn (€309bn) has been raised so far.
India, too, has extended its National Pension System to cover non-government employees since 2008, and has created the required investment capabilities. Yet, in both countries, low balances remain a key concern.
Asia: asset rich, income poor
Contrary to general perception, Asia is ageing fast. For example, the proportion of those aged 65 and over is likely to double by 2030 among ASEAN (Association of Southeast Asian Nations) members. India and Indonesia are the only nations left with a demographic dividend. The Asian population dynamic will create the same phenomenon within a single generation that took a century in developed economies: fewer babies and longer lives.
Case study: Australia
"Australia provides an unsettling glimpse of the future by revealing how challenging it is for even a first-rate DC scheme to deliver good outcomes. Australia is currently the fourth-largest pension market after the US, the UK and Japan. Its DC assets stand at around 100% of GDP and are forecast to rise to 180% by 2033.
"Participation is mandatory and the contribution rate is projected to rise from 9% to 12% in 2020, higher than most DC markets around the world. As Australia avoided the 2000-02 bear market while riding on the back of the China boom, double-digit returns were the norm until the 2008 global financial crisis.
"Since then, a combination of low returns and an ageing population has created a credibility gap for the superannuation system.
"For a start, double-digit returns are history. Between 2004 and 2008, a 9% return was the norm across all the supers. This has more than halved since the financial crisis, to 3.9%.
"Low returns apart, plan balances are too low to permit a decent retirement. For men, the average is $66,000 for the age band 16-59 and $184,000 for 60-64. For women, the numbers are even lower: $37,000 for ages 16-59 and $105,000 for 60-64.
"The number of Australians over 65 is expected to rise by 75% during the next 20 years. Most of that will occur in the next eight years when the largest postwar baby-boomer cohort reaches retirement age. Two problems have come to the fore. First, growth in post-retirement assets has been less than predicted at a time when the longevity rate is rising. Currently, 81% rely on the government pension to supplement their income.
"Second, there is no asset pooling to tackle longevity risk. Lifetime annuities are unpopular due to unattractive charges and returns. The chances of most Australians outliving their retirement nest eggs are high.
"Elsewhere in the world, the pressure to perform stems from the need to build credibility for DC plans still in their formative years. In Australia, the pressure is to build credibility in the post-retirement phase."
An Australian pension consultant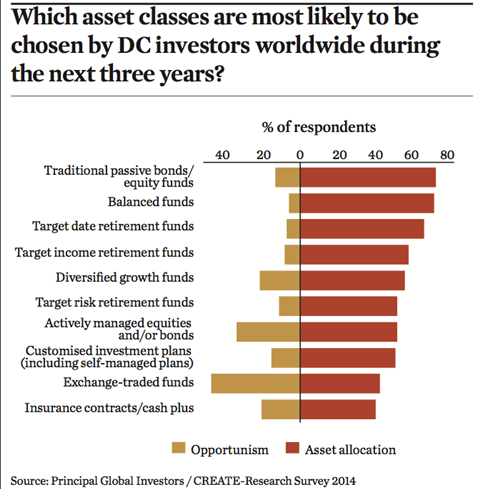 DC schemes have duly emerged across Asia but not without challenges. On retirement, lump sums are the norm and annuitisation the exception. They also target a high replacement ratio: the value of the pension paid as a proportion of final-year salary. In Vietnam and the Philippines, the rates are 77% and 65%, which are well above the OECD average of 40%.
As a result, the required contribution rate (as a percentage of income) needed to sustain the current schemes is high: 49% in China, 43% in Vietnam, 33% in Pakistan, 28% in the Philippines, in contrast to 13% in Japan. Of course, actual rates are hugely below the required rates.
In the meantime, these countries have an abnormally high savings ratio: currently ranging from 51% in China to 31% in South Korea and 30% in Malaysia. Most of it is invested in ordinary savings accounts, earning a meagre return in today's low-yield environment.
DC schemes face two paradoxes. Their rising importance owes to the closure of DB plans, yet they face the same challenges that sparked the demise of DB. Furthermore, to be viable, DC plans require an annual contribution rate of about 18%. But that is high enough to deter most scheme sponsors and members around the world. Much will need to be done if DC is to deliver its retirement promise.
Nick Lyster is CEO of Principal Global Investors (Europe) and Amin Rajan is CEO of CREATE-Research
*Not All Emerging Markets Are Created Equal, available from amin.rajan@create-research.co.uk