Lars Wallberg, chief executive of Velliv Association, describes how its unique structure brings advantages over conventional pension funds
Pension funds come in all shapes and sizes, and Lars Wallberg has been involved in the management of two of Denmark's most distinctive examples.
Since 2017, he has been chief executive of Velliv Association (Velliv Foreningen). Previously known as Norliv Association, it is owned by the 340,000 customers of Danish pension provider Velliv, formerly Nordea Life and Pensions Denmark.
Besides being a customer-owned association, Velliv Association is also a financial holding company which owns most of Velliv as well as a philanthropic organisation. It exists as a result of the complex history of Nordic banking group Nordea and the insurer Tryg and Velliv.
The association has three basic duties – to manage its stake in Velliv, which is gradually growing; to manage free assets in order to get the best risk-adjusted returns and to decide on the association's philanthropic activities. Given this unique combination, there are few comparable organisations.
Two-and-a-half years after joining Velliv Association, Wallberg says there has been a lot of interest about the organisation and how it works, combining finance with philanthropy.
The existence of the association expands the potential sources of return for Velliv's customers to three: investment returns from their savings with Velliv, a return on their customer capital – called DinKapital – if they choose to participate in this, and a bonus from their membership of Velliv Association. The size of the annual bonus payments is decided by the association's board of representatives independently of Velliv itself.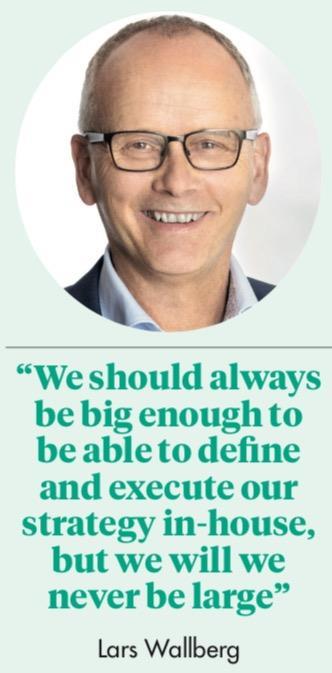 "It is a very strong business model and one that is based on robust governance," he says.
In the last three years, the association has increased its ownership of Velliv – previously a subsidiary of Nordea – to 81% from zero, and the plan is to take this to 100%.
Currently, Velliv's ownership structure consists of equity held by Nordea, equity held by Velliv Association, a tier-one loan from Velliv Association, a tier-two loan from Nordea and other lenders, and customer capital in the form of DinKapital tier-two.
The goal is for the external sources of equity and debt to be replaced by customer capital, with the ownership structure to be made up solely of equity held by Velliv Association, a tier-one loan from the association, and DinKapital tier-two. This will ensure that all profits are shared amongst customers.
Some 65% of the association's legacy assets of DKK8.3bn (€1.1bn) is invested in Velliv with the remaining 35% in a balanced portfolio for inflation protection and capital contingency.
Now housed in the same offices in the Copenhagen suburb of Ballerup, Velliv Association and Velliv maintain Chinese walls between their two operations.
"We work at arm's length from Velliv, and that is very important to us, although obviously we collaborate in certain ways," says Wallberg.
Two years ago, Wallberg, his assistant and the programme officer were the only members of staff, but employee numbers are now nine.
"Slowly but surely, we are increasing the staff, but we are still focusing on maintaining a very lean organisation," he says.
"The reason we can do this is we have a group of business providers who help us with finance and IT solutions, and the investment operation is outsourced.
"We should always have an organisation big enough to be able to define and execute our strategy in-house, but we will we never be large," says Wallberg.
The primary objective of the investment portfolio is to generate returns that can act as an inflation hedge for the association's total DKK8.3bn portfolio.
"If it generates 5% a year, that allow us to provide inflation protection, and if we succeed in doing that, then we can distribute the returns from our equity investment in Velliv as cash bonus to members as well as philanthropy," Wallberg says.
However, as a holding company, the association can inject extra capital into Velliv if it becomes necessary and this dual role is one of the management challenges for Wallberg and his team.
"We calculate the solvency requirements at group level incorporating both ours and Velliv's; 90% of this comes from Velliv. We each have our own compliance departments, but we do collaborate on risk management," he says.
The association must adhere to the financial regulation, so implementing the relevant organisational set up and procedures has been a significant task.
When the association lifts its stake in Velliv, this will be by effecting a gradual share buyback as its solvency levels permit, directly from Nordea, Wallberg says.
When the investment strategy was redefined in 2018, free assets were distributed according to what Wallberg describes as a classic balanced portfolio. Some 35% of assets are held in investment grade loans and bonds; 15% in high-yield loans; 35% in listed equities and 15% in alternatives – private equity and real estate in the form of unlisted funds.
"We find managers to run all of this, though tactical asset allocation between the asset classes is something we do ourselves," he says. But the association is a long-term investor that does not focus on making a lot of tactical decisions.
Management of the investment portfolio is currently challenged by low yields. Wallberg says: "What we have done is to invest quite a lot in senior secured loans which give us a pick-up compared to risk-free rate, and we expect part of the portfolio to continue doing that," he says, noting that all income-generating assets are highly priced.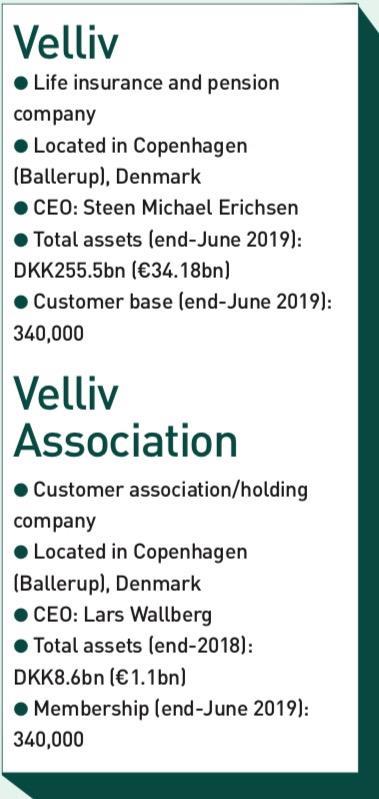 "But what are the alternatives? There are no free lunches. We will monitor the portfolio carefully and talk to our managers, but you have to be a bit humble and be aware that everyone else is looking at the same things."
However, philanthropy is the most important activity, Wallberg continues: "Donations started being made in the summer of 2018 and that has been a great success in the sense that we received a lot of applications from projects large and small, which we evaluated thoroughly.
"Even though we are a light organisation, we have been able to stretch what we can do through digitalisation – that has enabled us to handle hundreds of applications."
Since the spring of 2018, Velliv Association has allocated – though not yet disbursed – 20% of its net returns amounting to over DKK140m to targeting workplace mental health.
The remaining 80%, totalling over DKK570m has been distributed as a cash bonus to members in what Wallberg says is a well-received programme. This, he says, has strengthened the members relationship to the association as well as giving Velliv a competitive advantage.
Denmark: Fresh blood replaces the obsolete
1

2

Currently reading

Denmark: A philanthropic fund

3

4

5

6