Consolidation has reduced consumer choice within the commercial pensions sector, but it has encouraged two labour market funds to fill the void
Key points

Consolidation has cut the number of commercial providers bidding for workplace pensions to five from seven from 2018
The Danish Competition Council is to launch a study into pensions
PKA and Sampension have won new contracts from Velliv
Some commercial providers have been bundling services in bids
Denmark's pension system is regarded as one of the world's best, and has ranked either first or second in the annual Melbourne Mercer Global Pension Index for the last eight years.
But lately complaints have surfaced about the effectiveness of competition in the Danish occupational pensions market – both for individuals and collective schemes.
The main problem, according to brokers who work to match clients to providers, stems from the fact that two recent mergers have reduced the number of firms bidding.
Competition questioned
Doubts around the competitive functioning of the pensions sector had prompted the Danish Competition Council to launch a long–term study in June 2017.
Consumer mobility in the pension sector, which administers about DKK4trn (€540bn), seemed to be limited, the agency said. Its study – which at the time of writing was in its final processes following a closed consultation – is taking account of the entire market including both private pensions and collective labour market pensions.
The agency considered that a lot of time had elapsed since it first looked into the sector, which had in the meantime become subject to lots of new regulation. Mergers that have taken place in the commercial sector since the study began are understood to play a role in the investigation.
This autumn, consultancy Aon Denmark, which is an active broker in the market, said there was a lack of competition in the Danish occupational pensions market. The disappearance of previously substantial players Skandia Denmark and SEB Pension Denmark, is critical to the current situation.
Alongside Velliv (formerly Nordea Life & Pension Denmark), PFA, Topdanmark, AP Pension and Danica Pension, these two providers were among the main commercial pension funds in the bidding rounds. But Skandia Denmark and SEB Pension Denmark have now merged with AP Pension and Danica Pension respectively.
However, Jannik Andersen, head of broking and solutions within Aon's retirement and health solutions division in Denmark, says his firm has also found that since last year, providers have not wanted to bid on business from certain clients, such as sectors with low wage earners and businesses with mostly young female workers.
It is critical for Aon when conducting tenders, that a variety of bids are put forward, he says, because clients have different requirements. Apart from this, when the consultancy negotiates time and again with the same companies, he says they become less motivated to offer their best because success is easier to achieve.
Thomas Ammonsen, chief executive of Mercer Marsh Benefits, Denmark, says his firm still finds there is competition in the Danish occupational market, among the five main commercial pension providers – especially for larger, attractive clients.
"But, during the last couple of years, competition has contracted as the number of commercial providers has dropped from seven to five," he says.
He, too, has seen difficulties in certain sectors: "For some tenders – smaller sized clients – we see limited interest from the providers to bid or in their willingness to negotiate."
New entrants
While the effective loss to competition of the likes of Skandia Denmark and SEB Pension is significant, it has happened at a time when other pension providers are making efforts to enter into the market.
On the face of it, the campaigns launched in the last few years by labour–market pension fund companies PKA and Sampension, could compensate for the loss of the Skandia and SEB.
Both newcomers have had success in attracting pension contracts previously managed by Velliv.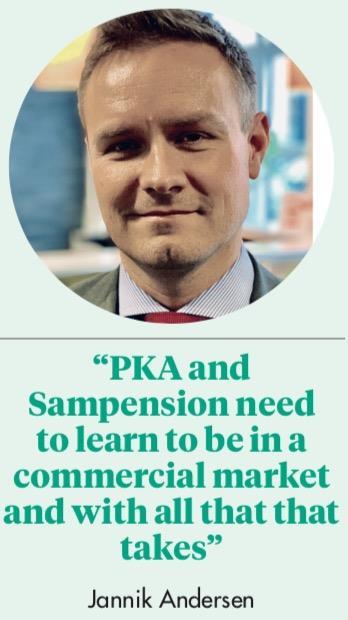 In September, Sampension and the soldiers' trade union the Army Constables and Corporals Association (HKKF) announced the pension provider had won the contract for some 11,000 part–time military pension scheme members from Nordea. Sampension had already accepted on 2,000 long–term employed constables and corporals who joined the scheme from Velliv at the beginning of 2019.
HKKF said it was Sampension's capacity to provide advice to individuals, plus the superiority of its data platform that were behind the decision.
In the same month, PKA, which runs four labour–market pension funds in the health and social care sectors, went public with two pension contract wins – also from Velliv. These were for the retail employees of opticians Synoptik and leather goods retailer Neye.
"We see a need for the labour market funds to develop their traditional value proposition, a 'one size' service model for all types of clients, to suit demands of commercial clients" - Thomas Ammonsen
In the case of Synoptik, the contract was split so that the PKA contract only covered a certain section of employees.
Ammonsen sees some of the traditional labour–market pension funds trying to gain a foothold in the commercial space. "However, there are structural challenges that need to be ironed out, in order to level the competitive playing field," he says.
One aspect of this process is the traditional setup by the commercial pension providers, especially regarding the loss of working capacity insurance, he says.
"The commercial providers have been bundling their services in major bids, offsetting the costs associated with this insurance service and admin setup by the earnings related to asset management of pension funds," he says. He adds that his firm welcomes increased transparency in this practice, hopefully leading to even more competition.
But, other factors are affecting the competitive landscape too. "In recent years the commercial providers have developed their product offering towards increased flexibility and individualised service models, in order to meet the demands by clients in the commercial market space," Ammonsen says.
"We see a need for the labour market funds to develop their traditional value proposition, a 'one size' service model for all types of clients, to suit demands of commercial clients, if the Danish market for commercial pensions is to see an uptake in competition from that source," he says.
Danish mergers: the last two years' highlights
• Danica Pension has taken over the Danish activities of SEB Pension
• AP Pension has taken over Skandia's Danish business
• JØP and DIP have merged, using the joint pensions administration firm P+
• Velliv is completing its takeover of Nordea Liv & Pension Denmark on behalf of customers
As a broker, he says Mercer Marsh Benefits, Denmark is keen to see any initiatives which could boost competition. "Though how a given client wishes to be serviced is completely up to them, whether it be directly by the provider or by an impartial broker," he says.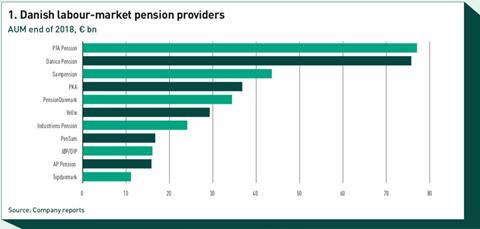 At Aon, Andersen sees the market entry of PKA and Sampension as clearly positive, but says they "still need to learn to be in a commercial market and with all that that takes."
Competitive costs
In any case, while a few pension funds coming into the commercial market could lead to change, Andersen says a shift will take a long period of time and this will not alleviate the short term problems.
He also speaks in favour of more transparent price setting. Sampension makes it clear that even though it has experienced substantial growth in recent years – with new business reaching more than DKK40bn in assets under management since the start of 2017 – it is not going to cut prices to the bone.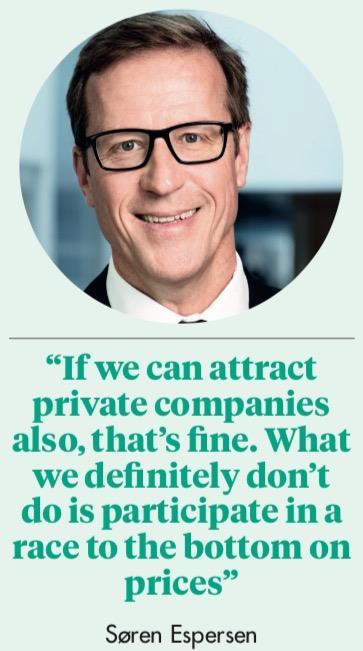 Søren Espersen, director of communications and HR at Sampension, says the firm's business wins reflect its competitive value proposition, "not least due to our low investment and administration cost, but also due to our efficient service and fair insurance prices and claims handling".
"We focus primarily on the needs of organisations and pension schemes with board representation," he says, which he says brings scale to its business and an opportunity to create value to both new and existing customers.
"And if we can attract private companies also, that's fine. What we definitely don't do is participate in a race to the bottom on prices and prices alone in the name of competition. It's not sustainable and it leaves a bill to be paid by someone else," he says.
Sampension supports fair and consistently low pricing that reflects the actual number of claims from its customers, he says. "Our stand on this point leads to lost tenders, but so be it. Growth must be sustainable," he says.
Denmark: Fresh blood replaces the obsolete
1

Currently reading

Denmark: Fresh blood replaces the obsolete

2

3

4

5

6