Back in 2011, three economists from the OECD's Directorate for Financial and Enterprise Affairs wrote a paper entitled 'The Economic Impact of Protracted Low Interest Rates on Pension Funds and Insurance Companies'1. At the time, they felt it necessary to hedge their work with the admission that a protracted low interest rate environment was unlikely. Nevertheless, it could have a sufficiently serious impact on Europe's insurers to make it worth analysing likely outcomes should such a scenario occur. The predicted outcomes under such a regime looked bleak. As the paper put it: "The solvency status of insurers and pension funds – which was badly damaged during the crisis [of 2008] – could fail to improve, or even show some deterioration."
In retrospect that paper has an innocence to it. As Hervé Hannoun, the deputy director of the Bank for International Settlements (BIS), told delegates at a recent seminar, there is virtually no chance of near-zero policy rates ending soon in several advanced economies. Instead, what is happening across most of Continental Europe – not just in the euro-zone, but also in Denmark, Sweden and Switzerland – is the introduction of a more extreme form of monetary policy in the shape of negative interest rates. "Nominal interest rates in a number of European countries are negative across a range of maturities in the benchmark yield curve, from overnight out to five years," he noted.
Jerome Haegeli, head of investment strategy at Swiss Re, was so worried about the impact of low rates he co-authored a paper this year entitled 'Financial Repression: The unintended consequences'. The paper sums up the challenge posed by such expansive monetary policy in the following terms: "We have about one-third of government European bonds trading in negative territory and as much as 80% are trading with yields below 1%. If this continues long term, and we see no immediate end in sight, then the potential systemic financial market implications should be a cause for worry".
For Haegeli, the problem goes well beyond its detrimental impact on the insurance sector. "The real point of concern is what negative or near-zero policy rates mean for asset price bubbles and for efficient pricing in the market," he says. "This is a huge risk for financial markets generally, not just the insurance sector."
The insurance sector manages its long-term pension-related liabilities – the money it will have to pay to beneficiaries throughout their retirement – using liability-driven investment strategies. Until recently, the failure of the Solvency II regulatory regime to distinguish between the risk ratings of different sovereign issuers, from Germany to Greece, was not an issue. Now, however, low yields mean that insurers cannot resolve risk problems by illustrating that they are long-term investors. If returns are disappointing, some will either fail or have to renegotiate benefits, either through cuts or dropping indexation entitlements. This is an inexorable process unless changes are made.
It will inevitably lead to another dimension of increased risks for the insurance sector as asset managers join the hunt for yield and move their portfolios towards riskier but higher-yielding bonds. This process raises its own set of concerns. Hannoun points out that duration risk is being flattened out of the yield curve precisely because demand for longer-dated bonds has picked up as managers hunt for yield. It is the same for sovereign risk, where some flattening is also taking place.
The change that Haegeli and Swiss Re most want is the development of a tradable infrastructure asset class where the Solvency II capital charge treatment would better reflect market conditions. Shifting assets earmarked for matching insurance liabilities from record low to negative yielding sovereigns into 10 to 15-year infrastructure bonds possibly paying in the high single figures looks attractive, if only the obstacles of political risks, high regulatory capital charges and the illiquid nature of infrastructure debt can be surmounted.
At a glance
• Monetary policy in Europe is becoming increasingly extreme.
• The prolonged period of low bond yields is putting pressure on insurers, which are moving to higher-yielding investment sectors such as infrastructure.
• The European pensions sector can learn from the Japanese experience of prolonged low interest rates.
• Insurers are reducing their costs base and diversifying their assets globally.
Filippo Casagrande, head of investments at Generali Investments Europe, is optimistic that a worst case scenario for the European pensions sector would only hit the smaller insurance companies. "People talk constantly about the Japanification of Europe, with zero to negative rates for decades. But Japan has provided Europe with an excellent case study – they went through a generation of crises and they had no one else's playbook to learn from. We have their experience to draw on and that is crucial. We can see how the Japanese insurance companies have survived a very protracted period of low interest rates and learn from that," he says.
He says that Solvency II has helped in this regard as it has led the sector to shed its exposure to equities, improve its asset-liability management position and manage risks with more scrutiny: "It is unquestionably very difficult to meet obligations to pension schemes. So we have a challenging period ahead where the sector is changing its investment product mix, and this is already happening. To me, this is evidence that the European insurance sector has learned from the Japanese experience and is reacting far more quickly than Japanese institutions did at the time."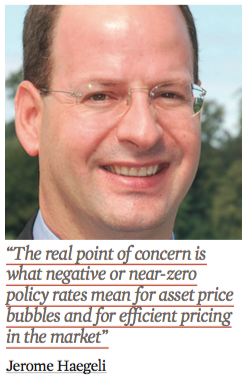 At the same time, he argues that insurance companies still have scope to respond to low yields by tackling their cost base. "This is one of the most important lessons from the Japanese experience. If the top line of the biggest insurance companies has a hard time growing, then you have to drive cost efficiencies, and this is what we are all doing, to a greater or lesser extent," he says.
Another key strategy, he argues, is to diversify fixed income portfolios globally and to lose the intensity of the focus on European fixed income as the core investment. He points out that corporate issuers of debt are going to be an important source, attracted by the low cost of capital in Europe, and that gives insurers another arm to their investment strategies.
"It is important to realise that these options, taken together, make for a less gloomy scenario for the insurance sector and their pension fund clients. There will be casualties, but I expect these to come from the ranks of the smaller players," he concludes.
1 http://www.oecd.org/finance/financial-markets/48537395.pdf