The effects of the European Central Bank's quantitative easing programme are yet to be quantified, leading some to think of it as the world's biggest 'experiment'. Caroline Hay reports
At a glance
• Asset managers generally see the European Central Bank quantitative easing (QE) programme as necessary but involving an uncertain outcome.
• QE is strongly influencing rates and yield curves.
• Structurally low rates arguably create a disincentive for business investment.
• Inflation is running consistently below expectations.
In response to the question of whether the European Central Bank (ECB) quantitative easing (QE) programme is working, TKP Investments CIO Coos Luning echoes the views of many others. "Though QE is not bringing all that we, and the ECB, had hoped for, had there been none, things would have been rather worse for Europe," he says.
Michael Krautzberger, head of pan-European fixed income at BlackRock, agrees. He says that although it is clear the 2% inflation target has not been attained, perhaps looking at that particular target is the wrong way to judge QE. "Lending rates to SMEs [small and medium enterprises] and households are better. And we would agree with ECB studies which show monetary conditions have loosened, and for that they deserve some praise. Without QE, our world would be less pleasant."
However, while many managers express a degree of positivity about QE, they remain uneasy with the combined actions of the world's main central banks. Luning sums it up: "In the longer run, none of us knows what the outcome will be in the US, the EU or in Japan. It might be that QE is so embedded that it has become a structural issue that will not be easily undone or reversed. It is like the world's biggest experiment."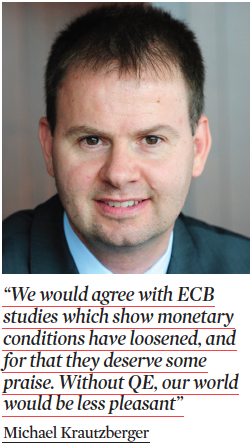 There is disappointment and scepticism as to the real economic benefits of this 'experiment'. However, QE is undoubtedly having profound effects on financial markets and is strongly influencing rates and yield curves. For Amundi's Isabelle Vic-Philippe, head of euro rates and inflation, Europe's bond markets, and especially Bunds, have been highly technical and this will remain the case for many more months.
"The scarcity of Bunds makes it very hard, and at times it is the dominant issue for the market, as we know the time is coming when there are going to be insufficient [German] bonds for the ECB to purchase," says Vic-Philippe. "The market is discounting that the ECB will extend the period of PSPP [the Public Sector Purchase Programme], but we will need more information about the Bund programme in particular.
"After Brexit, inter-government spreads increased, not very dramatically, but significantly enough. It now seems apparent that, instead of getting out of the market, a lot of investors used this as a buying opportunity to reinforce their positions in the semi-core, such as France, Belgium and Austria."
Krautzberger agrees that inter-governmental spreads are likely to stay supported. "Where we don't have 'blow-ups', with domestic political events occurring throughout Europe in the coming months, spreads will stay supported and non-Bund yield curves will flatten more, following the core. If we had been told, a couple of years ago, that the 10-year Bund yield would be negative today, we would have thought it unrealistic."
And the low and negative rates are also causing anguish for many. "It is clear that pension funds are not comfortable with low rates, as they watch their liabilities increase sharply as rates keep falling. It is also apparent that earnings in banks are adversely impacted by the negative cash rates, and as a consequence solvency ratios have not improved as much as they could have," says Thor Schultz Christensen, CIO of Danske Capital.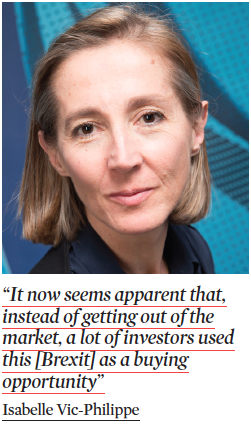 Schultz Christensen also contends that today's environment of apparently structurally low risk-free rates is partly to blame for the fact that business investment is so weak. "Too few companies are investing in the future, financial assets are too high and capital expenditure is too low. We think this is a real concern for the global economy."
Mickael Benhaim, co-head of global bonds at Pictet Asset Management, argues that excess debt lies at the heart of many of today's problems. He also says more needs to be done to aid Europe's ailing banking sector. "In the US, very early into the crisis, the Fed deployed programmes like TARP [the Troubled Asset Relief Program], which were designed to help banks directly de-lever from their toxic assets.
"If we compare US banks to those in Europe today, US banks are in much better shape and there is decent growth in credit to both consumers and within real estate. We believe that the ECB does have the tools. Granted, it is a more complex proposition within the group of European nations, but we think that there may be also a political unwillingness to tackle these issues."
For now, most expect the ECB to keep doing more of the same. The Fed, on the other hand is being closely watched, though US economic news has kept everyone guessing. Some investors, such as Luning, say US economic growth, while still slightly above trend, will slow, though the economy will not enter recession.
For Vic-Philippe, the Fed should not be in a hurry to raise rates. "They have done one hike and with the economy growing close to potential, they can take their time with the next move. However, there is inflation in the US and if job creation remains at current levels, we think it is getting more difficult for the Fed to remain on hold."
Krautzberger, conscious of the importance of the Fed's monetary policy goals to global financial markets, takes a more upbeat view, describing himself as "relatively constructive" on the US economy. However, he too is sure the Fed will continue to use caution and "take its time raising rates".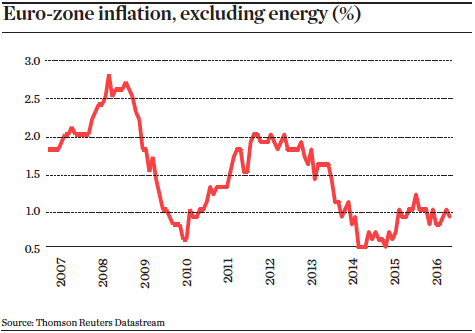 Benhaim adds: "A December hike is possible, but it would be a 'dovish' hike, with the Fed going to lengths to reassure everyone that this will not be the start of a series of hikes and that, of course, the Fed remains highly data dependent."
While economic data has proved inconclusive, on both sides of the Atlantic, inflation news has been clear. It has consistently fallen below expectations, which some argue is creating opportunities.
"We think that European inflation (expectations) are underpriced," says Krautzberger. "Though we would not say inflation is about to head over 2%, as there is so much slack in the system, today's expectations imply that the oil price would need to fall for another five years, which is too pessimistic."
Schultz Christensen suggests that the way Europe measures inflation, omitting certain housing costs, means that the inflation index is lower for Europe than the equivalent measure for, say, the US. "Europe uses a 'bad' measure, which structurally underestimates inflation, because it does not include owner equivalent rents in its index, unlike the US CPI [consumer price index] measure. And this is helping to fuel the self-fulfilling cycle of low European inflation expectations. The authorities could and should do something to get improvement and try and get back the upper hand."
In this environment of low growth, low inflation and extreme low yields, with the ECB effectively driving Bund rates, even a bond with zero yield can offer opportunity. "What they have done in pushing and keeping rates so low and now to below zero is to introduce the idea that in buying a two-year bond at 0% yield, an investor could still have the opportunity to make money from that bond if rates go to a yield of minus 0.25%," says Schultz Christensen.
Where investment mandates permit it, managers have been looking for other ways to raise returns. Luning says: "In this environment where we see Bunds and other government bonds as highly over-priced, we are overweight corporates versus sovereigns [bonds]. We are also looking to Dutch mortgage bonds where we believe there is a significant yield pick up of around 2% with almost no additional risk.
"There's a strong disconnect between rural and urban housing markets just now, with the latter over-heating while rural property languishes in the doldrums. The increased regulations on the banks mean that they are very restrictive on lending."
Denmark's mortgage bond market has a similar appeal to Schultz Christensen of Danske Capital, as do Danish covered bonds, which are not part of the ECB's covered bond purchase programme. "In this environment, with the central banks so heavily involved, there is more support for a selective bottom-up approach to our investing."
This technical, highly correlated world, however, has a nervous tension, and most managers are far from sanguine in outlook. Some argue that the world is not positioned or pricing adequately for geopolitical risks, such as the Brexit impact. "Few expect inflation to rise [anywhere] and it would be stunning and a real shock to unprepared financial markets," says Schultz Christensen.
As Krautzberger points out: "At this level of interest rates we only need slightly higher rates to make a tightening impact. We're going to have low rates for a long time." And no-one doubts the Fed will have a difficult job tightening rates.
"The withdrawal of liquidity last year hit levered USD investors – largely Chinese corporates – very hard," says Benhaim. "We think that, after the February G20 meeting in Shanghai, there may now be in place some sort of non-official 'accord' to stop the competitive devaluations and negative forward pricings. The Fed needs to be more cautious to allow banking systems and economies like China's more time to make the required reforms and structural adjustments."
Special Report Fixed Income Strategy: No more easy gains
1

2

3

4

5

Currently reading

Euro-Zone: Unquantifiable QE

6

7

8

9

10