Maarten van Wijk assesses the scope for fiduciary management within an APF, the new Dutch pension fund vehicle
At a glance
• APFs typically make use of fiduciary management services within their group.
• The stakes will be higher if APF assets grow in line with projections and boards seek to change the fiduciary manager.
• Asset growth is likely to lead to more underlying mandates and specialist asset classes.
The number of pension funds in the Netherlands has been falling, which has changed the dynamics of the asset management market. The new general pension fund (APF) allows smaller pension funds to consolidate while retaining their identity. If it lives up to its promise, many small funds will use the APF, many of which already have asset management expertise in their group.
APF boards are independent but, in practice, retain fiduciary management within the group. At the Stap APF – the general pension fund of Aegon and its subsidiary TKP Pensioen – the fiduciary manager is TKP Investments (TKPI). At The Nationale APF – set up by NN Investment Partners (NNIP) and AZL – NNIP carries out the fiduciary management; at PGGM's Volo, PGGM has been chosen and, at Centraal Management APF, it is Achmea Investment Management (Achmea IM).
"I can imagine that an asset manager that does not have a APF will see this new form as a threat," says Martijn Euverman, investment consultant at Sprenkels & Verschuren. "How is the selection done? These days automatically choosing one's 'own' manager is not done and the large financial company pension funds stopped doing that years ago."
Stap had an independent assessment made of whether the price and terms and conditions of fiduciary manager TKPI were in line with the market. The regulator, the DNB, agreed that they were, according to the APF. Stap says it did not consider any fiduciary manager other than TKPI. This also applies to Volo and De Nationale APF. "Volo is an initiative of PGGM and this made PGGM a logical outsourcing partner," according to chairman Erik Goris. Centraal Management APF indicates that it asked an external consultant to assess the offer of Achmea IM.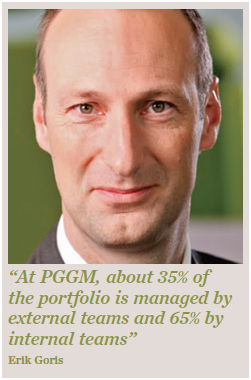 Greater interests
The Nederlandse Pensioenfonds – the APF established by ASR – has selected an external fiduciary manager, Kempen Capital Management. Its chairman, Jose Suarez Menendez, states that this is a consequence of the separation of fiduciary and executive management. "We wanted to entrust a part of the executive management to ASR Asset Management. This meant that ASR could not also carry out the fiduciary management, although it did have that ambition."
The website of Delta Lloyd APF says it has outsourced implementation of investments to Delta Lloyd Asset Management, which suggests that strategic advice is still open, although Delta Lloyd declined to comment.
Changing the fiduciary manager may be possible for APFs. "The APFs have only just started and have as yet little or no capital," says Euverman. "But, if they have billions in cash in a couple of years' time, the stakes will be higher. Then they will really have to select their managers very carefully."
Non-performance
Contractual terms vary. Stap states that the contract with TKPI runs for three years, and at De Nationale the period is five years. "We shall continue to monitor the contract, including in the interim," says the executive director Arnout Korteweg. "How we act when the contract expires is anyone's guess." With Volo the contract term is seven years: "But, it can be wholly or partly terminated, for example, in the event of failure to comply with the agreements or non-performance," according to Goris. Centraal Management APF does not mention a term.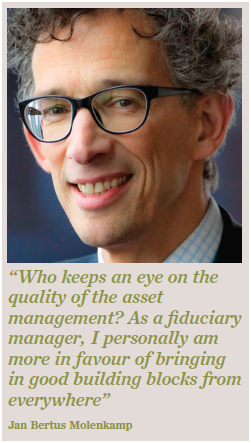 An interesting question is how the fiduciary managers of the APFs will subsequently contract out the underlying asset management, not least because this commands a higher fee than fiduciary management – as much as three times, according to Euverman. "Fiduciary management is often around 10bps of the cost. The mandates can generate 2bps, but possibly as much as 50bps," he says.
The debate as to whether a fiduciary manager with an advisory role may be responsible for implementation has continued. Euverman says: "Some funds are very principled about this and do not. Some do allow it, but we no longer entertain the idea that everything can be entrusted to a single hand."
Home label
With APFs there appears to be a tendency to select the 'home label', says Jan Bertus Molenkamp of Kempen Capital Management. "The question is whether this is good for the governance. Who keeps an eye on the quality of the asset management? As a fiduciary manager, I personally am more in favour of bringing in good building blocks from everywhere."
The APFs say that they are open to using external managers. Stap and Centraal Management APF invest through the existing investment funds of TKPI and Achmea IM, respectively. "But a large number of external asset managers are employed within them, the same as for other fiduciary clients of TKPI", according to Stap. According to Centraal Management APF there are twelve funds involving dozens of managers, including BlackRock, Pictet Asset Management, Investec Asset Management and Putnam.
With De Nationale, an external party is responsible for the selection of managers. "Altis selects the asset managers. They are also part of NN, but truly independent," says Kortweg.
Separate sections
The situation may change as APFs grow, Euverman believes. "You can imagine that one would start pragmatically and outsourse more specialist mandates as assets increase." Suarez Menendez confirms that will be the case for De Nederlandse Pensioenfonds.
"We are already doing business with Dutch insurers. They buy building blocks with us, such as inflation-linked bonds or listed property. We expect this to continue"
Hanneke Veringa
At Volo, some 15 external mandates have already been selected. "At PGGM, about 35% of the portfolio is managed by external teams and 65% by internal teams," says Goris.
APFs responded cautiously to the question of outsourcing. At Stap and De Nationale it is conceivable, but only for clients who hold their assets in a separate section. "Subject to conditions," says Stap. According to De Nationale it is possible only if clients' wishes "match the investment philosophy of the APF".
Centraal Management leaves the door ajar, but only for clients with "sufficient volume" in view of the costs. Only at Volo is it not possible in principle, except in the context of the taking over of existing illiquid investments.
Custom mandates
There are opportunities for asset managers in mandates, but there are fewer for fiduciary management. "We are already doing business with Dutch insurers", says Hanneke Veringa, the head of AXA IM in the Netherlands. "They buy building blocks with us, such as inflation-linked bonds or listed property. We expect this to continue." With fiduciary management Veringa expects APF promoters to take the lead in the short term. "But, it is quite possible that the model will change in the long term."
BlackRock also sees opportunities, particularly as a provider of building blocks. Although it offers fiduciary management, it says it will not focus on the APF sector. But the APF is an opportunity in the view of Monique Donders, BlackRock's head of institutional client business in the Netherlands. "Consolidation brings a type of investment within reach that smaller funds will not touch. Think of custom mandates, with environmental, social and governance aspects, active management, or alternatives. We are well positioned to offer these."
This article first appeared in Pensioen Pro
Pensions In The Netherlands: A Gordian knot of reform
1

2

3

4

Currently reading

Fiduciary Management: APFs keep it in-house

5

6

7

8

9