Sponsored content from State Street Global Advisors
Fixed income, an asset class that historically traded over the counter (OTC), is increasingly being traded on exchange through exchange-traded funds (ETFs). The adoption of fixed income ETFs rapidly increased following the global financial crisis. While ETFs began as simple tactical asset allocation tools, investors now use them in many different ways.
With the expansion of the fixed income market, ETFs have helped investors to navigate a change in market structure and, at times, to address the liquidity conundrum. Over the past 10 years, innovation and product development have continued unabated. As quantitative easing buying activity from central banks recedes with balance sheet tapering, could the change have an impact on the strong growth pattern? We think not. In fact, we believe fixed income ETFs can serve as a tool to help investors to effectively manage their portfolios during this phase of the new normal(isation).
How are investors using fixed income ETFs?
Today, both institutional and smaller investors use fixed income ETFs for an array of different reasons.
For core and tactical exposures, investors can choose from close to 950 fixed income ETFs to lay the strategic foundation of their portfolios. The options range from global aggregate to domestic government exposures, investment-grade corporate to high yield, and from emerging market debt (both hard and local) to convertible bonds. Major building blocks are available at TERs ranging from less than 5 basis points (bps) to 55bps. These low-cost exposures make ETFs ideal tools for portfolio construction.
The breadth of offerings across maturity and sector segments also allows investors to make tactical adjustments to portfolios. In the current environment of rate normalisation, shorter maturity ETFs have seen more flows as investors try to mitigate the negative impact of rising rates. Floating rate notes and loan funds in particular have benefited from these tailwinds.
Fixed income ETFs can also be used to hedge a position, such as a long-term high-yield bond position that is hedged by shorting a high-yield ETF. The same can hold true for other exposures. For example, more and more insurers now use ETFs as instruments to hedge their credit portfolios instead of using a less diversified basket of credit default swaps.
ETFs are often labelled as liquid instruments. In this capacity, asset managers can use ETFs to manage subscription and redemption flows, thus allowing for an easy and cost-efficient solution to get a clean beta that would otherwise be more complex to build with derivatives. Fixed income ETFs can also play a role in transition management. ETFs allow investors to keep the beta exposure while implementing the transition, or buying the ETF and getting bonds delivered into the target portfolio by redeeming in kind.
Looking through the derivatives lens, while 'ETFs versus futures' has become a hot topic in the equity space, it is gradually expanding to include fixed income. Indeed, ETFs are delta one instruments and offer a granular alternative for targeting duration and credit exposure compared with government bond futures and credit default swaps. ETFs can help reduce the tracking error and reduce the roll risk. Meanwhile, they are easier to trade than total-return swaps and may be more cost-effective.
ETFs are growing as a financial instrument, and the growth of fixed income ETFs offers new possibilities in a more efficient way, both in cost and ease, than was previously possible. High yield is a good example of a market that has rapidly grown in recent years and evolved to include fixed income ETFs – to the overall benefit of market participants.
Case Study: High-yield ETFs and the liquidity conundrum
High-yield ETFs, like all fixed income ETFs, are uniquely structured to offer two levels of liquidity: primary and secondary market liquidity. But confusion about this liquidity and resulting trading volumes can spark accusations that high-yield ETFs influence the price of underlying high-yield bonds. Primary market activity refers to the creation and redemption of ETF shares. Trading on the secondary market means buying and selling of existing ETF shares.
Secondary market transactions do not always result in the creation or redemption of ETF shares. In fact, the ratio of secondary to primary activity for the entire high-yield ETF industry, as defined by Bloomberg Finance, is 5:1. This means that for every $5 (€4.30) traded on the secondary market, only $1 is created or redeemed.
This ratio clearly illustrates that only a fraction of all high-yield ETF trades touch the asset class. Meanwhile, as a result of the liquidity provided by the secondary market, investors can transfer risk, modulate exposure, and tailor portfolios with precision and efficiency using one vehicle – an ETF.
Growing with the Market – A Changing Landscape
The fixed income ETF market has grown in size over the past 10 years as the underlying fixed income market structure has evolved. The challenge in tracking bond indices has increased as the number of issuers and issues has nearly tripled while the average bond issue size has not. In addition, the ability to match buyers and sellers in the underlying OTC market has not proved easier, even as electronic trading has become more common.
Bond market evolution
The global aggregate bond index grew 3.6 times in market value to reach $49trn between December 2001 and July 2018. Meanwhile, the number of securities in the index has multiplied by 3.1, from 7,000 to 21,800 bonds. With the exception of JGBs, which do not have many ETFs tracking them, it is interesting to note how fixed income ETFs tracking the EUR and USD Treasury and corporate bond markets have grown in line with the underlying exposures.
Why might this be the case? An advantage of an ETF is that it allows an investor to trade a broad basket of bonds in a single security. While the market has grown in size, the number of bonds issued has also increased. The median size of the bonds in the global aggregate index has not changed significantly over time. In fact, during the past few years, it has fallen to $600m per issue from a high of $800m per issue in 2011. Peak issue sizes were reached during a period where sovereigns issued larger amounts of debt than corporates (see figure 1).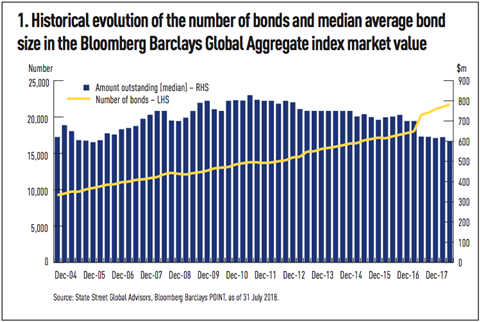 This trend has occurred in a more regulated environment for dealers, forcing their balance sheets to shrink. Based on inventories recorded by the NY Federal Reserve, bond holdings went from a peak of $250bn in 2007 to between $25bn and $45bn, on average, at the end of July 2018. The trading model evolved to more of an agency approach where dealers looked to match buyers and sellers rather than make a market in an ever-growing number of securities. Matching buyers and sellers of a basket of securities via one financial instrument – the ETF – can help the trading of exposures. Consequently, fixed income ETFs can be viewed as a solution for asset allocators to trade more efficiently in an otherwise broad universe.
Fixed income ETP growth
In June 2002, the market started in the US with a handful of corporate and government ETFs. By 2008, the market had started to blossom, representing
around $51bn, or 6.9%, of the total ETP market. While growth has continued in the two largest regions (US and Europe), the share of fixed income ETPs relative to the total market has remained stable at 16% during the past couple of years.
While the relative size of fixed income ETFs within the broader ETP universe has recently plateaued, the universe has been growing almost three times faster than the equity universe during the past 10 years: 1,448% versus 517%. Admittedly, the figures in the past three years show a more equal figure with 86% for fixed income versus 72% to equities.
Within the fixed income universe, what trends can be observed? A comparative view between US and European-domiciled ETPs signals the following:
• Corporate bond ETFs have had strong success since 2008 but broad aggregate types of exposure have gathered more assets in the US.
• Emerging market exposures have grown significantly in the past five years, on both sides of the Atlantic, as the low-yield environment, and the disappointing performance of some active managers, pushed investors towards these higher-yielding and more transparent vehicles.
• High yield has also grown at a strong pace, boosted both by a similar thirst for yield and the liquidity advantage that ETFs provide. High-yield ETF assets have become more prominent, representing 3.6% of the total high-yield assets (around $1.2trn as of end-July 2018).
Market Outlook – Can We Link ETF Growth with Central Bank Activity?
The increase in the AUM of fixed income ETFs has been visible since the global financial crisis. The three-month rolling average flows into fixed income ETFs have increased tenfold over the past decade, from less than $2bn to $25bn as of end-July 2018. This outpaces the rise of the underlying fixed income market growth.
Interestingly, some commentators have pointed to a link between the rise in fixed income ETF assets and the actions of central banks. Focusing on this trend, some correlation can be derived between central bank buying and the increased flows, particularly in the European ETP market.
There is actually no significant statistical correlation between both streams. However, a few elements need to be noted:
• The higher three-month rolling flows coincide more with the announcement of actions as opposed to actual buying activity (eg, the March 2016 announcement of CSPP).
• The lower level of activity or even decrease in a central bank's balance sheet (such as the Fed's) does not necessarily impact ETF flows negatively. From April 2015, when the Fed had stopped buying more assets, the average three-month rolling flow was below $15bn, versus $25bn today.
• Divergence between markets: There is at times an inverse relationship between the Fed purchases and the flows towards ETFs, but when it comes to the ECB there is a stronger relationship between both streams.
We believe that this trend potentially highlights the fact that an increasing number of investors use fixed income ETFs to swiftly modify portfolio allocations. There is another dimension to this shift, which is that some active managers have found it challenging to beat their benchmarks. We have seen this in various segments, such as developed government bonds and emerging market debt. According to analysis by State Street Global Advisors, only 10% of the 30 largest active funds in Europe have managed to outperform the JPM EM GBI Global Diversified index over the past five years.
What Happens Next? The Marginal Buyer Support Disappears
Undeniably, central bank liquidity has helped to improve how markets have functioned. Bid-offer spreads have gradually come down to levels slightly above pre-crisis levels. Using the Barclays Liquidity Score (measuring the cost of an actual $1m round trip trade in a bond) for the Bloomberg Barclays Global Aggregate index, the cost of liquidity was halved over the past five years from more than 50bps in 2012 to less than 25bps today. However, other measures are the evolution of fixed income ETF bid-offer spreads and how ETFs have helped investors access parts of the market that may remain more expensive, in particular high yield or credit.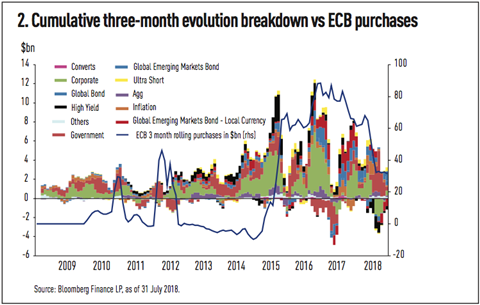 If the marginal buyer provides less support, the impact to market trends may be felt in several ways. This "new" normalisation simply translates into financial conditions that gradually tighten. The cycle moves into a rising rate period, which we are in now, credit spreads widen, and allocations shift primarily in three directions:
• Shorter maturity exposures in order to partly mitigate interest rate sensitivity.
• Away from lower-quality exposures towards high grade (or from high yield to senior loans).
• Into broad treasury allocations, gradually adding to duration as we move through the economic cycle. The recent shift in allocations, as shown in figures 2 and 3, indicates that these trends are already taking place.
Conclusion
Fixed income ETFs are now an established financial instrument. As liquidity in the underlying OTC market recedes, we believe that flows towards fixed income ETFs may continue to increase thanks to the following factors:
• The broad offering of funds allowing granular portfolio allocations compared with futures and credit derivatives.
• The secondary market liquidity allowing investors to build or switch exposures in a cost-efficient way.
• The full transparency offered by the instrument.
As the tide turns, we expect investors to shift towards aggregate exposures as core allocations, and to make tactical allocations towards high grade credit exposure with less interest rate sensitivity, or convertible bonds to ride the last wave of the economic cycle.
Antoine Lesne, head of SPDR EMEA strategy & research, State Street Global Advisors