---
Almost every asset class did well in the first quarter of 2019
The inversion of the US yield curve has important implications
The dollar has shown unusual weakness against emerging market currencies
While many had argued that the sell-off at the end of 2018 was overdone, taking many assets way down into 'cheap' territory, few predicted such a dramatic bounce in the first quarter of 2019. Almost every asset class recorded positive returns. Indeed, many fixed-income assets generated returns over those first three months that would be much more 'normal' stretched over a 12-month period.
Whether it is a 'put' or 'pivot' from Jerome Powell, the chair of the US Federal Reserve, the swing towards dovishness from the central bank has had a big impact on markets and risk assets generally. He is making it known that it will be more growth-oriented than previously.
The trajectory of China's huge economy remains as important as ever to the global economy. The authorities continue to emphasise their commitment to supporting the economy, striking a careful balance between maintaining economic stability while also constraining excessive credit growth.
China's M2, the broadest measure of money supply in the economy, has always been a closely watched indicator. Recently, the authorities have sought to downplay the importance of this figure, arguing that the indicator was becoming less correlated with inflation-adjusted changes in GDP. That said, M2, which was revised last year to take more account of shadow-banking activities, is still closely watched for guidance aiding, as opposed to acting as a target for monetary policy.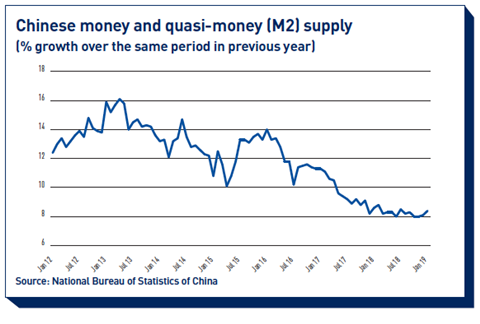 Worries about Europe's economy seem never to be far from the surface. Europe's growth has slowed, perhaps as a result of economic weakness in China. Turkey's recession might also have had a negative impact, for Germany in particular. However, with so much going on in Europe on several political fronts over the next few months, it seems less likely that the European Central Bank (ECB) will initiate much, if any, policy change before the final quarter of this year.
The persistence of low inflation
Much has been written of Japan's struggles to drag its inflation above zero, and keep it there. Europe, too, seems to have entered a similar low-inflation scenario, often dipping dangerously close to deflation. And now it appears the US is joining the group, so much so that today's Fed can position itself as more growth-oriented, without apparent fear of letting an inflation genie escape, thus spooking financial markets.
Many explanations for prolonged low inflation have been suggested. These include globalisation, technological progress, time lags in the transmission of improving labour markets to prices, imprecise measuring of inflation indices, ageing demographics as well as low nominal interest rates and the overall 'success' of central banks at keeping to their respective inflation targets.
At the 2019 US Monetary Policy Forum in January, Fed vice-chair Richard Clarida highlighted some of the US central bank's motivations for a broad review of its monetary policy strategy, tools and communication practices.*
Clarida referred to the key question of inflation appearing less responsive to resource slack which, he suggested, may be implying some sort of change in the dynamic relationship between inflation and employment. He also pointed out that low inflation, as well as low interest rates, can make it much harder for monetary policy to respond to and support the economy during future downturns.
As well as considering imposing temporary ceilings on Treasury yields, maintained by the (unlimited) buying of bonds, a system already in place in Japan, the Fed is also looking at whether it should consider strategies that aim to reverse past misses of the inflation objective.
As Clarida pointed out, however, these 'makeup' strategies are heavily dependent upon the public fully comprehending the credibility of the Fed to deliver future inflation above 2% after a persistent inflation shortfall. That is whether or not conditions at that time warrant such a move.
*https://www.federalreserve.gov/newsevents/speech/clarida20190222a.htm
Bonds
It is hard to dismiss the implications of the inverted US yield curve, even though it may no longer be a possible harbinger of recession. Circumstances may have changed but they are not entirely different.
The term premium, that extra yield compensating for duration risk, has been steadily narrowing over the past 25 years, as the Fed and other central banks have controlled inflation better. This trend would make for flatter yield curves, a factor worth highlighting in today's discussions of yield curve shapes.
Historically, an inverted curve signals expectations of future short-term rates falling, perhaps because of economic growth disappointments. Maybe, with a newly dovish Fed reaction function – no rate hikes this year and a halt in the balance sheet reduction – this time the curve might be signaling future rates falling.
Whether or not today's inverted yield curve is hinting at recession, policymakers will have to work hard to avoid the signal – reliable on so many previous occasions – becoming a self-fulfilling prophecy.
US credit spreads, having retraced their December widening, are not giving an impression of impending recession or serious growth slowdown. Nor, indeed, is the US equity market. For Europe's credit-market outlook, although euro-denominated investment-grade credit has benefitted from the dovish swings from the ECB and the Fed, there may be too many clouds on the horizon. With the numerous disappointments about euro-zone economic activity, and so much Brexit uncertainty and volatility, as well as the extremely busy electoral calendar, is there enough compensation for the risks?
Low yields might well increase demand from investors looking to avoid negative rates in money markets. The biggest buyers of longer-dated euro-denominated investment-grade credit – pension funds and insurance companies – have tended to increase their allocations when yields rise, rather than when they fall.
Currencies
Forecasting currency has been difficult so far this year. Unusually, the dollar has shown weakness against emerging market currencies, particularly those showing signs of stabilisation in economic growth. It has strengthened against many of the developed market currencies.
The Fed's signals for easier monetary policy might normally be a trigger for a weaker dollar as witnessed versus the emerging market complex. However, the prospect of even easier monetary policy in many developed economies has also translated to developed market currency weakness/dollar strength.
Brexit continues to divide opinion both among the British public as well as between currency pundits. Some argue that markets are simply underestimating the risks associated with the chaos of a no-deal Brexit. In contrast, the optimists argue that there is progress towards Parliament reaching agreement, and that sterling might be getting close to offering the biggest opportunity among developed market currencies.
That the US-China trade negotiations seem to be moving closer to a resolution of sorts has aided global risk sentiment. So have the early signs that the easing measures put in place by the authorities may be succeeding in at least stabilising, if not yet boosting, the Chinese economy.