• China vulnerable to escalation of US import tariffs
• US faces inflationary fears as wages continue to rise
• UK still letting politics as opposed to economics dictate policy
While the US mid-term elections saw the Democrats regain the House of Representatives, trade policy remains in the hands of the White House. Trade tensions, between the US and China in particular, will remain to the fore. President Trump's aggressive trade policy is already having a global impact with declining purchasing manager indices indicating corporate hesitation in future plans.
While 2017 was a good year, especially for emerging markets, 2018 was decidedly poor with growth falling and inflationary risks increasing. The signs are that 2019 could be even more challenging, with lower growth, tightening policy and possibly rising inflation.
In China, economic growth is delicately balanced, although there are concerns that policymakers may run out of interventions to keep growth stimulated. Further US tariffs – 25% on all Chinese imports – would affect the economy directly, through lower trade, as well as indirectly through (lowered) corporate profits. This would lead to the suppression of consumption and investment as well as damaging sentiment.
China could let its currency depreciate, but too fast a decline might precipitate a capital flight, something the authorities want to avoid. Instead, fiscal policy like corporate and consumer tax cuts, or further lending initiatives will be employed.
Italy continues to create market tensions. Moody's downgraded its credit rating to its lowest investment grade with a stable outlook. S&P did the reverse, leaving the grade unchanged but lowering the outlook to negative. These downward assessments come in the midst of the Italian government's 'tussle' with the European Commission over its 2019 draft budget. The row was combined with little progress with regard to (unpopular) reforms that might address Italy's poor growth performance.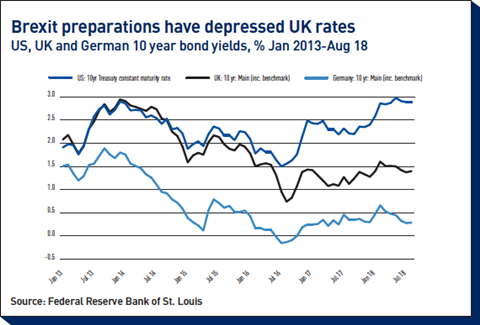 Bonds
The US yield curve's flattening trend, started back in the third quarter of 2017, was halted as stock market drawdowns took centre stage. As the year-end approaches, it is unclear whether the flattening will re-commence.
There seems little doubt the US Federal Reserve will continue its policy normalisation, sticking to its rate hiking dots, despite grumbles from the White House. However, for the first time in years, fears about rising inflation are growing, fostering a doubt whether the Fed may be behind the curve after all.
To be sure, US unemployment is trending lower, the labour market is tight with bottleneck pressures appearing while wages are on the rise. If there is no pick-up in productivity growth, overheating is likely and this wage growth can cause higher inflation.
With monetary policy tightening and fiscal policy unlikely to take up the policy slack, now the Democrats control the House, US economic growth is unlikely to get a domestic policy boost. However, current growth momentum could still carry the economy considerably further.
For Europe, the return of inflation from an overheated economy looks less predictable. Though European economies are in good shape, and growth expectations upbeat for 2019, if there is damage from trade tensions, Europe is more exposed than either the US or Japan for example. Add in worries about Italy's politics and Brexit, and the European Central Bank's first rate hike – expected by many in December 2019 – may need to be delayed.
Currencies
Brexit risks have depressed UK rates across the maturity spectrum, with Gilt yields, possibly ironically, resembling continental Europe more than the US.
A 'no deal' Brexit might lead to a further yield reduction, as investors could assume the Bank of England (BoE) would be less likely to move rates higher. That is despite the closing of the output gap and a tightening labour market. If, however, there is a positive outcome with the EU by March then there is a chance that UK rates could take their cue from the economy and less from politics.
As well as pricing hikes from the BoE it is possible that the term premium, depressed since the referendum, could decompress, pushing Gilt yields higher. Should real rates also rise, possible if the BoE's hawkishness is less constrained by politics, then this may push the sterling-dollar rate higher too. Historically, there is a close relationship between exchange rate and real rates.
If the days of depressed volatility are over, then identifying whether the Swiss franc or the yen is the best safe haven currency becomes more important. Both countries are global net lenders, an important factor supporting their safe haven statuses.
There is, however, a difference between the compositions of these capital surpluses. For Japan, the private sector is the significant overseas lender, while for Switzerland it is the Swiss National Bank (SNB). As the private sector may be more keen to repatriate resources than a central bank in a risk-off situation, the Swiss monies could prove 'stickier'.
There are of course, other factors behind moves into safe havens, though maybe the yen has more compelling ones than the Swiss franc.
Oil price: will it stay 'lower for longer' in 2019?
So much about the oil price is a function of factors other than economic fundamentals. These include market technical factors and geopolitics, whether in the Middle East, or Russia, or Nigeria or Venezuela. However, analysts do their best to work out what the oil price should be from studying all the forces behind supply and demand, and inventories.
Commodities are one of the best performing asset classes for the year to date, aided by the recovery in the oil price from July 2017. Oil, however, suffered a decline during October as the US stock market was suffering its large drawdown.
The oil price does not always show a direct connection between the supply/demand balance and inventories. Rather than Iranian supply issues, October's sharp fall may be linked to the flipping of the oil price forward curve, from backwardation (spot prices higher than future) to contango (spot price lower than future), shaking out speculative market positions.
The slope of this curve, or the time spread, and inventory changes are closely related. Adjusted for volatility, and relative to the risk-free rate, time can show a direct relationship to crude oil spot prices (adjusted for dollar strength).
Early in 2016 there was a structural downward shift in the relationship with rising time spreads not translating as expected into higher spot prices. At the time, the consensus was bearish for oil's long-term outlook. The arrival of US shale oil production and a global shift to renewables and electric vehicles had depressed the entire forward curve. These developments supported the 'lower for longer' theme.
It is interesting to note that recently the relationship appears to be moving back to what it was before 2016. This could be a temporary reversion, or perhaps it is telling us the market no longer believes in 'lower for longer'.