---
The US and China come to agreement in principle over future trade negotiations
A strong dollar and weaker emerging-market currencies a feature of FX markets
Evidence of more lending by Europe and Japan banks as interest rates plunge below zero
It was predictable that risk markets should have reacted positively to the news of an agreement in principle in the US-China trade negotiations. Although assuredly better than a seemingly relentless stream of bad will between the protagonists, the provisional agreement is in no way a solution to the conflict. Another round of trade talks could be necessary just to reach a tentative accord. Investors would be wise to temper enthusiasm to extrapolate the 'good news' too far.
Geopolitics, from trade to Brexit to the Middle East are having a huge influence on the global economy and financial markets, are muddying outlooks and contributing to the lack of investor positioning.
As for the macroeconomics, there is uncertainty and concern about possible inflexion points, and a feeling that markets are delicately balanced. The US epitomises this best. Although most surveys continue to paint a picture of worry and pessimism, hard data – such as payroll numbers, retail sales or the US housing market – are still reasonably buoyant.
That soft data always precedes hard economic data is something that investors have dealt with for decades, and different surveys can often paint different narratives. Several consumer sentiment indices, for example, seem still to be painting a bullish picture. But, for more bearish observers, such charts looks like a peak in optimism, which might just be signalling the top of the market.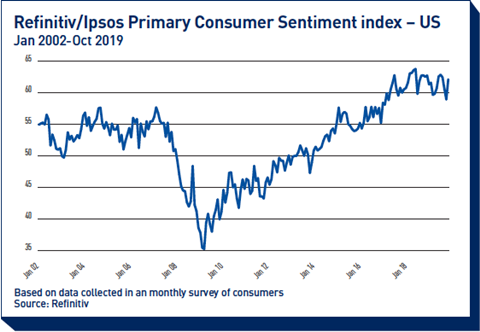 The consensus seems to be that, despite inverted yield curves and bearish sentiment surveys, the US economy is not about to enter recession. China's outlook has remained subdued as we enter the final quarter, with weakness across a range of sectors, from retail sales to infrastructure investment. For different reasons, neither the US administration nor the Chinese leadership wants to see too much more economic weakness at this time, which may be behind the recent slightly improved trade news.
Bonds
The decline in trade tensions did boost risk markets and push risk-free yields higher, but there may be fewer compelling reasons for the US 10-year yield, for example, to head back up to those 'lofty' levels of about 3.0 of a year ago.
Although investors appear sanguine about the chances of the US entering recession, there is at the same time an acknowledgement that the global economy may be bottoming. However, neither the US Federal Reserve nor other leading central banks are indicating that their respective dovish tones are about to pivot.
Risk markets have benefitted from economic bad news this year. The Fed performed its dovish pivot and both the European Central Bank (ECB) and the Bank of Japan (BoJ) boosted their respective loose policies, aiding the significant fall in risk-free rates since November 2018. With so much dovish news priced into markets it may be that to maintain 'risk-on' markets need better growth news.
For Europe, there is the additional 'risk' involved in the handover to the new ECB president, Christine Lagarde. She has already emphasised her desire for continuity in current ECB policy, and the need to listen to the people and the markets.
Central banks keen to the dangers of 'reversal rate'
With the federal funds rate at 2%, the US Federal Reserve has some room for further cuts in its policy rate, unlike the Bank of England where the base rate is 0.75%, its lowest ever level. The Fed is unlikely to venture below, while Bank of England governor Mark Carney has said negative rates were not an option.
Several central banks have already entered the realm of negative interest rate policy, including the ECB and the Bank of Japan (BoJ) – in 2017, BoJ governor Haruhiko Kuroda said it was paying attention to the risk of Japanese monetary policy breaching the 'reversal rate'.
This rate was coined in 2016 by two Princeton University economists. It refers to the interest rate level below which damage to banks' profitability starts to deter lending, that is the rate at which accommodative policy reverses its intended effect and becomes contractionary for the economy.
An ECB working paper in June on the effects of negative policy rates concluded that, for "sound" banks, the transmission mechanism appears unaffected "even when interest rates turn negative". Negative rates tend to encourage corporates to decrease their liquid assets and invest in fixed assets. Thus, as interest rates first decline below zero there may be a boost to lending.
In Europe and Japan there is indeed evidence that, as official rates sink below zero, banks have sought to lend more. However, although neither banks' official rate has reached the 'reversal rate', neither is far off it. European bank interest margins have been declining for many months, and some analysts have asked at what point banks have to act to defend the persistent erosion of their margins by increasing lending rates.
While investors and market participants have little reason not to accept her at her word, she will join at a time of apparent disagreement within the ECB governing council about the various easing packages announced by the outgoing president, Mario Draghi, in September.
Currencies
Because of trade tensions, the dominant narrative in a large swathe of foreign exchange (FX) has been of a stronger dollar and weaker emerging market currencies. The glimmer of hope that a partial US-China deal might be signed unsurprisingly overturned this, resulting in a strengthening of the renminbi, the Chinese currency, and other emerging market currencies.
If sentiment really is improving, few are forecasting an immediate strengthening in the renminbi. Although the Trump administration might be tempted to renew its calls about currency manipulation, it seems to be more likely that the People's Bank of China has been more actively defending its currency against depreciation resulting from capital outflows.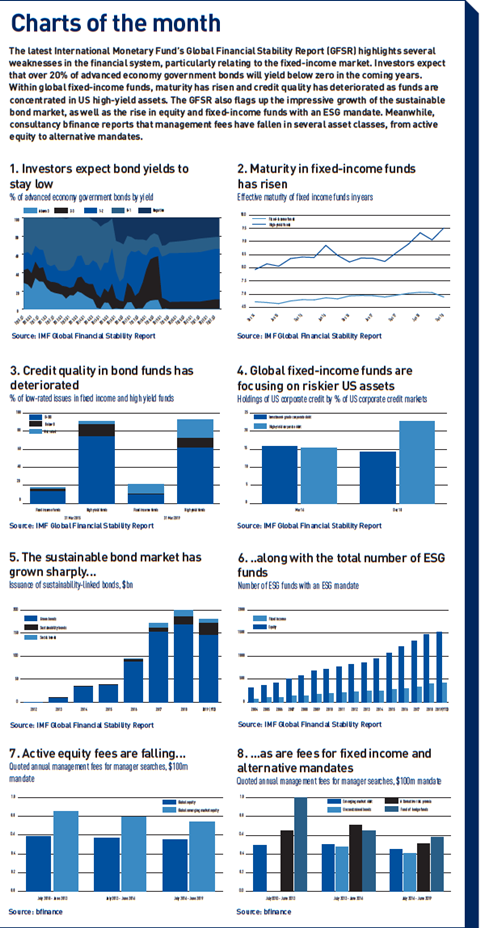 Over the long term, it is possible that the harm inflicted by the trade war and tariffs on Asian economies – not just China – could have a more lasting impact. Even if a wholesale trade agreement is reached in the months ahead, the damage done to Asian supply chains and business confidence could well take far longer to mend, and Asian FX might well have to stay 'cheap' for longer too.
For sterling, the hope in early October of some sort of a Brexit deal between the UK and the European Union was also a positive force. Although the FX market may not be extremely short sterling, the currency is surely under-owned and is, for that reason, technically supported. And while the currency may also be deemed 'cheap' in terms of its purchasing power parity (the volume of goods each pound will purchase), it is not easy gauging just how much upside sterling might enjoy when a deal is made.
Whereas domestic 'known unknowns' might diminish in number, in the midst of a world economy buffeted by trading worries there will still be plenty of unknown competing forces on the currency.