---
Weak US payroll data spooks the markets, making rate cuts more likely
China's economy starts to splutter
Dollar, yen and Swiss franc consolidate their status as safe haven currencies
The weak US non-farm payroll (NFP) data for May, far below forecasts, sent rates falling and stocks rising, on the supposition that it raised the likelihood of interest rate cuts from the Federal Reserve. On the other hand, while risk markets cheered the prospect of easier money, the hardline approach taken by the US towards China, and China's uncompromising responses are raising investor nervousness.
US economic growth is losing momentum, as the effects of the fiscal stimulus fade and the tightening of financial conditions that occurred throughout 2018. Ramping up bellicose trade rhetoric at this juncture, with a notably weaker US economy, could damage an already cautious corporate outlook.
Economic activity in Europe has been lukewarm at best and just about near trend. With Europe's economy closely linked to global trade, any escalation of the trade conflict – US import tariffs on European cars for example – could damage the tentative economic growth. Indeed the Bundesbank's economic growth projections for Germany have been cut after recent weak export and orders data.
The Chinese government's own growth target is 6.0-6.5% for 2019. However, international forecasters are cutting their China GDP outlooks, some to below the target, reflecting weaker global growth and trade tensions.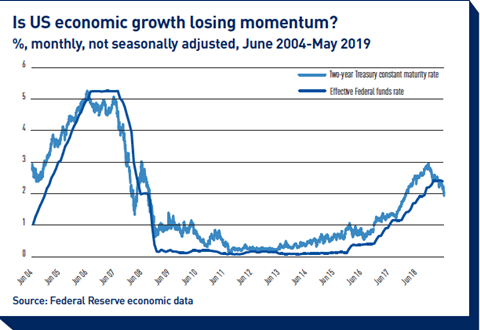 October sees the 70th anniversary of the founding of the People's Republic of China. It will be an event in which the government will be keen to show the rest of the world China and its ruling party at their best. It may choose to add to the stimulus measures already planned for this year but has to be mindful of risks posed to its own economy's possibly fragile financial stability.
Rare earth elements: a potential trade battleground
Lately, rare earth elements (REEs) have been garnering more headlines than expected. This attention is linked to the trade negotiations: the world, including the US, needs these elements, and China is responsible for the biggest share of the world's production of them.
REE are named by the US as one of the 35 critical minerals commodities, essential to the economy, a supply chain vulnerable to disruption, and whose absence "would have significant consequences for the US economy or national security". Though termed 'rare', in fact many of these elements are found in reasonable abundance, across North America, southern Africa, Scandinavia, Australia, and China, however the minerals tend to be dispersed in uneconomically mineable amounts.
The list of items that require REEs is long, ranging from batteries (for electric/hybrid vehicles for example), automobile exhaust catalysts, semiconductors, display screens on phones and laptops, fibre optics, tracking devices as well as military (for example, radars, missile guidance, sonar and night vision systems).
China's President Xi Jinping's recent visit to a rare earth mining and processing facility in Ganzhou has been extensively covered, as have hints from various Chinese agencies that plans to restrict US access to Chinese-produced REEs are being formulated.
China is no longer in control of 100% of the world's REE production processes, as it was back in 2010 when it announced global restrictions in its spat with Japan. That said, however, it still controls 70-80% of the world's production, and thus REEs could become a powerful bargaining tool in the US-China trade talks.
If China were to ban the export of REEs to the US, important US industries could be directly impacted. In the bigger picture, it could be seen as a signal of China's intent to stand firm and to escalate tensions in trade negotiations, and which would surely have damaging repercussions throughout the world.
Bonds
Although the European Central Bank (ECB) was not quite as openly dovish as expected at its June meeting, there was enough, in terms of forward guidance and generous Targeted Longer-Term Refinancing Operations (TLTROs), to maintain the downward pressure on yields. Already low yields were then pushed even lower by the rally in US Treasuries after the non-farm payrolls release, and a host of euro-zone government bond yields have been touching record lows.
Italy's bond market reacted less exuberantly, unsurprising given its deficit woes and battles with the EU. The European Commission's decision to trigger the Excessive Debt Procedures, enacted to 'encourage' a member state to regain control of its budget deficit, expected by markets, did not have too much of an impact.
The process involves several stages, culminating in sanctions/fines, which would have to be approved by EU finance ministers. However, with all the upheaval within the EU's corridors of power later this year, Italy's problems may not erupt into a full-blown crisis just yet.
Financial markets are pricing in significant Fed rate cuts for the remainder of this year and next. The degree of inversion between two-year Treasuries and the Fed Funds rate, in early June, seemed to be suggesting a rate-cutting speed historically witnessed only once the US economy has already entered into recession (see figure). Though the economic growth may well be losing momentum, few argue that recession is imminent.
The debate around prospects for credit markets is mixed. The dovish tilts from both the US and EU central banks are proving good for market sentiment, and will keep risk-free rates low for now, as well as perhaps increasing demand for the higher yields on offer.
Conversely, quite how well credit can perform in an environment of slowing growth is arguable. So far this year, credit has produced strong returns, but if growth falters further, or if political headwinds grow stronger then it gets harder to envisage spread compressions, and instead risks for spread widening could increase.
Currencies
As economic growth falters globally and in the US, no nation tends to want to see its currency strengthen with already low global inflation. At June's ECB meeting, President Mario Draghi mentioned the strengthening of the euro had been tightening financial conditions, something they were monitoring.
Through 2018 and into this year, the US Dollar index (DXY) has been supported by a combination of the cyclical outperformance of its economy and increasingly favourable interest rate differential as the Fed ratcheted up rates. DXY has also been inversely linked to the waxing and waning of risk appetites, a relationship which has dominated trading patterns, disregarding underlying fundamentals.
Currently, there do not appear to be too many glaring over- or under-valuations within FX, nor does positioning seem unbalanced, which indicates that present trends may remain intact. The dollar has tended, along with the yen and the Swiss franc, to trade well when global growth surprises have been negative.
The dollar's performance is likely to be mixed across a variety of foreign exchange crosses. Those currencies of economies most exposed to trade tensions, such as the renminbi, the Korean won and the Singapore dollar, look vulnerable against the dollar, for example. Some observers are asking if the dollar-renminbi rate will exceed seven.
US assets have been insulated from the more detrimental effects of the trade dispute by the booming domestic economy. If signs of slowdown in the US economy prove to be sustained, perhaps even a tipping into recession, then the present varied outlook for the dollar may change for the worse.