---
US payroll still growing as Fed maintains the status quo
Euro-zone still unable to generate inflation despite oil price rises
Trade tensions highlight the importance of safe haven currencies
Financial markets continue to be influenced by news, and tweets, about the US-China trade negotiations. While stock markets have sold off during the second quarter of 2019, and credit spreads have widened, this financial tightening is so far less than what happened over the last few months of 2018.
Recent comments from a host of Federal Reserve officials have conveyed an impression that it is comfortable not altering policy for now. Indeed Fed Chair Jerome Powell talked of possible "transitory factors" being at work behind the unexpected fall in US March core inflation. It will be interesting to see how the inflation conundrum is discussed at this month's Fed research conference in Chicago, as part of its review of its monetary policy goals.
The US economy continues to surprise with its strength, particularly its ability to create jobs, suggesting businesses still feel confident enough to be adding to their payrolls.
Political events were always going to feature in 2019. As elections will be, or have already been, held across the globe from India to South Africa to Argentina to Australia, as well as national elections in Europe, European parliamentary elections, and the possibility of a second Brexit referendum.
Interspersed among these elections, political tensions and civil unrest in Venezuela, demonstrations across northern Africa, the re-running of mayoral elections in Istanbul all need watching. And with the US ramping up both rhetoric and actions (in the form of the re-imposition of trade sanctions) against Iran, the Middle East could yet again become a source of tension and uncertainty.
Bonds
Bond yields, across the developed market universe, have drifted lower as risk-on sentiment declined and trade tensions have increased. Despite the threat from price-hiking tariff pass-through, markets appear to be interpreting this trade war as not inflationary, and are putting more credence instead to the potential damage to business confidence, and economic growth.
With the Fed not planning a hike soon, it may be that Treasuries stay within their recent range. For Europe, however, the European Central Bank (ECB) may have to show more of a willingness, perhaps as early as this month, to address Europe's inability to generate inflation.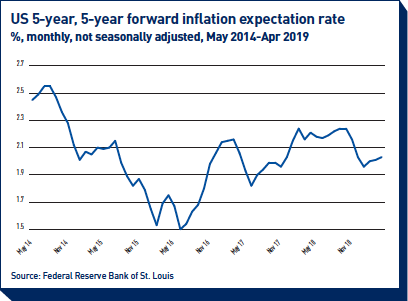 European inflation expectations, using five-year, five-year inflation swaps, have continued their downward trend. It is concerning that these falling expectations have failed to change direction alongside a simultaneous and meaningful rise in the oil price. Though there was an increase in April's core inflation in the euro-zone, many argue this is transitory and linked to a late Easter and volatile package holiday prices.
April's strong inflation print in Europe may cap how low consumer price index numbers will fall, although it could push Bund yields higher, but there are other forces exerting downward pressure on core yields, not just the re-pricing of Fed expectations.
The parliamentary elections will act as a further reminder of the European electorates' march away from the centre ground and consensus politics towards the convictional populism offered by the right and the left wings. Italy's budget plans provide further reason to err towards the relative safety of the core.
Politics across central and eastern Europe could play a significant role in economic outlooks. The pan-European parliamentary elections may serve as barometers for subsequent national elections in Poland, Serbia and Romania. Although the US-China trade negotiations may not directly impact Eastern Europe, close links to a weakened German auto sector, may be damaging if auto-tariffs enter the 'war'.
Modern monetary theory gains traction
Modern monetary theory (MMT), is garnering the attention of politicians, economists, and investors. Indeed US Democratic Congresswoman Alexandria Ocasio-Cortes specifically referred to MMT as a possible approach to funding huge government spending that will be needed for the planned Green New Deal.
MMT first key tenet is that fiscal policy should be the main tool for managing economic demand. It also suggests that a country which creates its own currency ought not to have to worry about paying back creditors, as it can just print more money to do so. It is worth pointing out MMT does acknowledge that excessive deficits can lead to inflationary pressure.
So, under MMT, the role of monetary policy set by independent central banks, becomes superfluous. The function of taxes takes on a different angle, not to pay for spending, but instead as a way to control private consumption in times of inflation.
It is not hard to see why MMT divides opinions, advocating as it does a greater role to the state in allocating economic resources, in addition to the removal of central bank independence. MMT proponents also ask whether using monetary policy as the main stabilisation tool could be described as a clear success. The global economy, more than a decade after an extremely damaging financial crisis, is still facing serious structural challenges.
Where the heterodox MMT does agree with more orthodox macroeconomics is when interest rates are at, or near to, the zero lower bound (ZLB). With ZLB constraining the usefulness of monetary policy, even many orthodox economists argue that fiscal policy has to become a stabilisation tool.
Currencies
For now, trade tensions have not hugely affected the G10 foreign exchange markets, though the yen and the Swiss franc have both experiences recent bouts of strength during some of the more hectic trade news. The euro has steadily declined against the dollar, reflecting Europe's lack of positive economic momentum in contrast to the US experience.
Asian currencies – such as the Korean won and the Taiwan dollar – are reliant on both global trade and a growing Chinese economy, have reacted badly to the fractious trade negotiations. The renimbi has weakened to the lows it reached in the market turmoil of the second half of 2018. If authorities can maintain this gradual depreciation, then it is possible that we will see further declines from here to alleviate the negative pressures of this trade war, although few forecasters expect the dollar to exceed RMB7.
With significant exports to China, both Australia and New Zealand will be in the firing line if Chinese demand stutters and the renimbi depreciates further. While the Reserve Bank of Australia surprised many by not cutting rates recently, the Reserve Bank of New Zealand is the only G10 central bank actively easing, as its economy repeatedly posts disappointing economic data, particularly failing to create employment. With the increased trade tensions, however, the near-term outlook for the New Zealand dollar and Australian dollar will remain glum, and the central banks may follow similar paths.
Overall, the escalation of the trade tensions is going to increase nerves everywhere, and for now, choosing a risk-averse foreign exchange strategy is probably top of mind for many investors, though finding a safe haven will not be easy.